A picture that immediately takes its place in the Scorsese canon, and a strong position in the Oscar race.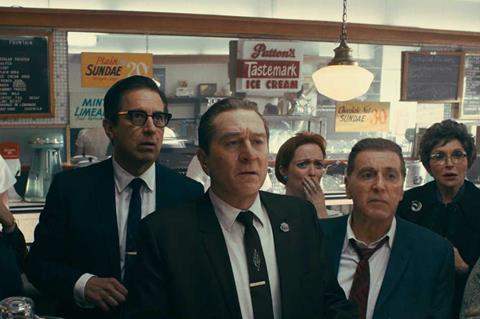 Dir: Martin Scorsese. US. 2019. 209 mins.
Martin Scorsese's The Irishman, premiering at the New York Film Festival, has been controversial from the start, largely because of its distribution model; after its November 1 opening, the picture will spend only a few scant weeks in theatres before streaming exclusively on Netflix, beginning on November 27. At the time of the initial announcement, some purists sniffed. With a theatrical window that small, was it even a "real" film?
It certainly is, and how.
Vintage Scorsese…with a lively, finger-snapping style
The Irishman is vintage Scorsese, with an often sinuously moving camera, occasional break-the-fourth-wall monologues, wicked wise-guy humour, and explosions of sudden tenderness and casual violence. And its final half-hour pulls something even deeper from the filmmaker – moments of reflection, twinges of regret, worries about chances thrown away. Whatever the business plan, in the end it's all about the filmmaking – and a picture that immediately takes its place in the Scorsese canon, and a strong position in the Oscar race.
The film begins slowly, with an inexorable tracking shot – although this time we're not entering the Copa with some goodfella but slipping into a Catholic nursing home to meet the aging Frank Sheeran. How he ended up here – alone – after 40-odd years of hard work and harder decisions will form the bulk of the next three hours.
Spanning those decades would normally require either heavy makeup or several cast changes; Scorsese decided on a third option, giving CG facelifts to some of his stars, particularly Robert De Niro, who plays Sheeran. The result isn't completely satisfying, even despite last-minute tweaking. Closeups of a supposedly 30-ish De Niro don't entirely convince; there's something false and lifeless in his eyes, as if he just wandered in from Welcome to Marwen. That's definitely a problem; to lose the force of De Niro's gaze is to lose some of the power of his performance. But these are only occasional shots in a more than three-hour movie, and the rest of it quickly compensates.
Chief among the delights is Al Pacino, as Jimmy Hoffa. The story of The Irishman has Sheeran starting his career as a casually corrupt truck driver; he soon rises to the position of mob enforcer. (That's the story of the source book anyway, I Heard You Paint Houses, by Charles Brandt; some of its claims have been disputed.) An hour or so into the movie, the Mafia decides that Teamsters boss Hoffa, once a dependable source of pension-fund loans, is in serious trouble thanks to government investigations and his own volatile tempee. Sheeran is dispatched to help him out, and maybe reel him in.
Hoffa can't be contained though, and, of course, neither can Pacino. That has been a feature of, and in some cases, a problem with, his performances for years; often, in order to stay interested, or perhaps keep his co-stars alert, the actor would suddenly begin to shout, or fill line readings with bizarre emphases. He does that here, too, but in context it's completely character-correct; Hoffa's literally fatal flaw is that he's impulsive and erratic, and that's what makes him a danger to his bosses. Pacino plays that unpredictability brilliantly, at times taking daringly long pauses as he seems to search for a word, or exploding with aggressive emotion as he leads a union rally.
De Niro and his other co-star, Joe Pesci, are far more controlled. Pesci's polite, philosophical mobster Russell Bufalino is the king of whaddaya-gonna-do – although he professes to dislike violence, he regretfully acknowledges its occasional necessity. And De Niro's Sheeran is uncomfortable with emotion, period; his awkward phone call to a new widow to try to tender his sympathies – executed in a single shot – is tongue-tied and painful. (Of course, the fact that he's the one who murdered the man doesn't help.) But Sheeran never pauses to regret, or even reflect on the consequences of any of his actions – until the film's final, melancholic minutes, as he begins to realise he's driven away his family, betrayed his friends, and has little to show for it but the watch he received at a testimonial dinner. It's like the end of The Godfather Part II, although instead of having ordered a brother's miserably lonely death, this killer has merely ensured his own.
Stylistically, The Irishman (as it's called officially – at the New York Film Festival, the full onscreen title included I Heard You Paint Houses) shows Scorsese, after the agonised soul-searching of Silence, having impish, bad-boy fun again. There are enough shout-outs to vintage pop culture to leave Quentin Tarantino dizzy – Howard Johnson's restaurants, Food Fair supermarkets, Don Rickles, Jerry Vale and a special nostalgic cameo for a wizened Harvey Keitel. And there's also a lively, finger-snapping style – pop-up titles that let us in on the final fates of some of these swaggering thugs, don't-blink cuts that take us back or forward in time.
Admittedly, while Scorsese is clearly enjoying himself, and entertaining us, he's not pushing into any particularly new thematic territory. His original triptych of Mafia movies – Mean Streets, Goodfellas, Casino – were precisely partitioned by class; if Coppola's The Godfather examined crime as capitalism, Scorsese's films provided the flowcharts, illuminating how someone went from entry-level wannabe, to middle-manager, to executive. The Irishman is a little more random in its approach, but then so is its protagonist; after stumbling into what looks like a good thing, he hangs in, doing the work and racking up the years until suddenly he's getting a dinner, and that gold watch.
Scorsese's own brilliant career has been, of course, far more deliberate. And if the nostalgic The Irishman serves as his testimonial dinner – attended by all his old friends, and with us as paying guests – no one deserves the valedictory more.
Production companies: Fabrica de Cine, STX Entertainment, Sikelia Productions, Tribeca Productions
Worldwide distribution: Netflix (International theatrical sales: FilmNation)
Producers: Troy Allen, Gerald Chamales, Robert De Niro, Randall Emmett, Gaston Pavlovich, Jane Rosenthal, Martin Scorsese, Emma Tillinger Koskoff, Irwin Winkler
Screenplay: Steve Zaillian, based on the book 'I Heard You Paint Houses by Charles Brandt
Production design: Bob Shaw
Editing: Thelma Schoonmaker
Cinematography: Rodrigo Prieto
Music: Robbie Robertson
Main cast: Robert De Niro, Al Pacino, Joe Pesci, Anna Paquin, Harvey Keitel