Lone Sherfig's first US-set film opens the Berlinale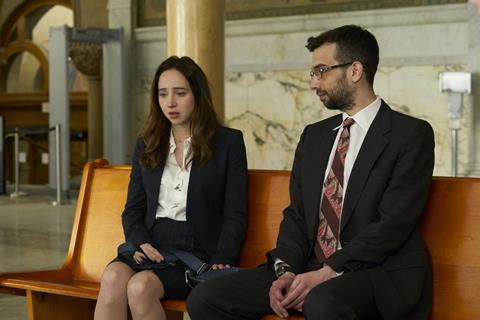 Dir Lone Scherfig. Denmark/Canada/Sweden/Germany/France. 2019. 112 mins
Small acts of generosity gather momentum like snowballs, in a film which follows the 'pay it forward' playbook. Lone Scherfig's first US-set film is studiously apolitical in that it never gives voice to Trumpian rhetoric, focussing instead on the melting pot nature of New York City. But there's a case made here that something is broken in a society in which a large part of the population is one broken marriage or missed paycheck away from soup kitchens and hypothermia. It's a big-hearted picture, certainly, but one that doggedly labours its message.
A slightly manipulative quality undermines the legitimate question at the heart of the film
This is Scherfig's first film on which she has a sole writing credit since Italian For Beginners and it's her most ambitious self-penned screenplay to date. It shares with her 2001 breakthrough picture an ensemble structure and a sense of lives fatefully flung together. But where Italian For Beginners was spare and ungarnished in its approach – it was the fifth Danish Dogme project – The Kindness Of Strangers treads rather heavily around its themes. Berlin's competition provided Scherfig with the springboard to an international career after Italian For Beginners won the Jury Prize in 2001. With its more conventional approach and somewhat melodramatic excesses, The Kindness of Strangers seems less suited to the festival arena and may fare best as a middlebrow theatrical release.
The Manhattan backdrop (the film was shot in New York, Toronto and Copenhagen) neatly juxtaposes the extremes of a society polarised between the ultra wealthy and those on the breadline. For Clara (Zoe Kazan) and her two sons, it is kissed with a fairytale promise of a new life. Having fled her abusive husband while he slept, she keeps alive as long as possible the idea that they are 'on holiday', even as she gatecrashes parties to steal canapes and dips into the bins looking for food.
The bins belong to a Russian restaurant which, after a long period of decline, has found a fresh lease of life under new manager Marc (Tahar Rahim). He comes with his own backstory which is explained, in one of several honkingly inelegant pieces of exposition, during a 'forgiveness workshop' run by emergency nurse Alice (Andrea Riseborough) in her spare time.
Alice is the empathetic glue which sticks the various story strands together – she also runs a soup kitchen, which is where she first encounters the hapless Jeff (Caleb Landry Jones, acting at half speed). Jeff, who has been told throughout his life that he is useless, slowly blossoms after Alice offers him some generous (but entirely unwarranted) praise. Peripheral to the story is Timofey (Bill Nighy, reuniting with Scherfig after his scene-stealing turn in Their Finest). He's the owner of the Russian restaurant and a friend of saintly Alice whose one indulgence is an occasional plate of caviar. And he provides, somewhat jarringly, shots of comic relief which sporadically lighten the tone of the picture.
Of all the cast members, Kazan is the one who seems most in tune with her character. Her hope is friable, like the smile which crumbles just before she manages to hide her desperation. As she demonstrated in The Ballad Of Buster Scruggs, playing vulnerable but gutsy survivors is her forte. Riseborough meanwhile has a more thankless task with a character who is defined almost entirely by her essential goodness. Non-native English speakers like Rahim and Esben Smed, who plays Clara's abusive husband, are challenged by the material, becoming less convincing the more they are required to emote. And all are ill-served by a final act which seems to unravel even as it conspicuously ties up all the strands in a big optimistic bow.
The picture is dominated by heavy-handed music choices which serve as a navigation tool through the multi-stranded story. And it's this slightly manipulative quality which undermines the legitimate, if slightly Paddington-esque question, at the heart of the film: why can't people just be kind?
Production companies: Creative Alliance, Strada Films
International sales: HanWay Films info@hanwayfilms.com
Producer: Sandra Cunningham, Malene Blenkov
Screenplay: Lone Scherfig
Production design: Carol Spier
Editing: Cam McLaughlin
Cinematography: Sebastian Blenkov
Music: Andrew Lockington
Main cast: Zoe Kazan, Andrea Riseborough, Tahar Rahim, Jack Fulton, Caleb Landry Jones, Jay Baruchel, Bill Nighy