Documentarian Lauren Greenfield profiles former Philippines First Lady Imelda Marcos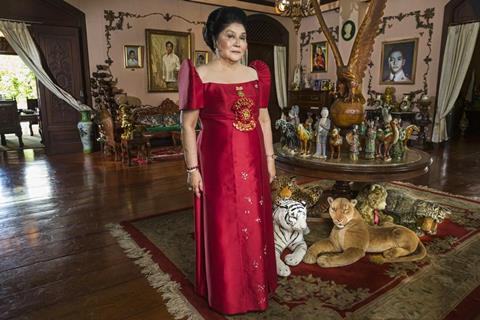 Dir/scr: Lauren Greenfield. US. 2019. 100mins
An enraging portrait of entitlement, opulence and corruption, The Kingmaker starts as a profile of Imelda Marcos but soon widens its perspective to depict a Philippines in peril. This would seem to be ideal subject matter for documentarian Lauren Greenfield, who targeted the elite's sickening overabundance in The Queen Of Versailles and Generation Wealth. Certainly, Marcos' wilful obliviousness to how she obtained her ill-gotten riches makes for enticing hate-watching. But Greenfield goes beyond easy pot shots to examine how the former First Lady, alongside her dictator husband Ferdinand, pillaged a nation and left in disgrace — only to plot a return to power that seems distressingly imminent.
Much like in her previous documentaries, Greenfield shows a knack for illuminating the oddly hypnotic allure of obscene, tacky wealth
Sold internationally by Dogwoof, The Kingmaker premieres in Venice before getting a Toronto bow in North America and a theatrical release in the US later this year. Audience familiarity with Imelda Marcos, who recently turned 90, will stoke interest, but even those unaware of her reputation for luxury and lawlessness may nonetheless be lured by her family's wild, despicable quest to control the Philippines for decades.
Greenfield begins The Kingmaker by letting Marcos tell her own story, the camera capturing her apartment filled with priceless paintings and other expensive accoutrements. Marrying Ferdinand, who had ambitions to be president, she quickly garners a reputation for being the power behind the throne, helping him preside over a dictatorship that, for several years, implemented martial law on the Filipino people. With her husband long dead, she now focuses on getting her son Bongbong elected to the vice presidency, with a move to becoming president as the next step.
Much like in her previous documentaries, Greenfield shows a knack for illuminating the oddly hypnotic allure of obscene, tacky wealth, which doesn't just surround Marcos but seems to be her ethos. Seen handing out money to the poor and ill — "candy for the kids," as she calls it — Marcos casts herself as the people's champion, which The Kingmaker effectively dismantles by elaborating on the pain, both metaphorical and literal, that she and her husband doled out to everyday Filipinos. (When one interview subject claims, "Imelda Marcos has gotten away with murder," she's perhaps not speaking in figurative terms.)
To be sure, The Kingmaker has a fairly convention structure — talking-head interviews, archival footage, a combination of personal biography and historical highlights — and those attuned to what has occurred in the Philippines over the last several years, including the recent presidential election of aspiring strongman Rodrigo Détente, won't be particularly shocked by what Greenfield has compiled.
And yet, the filmmaker does a deft job of baiting the audience into thinking they'll be seeing a snarky takedown of the former First Lady when, in fact, The Kingmaker becomes a disturbing treatise on the ways that avarice can be corrosive when it comes into contact with politics. The Kingmaker recounts one of Marcos' most mocked titbits — she famously once owned 3,000 pairs of shoes — but then takes its time illustrating how such seemingly trivial examples of her materialism hinted at a deeper, darker wickedness. Chronically image-conscious and willing to twist facts in order to serve her narrative as an underdog being attacked on all sides, Marcos is such a pathetic figure that she'd be laughable if, as this film convincingly argues, she wasn't such a menace.
Production company: Evergreen Pictures
International sales: Dogwoof, luke@dogwoof.com
Producers: Frank Evers, Lauren Greenfield
Editing: Per K. Kirkegaard
Cinematography: Lars Skree, Shana Hagan
Music: Jocelyn Pook