Dir/scr: Denis Cote. Canada. 2013. 95mins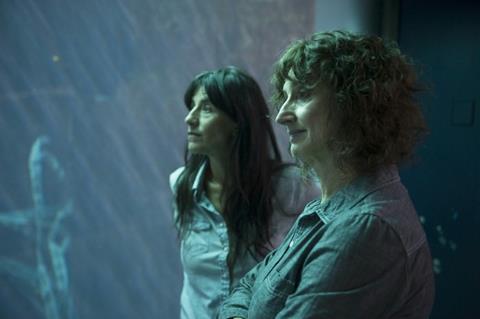 One of the more bizarre and original films to emerge from a territory that seems to specialise in this cinematic commodity, French-Canadian director Denis Cote's follow up to his quirky zoo-doc Bestiaire tracks the attempts of two female lovers, both of them ex-cons, to make a fresh start in a cabin in the woods somewhere in Quebec. A rich, humane, surprising film, Vic + Flo Saw A Bear manages to mix the drollery of Wes Anderson, the genre swagger of Tarantino or the Coen Brothers and the opaque narrative of a Bruno Dumont in one intriguing package. Cote's ability to keep the audience guessing as he moves seamlessly between comedy-tinged relationship movie and hard-boiled revenge drama is no small part of this refreshing indie film's appeal.
It's an ability to create tension out of seemingly banal and innocuous events, and to undermine the breezy deadpan comedy with darker notes, that holds our interest in this laconically-paced film.
There's the occasional longueur in a story that takes its time to unroll, and this, coupled with the language barrier, will confine Vic + Flo to the more up-for-it end of the arthouse in non-Francophone territories, though it's a title that could repay adventurous distributors willing to take a punt. On home ground in Quebec, the popularity of co-lead Pierette Robitaille should broaden the film's audience to rope in a few mainstream viewers curious to see the comic actress in a mostly dramatic role, while in Francophone Europe the presence of Romane Bohringer (L'Appartement) and Marc-Andre Grondin (C.R.A.Z.Y.,L'Homme Qui Rit) will open doors.
The film kicks off in downtown quirksville as we see Victoria or Vic (Robitaille) arrive at a shut-down 'sugar shack' – a sort of woodland maple syrup refinery and country-diner combo – which belongs to her family. The only denizen is old, mute, wheelchair-bound, white-bearded uncle Emile, a sort of gaga Gandalf, and his apparently inbred teenage carer, the gormless Charlot (Pier-Luc Funk). The Wes Anderson-esque touches pile up: Flo is given a golf cart to drive; we meet an inept cub-scout trumpeter and view, through Flo's eyes, a vain go-kart ace in his racing leathers; and the melancholic setting, which speaks of long-past country outings and Sunday maple-syrup nationalism, is Wes down to a tee. So far so comedy-weird; but the film soon starts to gain dramatic and emotional depth.
Cote likes to throw characters and plot twists into the mix unannounced: suddenly, in a neat under-the-duvet horseplay sequence, we discover that Vic is gay; in the next scene, her restless younger lover, Florence or Flo (Bohringer) is revealed; soon after, a serious young man turns up who seems to have some authority over Vic; after some guesswork, we discover that he's Guillaume (Grondin), Vic's parole officer. Still later comes the revelation that she's on parole from a life sentence, while Flo is out after serving ten years. We never find out what they did, whether they were convicted for the same crime, or even if they met in prison.
It's this ability to create tension out of seemingly banal and innocuous events, and to undermine the breezy deadpan comedy with darker notes, that holds our interest in this laconically-paced film. The tastiest example of this – though it would be a plot-spoiler to reveal too much – is the introduction of Marina St-Jean (Marie Brassard, clearly enjoying herself), a friendly, garrulous local character who helps Vic plant a vegetable garden. As there is a spark of attraction between them, we assume that Marina may end up, after some heartbreak, replacing Flo in Vic's affections.
All the signs point this way: Vic, who is into men as well as women, finds male lovers in a local bar, and pronounces life in the forest shack to be a "living death". At the same time, she clearly cares about Flo; it's a perceptive study of a case in which love and affection on both sides may not be enough to make a relationship work.
Guillaume seems a stuffed shirt at first but he too develops in the course of the film, turning into a confidante for Vic (who realises well before Flo that he too is gay) and taking the two women under his wing on trips to an aquarium and a railway museum. His is the parent's dilemma: not sure how much to intervene or back off, he morphs from an enforcer of the law into a sad spectator of la comedie humaine.
Set in an in-between space – not city, but too much of a leisure woodland to really count as country – Vic + Flo is a film about a version of limbo: a status that is brought out in cinematographer Lagarde's quietly atmospheric camerawork, and the pared-back, deliberately staccato soundtrack, which consists simply of the occasional drum roll or tom-tom tattoo.
Production companies: La Maison de Prod, Metafilms
International sales: Films Boutique, www.filmsboutique.com
Producers: Stephanie Morissette, Sylvain Corbeil
Cinematography: Ian Lagarde
Editor: Nicolas Roy
Production designer: Colombe Raby
Music: Melissa Lavergne
Main cast: Pierette Robitaille, Romane Bohringer, Marc-Andre Grondin, Marie Brassard, Georges Molinar, Olivier Aubin, Pier-Luc Funk