Dir/scr: Bogdan Mustata. Romania. 2013. 78mins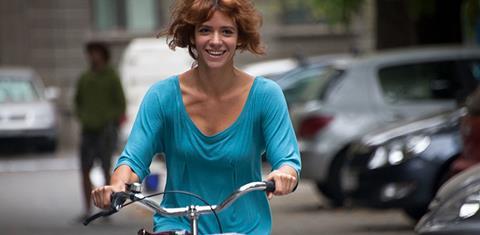 Looking for all purposes like a short film that has overstayed its welcome, this rather experimental attempt to tackle the angst of an adolescent on the verge of maturity never really goes beyond the stage of good intentions. Bogdan Mustata's first feature Wolf (Lupu) throws all of the elements together, but they never quite gel together into a distinct dramatic structure. Art house fare at best, the film, which premiered at the Sarajevo Film Festival, is a tough uphill climb.
Visually unenticing, with characters that are never more than static symbols, and conflicts that are never resolved.
Lupu (Mihai Vasilescu) is an innocent, bewildered 16 year-old, desperately infatuated with Clara (Ada Condeescu), a slightly older, sexy young woman with apparently plenty of experience in intimate relations. Even if for one moment she can be a mischievous partner to his juvenile pranks, most of the time she is driving him out of his mind, baring, twisting and undulating her body like a later day Brigitte Bardot, alternately tempting and rejecting him, telling him about real or imaginary suitors, lying next to him in sexy poses as they move from one location to another.
But that's only one of Lupu's troubles. He is also an orphan, his father (Costel Cascaval) having died two years ago. He badly misses him, often imagines he is still alive, and naturally hates the idea that his mother (Carmen Ungureanu), still a young woman, is just about ready to enter her first relationship since she had become a widow.
Then there is the old man upstairs (played by recently deceased Romanian director Sergiu Nicolaescu) who lives in denial, refusing to accept the death of his wife and still waiting for her to come back from the shop.
Sleepwalking his way from present to past, from reality to imagination, from one floor to another of the multi-storied, dilapidated building where he lives, rushing up and down staircases or running the elevator with or without Clara to keep him company, Lupu is also constantly haunted by a David Attenborough nature documentary about the African hunter absorbing into himself the spirit of his prey, the inevitable necessity of human and animal survival.
All this is strung together in a series of unrelated brief incidents, suggesting that Lupu the child needs a traumatic experience before he becomes Lupu the man, an experience which finally does take place…if not in real life, at least in his imagination. No wonder, since most of the events in this film are not for real.
Visually unenticing, with characters that are never more than static symbols, and conflicts that are never resolved, Mustata's film looks like a correct collection of notions for a coming-of-age movie, waiting for someone to shape them together in a well-defined format.
Production company/contact: Strada Film, marcian.lazar@stradafilm.ro
Producers: Marcian Lazar
Cinematography: Barbu Balasoiu
Editors: George Cragg, Stefan Tatu
Production designer: Alexandra Ungureanu
Main cast: Mihai Vasilescu, Ada Condeescu, Carmen Ungureanu. Costel Cascaval, Sergiu Nicolaescu, Camelia Zorlescu