Mark Cousins charts the rise of Mussolini and fascism in perhaps his most politically explicit film to date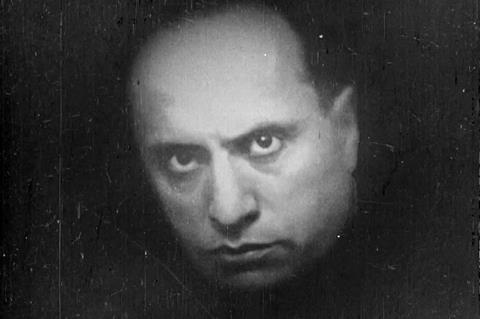 Dir: Mark Cousins. Italy. 2022. 97 mins.
With The March On Rome, cinematic polymath Mark Cousins (The Story Of Film) delivers perhaps his most politically explicit film to date, a sweeping, perceptive and stylish creative documentary which charts the rise and fall of Mussolini and of European fascism — but which starts and ends with a "warning from history" focus on Donald Trump.
Some of the documentary footage is thrilling
How you feel about Cousins often dictates how you feel about his films, but rest assured that the subject this time is very much not the man himself. Marshalling black-and-white archive footage, lovingly composed colour images of the Italian capital, and moments of reflection by Alba Rohrwacher into a wide-ranging, visually striking and provocative Story Of Fascism, this feels like a terrific film and history class, delivered by an engaging and socially concerned teacher. Following the documentary's out-of-completion screening to open the Giornate degli Autori, its pointedly contemporary concerns are likely to see Rome marching confidently onto the international festival circuit.
After showing the former US president brushing off a journalist's questioning of his use of a Mussolini quote, Cousins sets off on one of his forensic cinematic studies. On the slab is Umberto Paradisi's A Noi (To Us), by the director's reckoning the film that, by recounting the blackshirts' 1922 march from Naples to Rome, set the fascist-propaganda film genre in motion. Narrating throughout in his (sometimes too) distinctive style, Cousins breaks down how A Noi uses selective camera angles and repeat shots to make the crowds look bigger than they are, cannily exposing Paradisi's film as an element in the fascist construction of history. Importantly, a lot of time is spent focusing not on the crowds, but on the human beings who comprise them — be prepared to be startled later on by the chilling appearance of one Rudolf Hess, there at a rally to pick up tips.
The March On Rome then moves on from detailed analysis and becomes a broad-brush history, bringing in the freemasons, nationalist poet Gabriele D'Annunzio (in full frontal), Mussolini's famed bivouac speech and much, much more in a merciless and fluid torrent of images, masterfully assembled by editor Timo Langer. Cousins, a filmmaker who actually wants to put his vast knowledge of film to good use, is a dab hand at the montage sequence: the one here built around fascist ideologue Filippo Tommaso Marinetti's distinctly off-putting phrase "war is beautiful" is potent stuff indeed (spoiler: war isn't beautiful). Cousins' use of montage represents a manipulation just as A Noi does, of course — that's just what films do — but at least he's open about it.
Some of the documentary footage is thrilling. There's Haile Selassie being heckled for his 1936 plea for help to the League of Nations, one of the great speeches of history. Some of it is sickening, as when what looks like a high-heeled shoe kicks the dead Il Duce's head following his execution. And some of it is beyond comprehension, as in the film's second great montage, that depicting the Italians' use of mustard gas to "pacify" the innocent population of Abyssinia, now Ethiopia.
Where documentary footage isn't available, magpie Cousins cuts in sequences from many, mostly Italian films to bring his ideas alive: Ettore Scola's A Special Day, for example. Work by Neapolitan pioneer Elvira Notari is also used, framed here as sensitive and human filmmaking by contrast with all the unshackled, black-shirted masculinity on display in a political movement that, gender-wise, always seems a little insecure.
In a beautifully understated performance to camera, Rohrwacher plays Anna, an early-20th-century mother, describing her increasing disillusionment with the system — an explicitly fictional device that could feel out of place, but which actually provides a necessary, subjective view of what life under fascism feels like. "The things I care for don't care for me," Anna movingly reflects.
The lengthy, interposed static shots, by Cousins himself and co-cinematographer Timoty Aliprandi, are peaceful metaphorical commentary — a bird in flowing water, for example. Later, they serve as a reminder of how fascist architecture remains a major feature of the Roman cityscape, Cousins again using his trained gaze to show how the form and function of these massive blocks of powerful stone are inescapably intertwined.
A Noi does not end with Mussolini triumphantly walking up the steps of Rome's Altare della Patria, because he wasn't actually on the march, much as the former — and possibly forthcoming — American president wasn't there on the 2021 attack on the US Capitol. In The March On Rome, which seems to be suggesting that the worst for us is yet to come, the parallels are there for all to see. Wisely, because these are different times, Cousins doesn't hammer them home — but you sense that, with the march on the Capitol in mind, he and his trusty camera might already have booked their flight to Washington.
Production company: Palomar
International sales: The Match Factory, info@matchfactory.de
Producers: Carlo Degli Esposti, Nicola Serra
Screenplay: Mark Cousins, Tony Saccucci
Cinematography: Mark Cousins, Timoty Aliprandi
Editing: Timo Langer
Main cast: Alba Rohrwacher