A big city cop exiled to a sleepy coastal town struggles to keep her life on track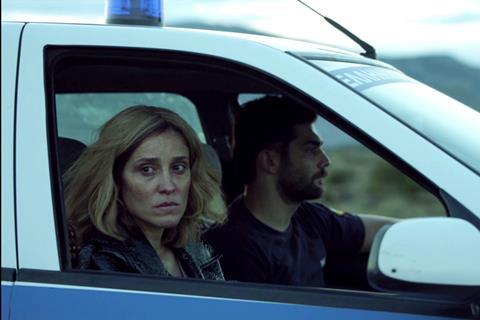 Dir. Syllas Tzoumerkas. Gr/Neth/Ger/Swe. 2019. 121mins.
The Atlantic region known as the Sargasso Sea has always been synonymous with mystery and the unfathomable, so it provides a more than suitable reference point for the new film by Greek writer-director Syllas Tzoumerkas. The Miracle of the Sargasso Sea exists on the cusp of mystery thriller and existential arthouse riddle, and features two terrific female performances – one from co-writer Youla Boudali, the other from Angeliki Papoulia, the incendiary lead in Tzoumerkas's aptly named A Blast (2016), again firing on all cylinders.
The more Tzoumerkas skips aside to follow other characters, also dropping in disorienting bursts of camcorder footage, the more diffuse it all feels
Tzoumerkas's follow-up confirms that he's a director of some brilliance and daring (he's also known as co-writer of Argyris Papadimitropoulos's internationally feted Suntan). But the obliqueness and the enigmatic theological subtext of Miracle can't disguise that this is ultimately a small-town nightmare movie of a sort that's not entirely unfamiliar. Stylish execution and the increasing cachet of Papoulia (a Yorgos Lanthimos regular, from Dogtooth to The Lobster) should make this a festival draw and provide some niche commercial appeal, although this is not the blast A Blast was.
The story begins in Athens in 2006, with a SWAT team interrupting the orgiastic get-together of a young militant group. One of them is interrogated by police officer Elisabeth (Papoulia), who's then given a choice by a superior: incriminate the group with fake evidence or accept a posting in the sticks. Ten years later, Elisabeth is police chief in the coastal town of Missolonghi, and provincial exile has visibly made her an embittered mess: a heavy drinker, she now sports tacky blonde-dyed hair and wet-look leatherette, and is sleeping with slobbish married doctor Vassilis (Argyris Xafis).The simmering resentments of small-town life bubble up when Elisabeth and her teenage son Dimitris (Christian Culbida) attend a dinner hosted by Vassilis and his wife, along with a sharp-tongued district attorney and his mute brother Michalis (Thanasis Dovris): here, Tzoumerkas expertly cranks up the squirm factor.
A parallel thread follows the travails of Rita (Boudali), who works at a local plant preparing eels, a staple of the local economy and an ominous visual metaphor. She is also cleaner at an Orthodox church, a setting which triggers the film's theological imagery; notably the narratively unmotivated sequences in which scenes from the life of Jesus are enacted by what resembles a troupe from a travelling production of Hair.
While the milieu depicted here is generally pretty corrupt, evil is specifically incarnated by Christos Passalis (also in Dogtooth) in a ripely sleazy turn as Rita's malign brother Manolis, the swaggering, druggy crooner at a club – apparently Missolonghi's answer to the Roadhouse in Twin Peaks – where his cheesy routine culminates in him showering his audience with curses.
Before long, a dead body provides Elisabeth with a chance to apply her policing skills – and possibly, with a passport to redemption. In the event, the case proves straightforward, although Tsoumerkas's narrative is anything but. While he keeps his two heroines' stories in parallel, the film is tantalising, but the more he skips aside to follow other characters, also dropping in disorienting bursts of camcorder footage, the more diffuse it all feels. The density of incident suggests that there's enough material to supply a TV weird-investigation series à la Jane Campion's Top of the Lake, although the dénouement doesn't deliver on the build-up.
There's intriguing visual play on the theme of heaven and hell, with the Missolonghi lagoon bringing a flavour of US thriller, as the landscape evokes both the Louisiana swamps and the Florida Keys. DP Petrus Sjövik captures the terrain to striking effect, both in aerial shots and at close hand, emphasising the degradation of a rubbish-strewn countryside.
While Tsoumerkas doesn't pull off the miracle you hope, the acting fairly crackles. Boudali's downplayed intensity keeps us guessing throughout, while Papoulia's female cop on the skids vibrates at an unnerving pitch that makes Nicole Kidman's similarly styled characterisation in Destroyer look positively half-baked.
Production companies: Homemade Films, unafilm, PRPL, Kakadua Filmproduktion, Film i Väst, ZDF/ARTE, ERT, NOVA
International sales: New Europe Film Sales jan@neweuropefilmsales.com
Producer: Maria Drandaki
Screenplay: Youla Boudali, Syllas Tzoumerkas, Huldar Breiðfjörð
Cinematography: Petrus Sjövik
Editor: Andreas Wodraschke
Production design: Jorien Sont
Music: Jean-Paul Wall, drog_A_tek, Phoebus
Main cast: Angeliki Papoulia, Youla Boudali, Christos Passalis, Argyris Xafis, Thanasis Dovri