A one night stand is at the heart of Julien Hilmoine's likeable, if light, emotional drama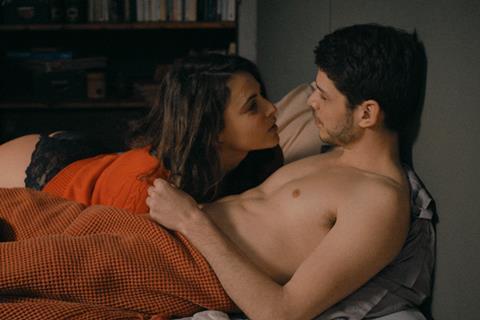 Dir/scr: Julien Hilmoine. France. 2021. 88 mins.
When Axelle (Laura Muller) encounters Yohann (Schemci Lauth), meet-cute style, it's late at night, he's wearing a rabbit suit and has been pinned to the floor with weights by his mates as a joke for his stag do. She knows him from their school days, although they never spoke, and he doesn't recall her. With this elaborate set-up, first-time feature director Julien Hilmoine is already nudging us towards ideas of what constitutes entrapment and freedom. And once the pair set about talking, they are soon embarking on a hot and heavy one-night stand which mixes copulation with the confessional.
The physical frisson is well realised by the two leads but the drama would benefit from more emotional structure
While there's plenty of erotic charge to Hilmoine's intimate two-hander, which is featuring in the Competition section at the Transilvania International Film Festival, it lacks the intellectual underpinning and star names of the likes of the similarly themed Good Luck To You, Leo Grande, which may mean it struggles to mark itself out beyond the festival circuit. It could, however, prove attractive to adventurous streaming services looking for a bit of racier content for younger adults.
Axelle is a free-spirited free agent and, when she offers Yohann a night to remember with no strings attached, his defences crumble so quickly that it could act as a turn-off of his character for audiences. Lauth, who looks like a sort of scraggy-bearded Gallic cousin of Michael Cera, also makes for an unlikely romantic lead, although he brings a non-threatening amiability to Yohann who, once a school rebel, is now firmly on the road to domesticity. By contrast Axelle – like so many women in films like this before her – has been left wanting by unsatisfying sexual liaisons.
There is a slightly worrying sensation that Hilmoine is out to 'fix' Axelle through this encounter, not helped by the film's concluding scene, although he does off-set this by maintaining a playful approach to the sex scenes, including a cute moment where the lovers break off to eat roll mops and another when they scamper out of the house naked, which helps to make the film feel more expansive than a simple chamber piece. He also keeps Axelle's desires and consent paramount in the couple's encounters, although it's never clear that she fully has the emotional upper hand.
There are opportunities to say something about the nature of modern relationships and desire but the writer/director repeatedly gets distracted by the lure of imaginative sexual foreplay rather than let his characters spend time in emotional terrain beyond the surface of topics including body hair, and the lack of it, religion and family. The physical frisson is well realised by his two leads but the drama would benefit from more emotional structure rather than simply teasing at the edges.
The ace in Hilmoine's hand is Muller, making a memorable impact in her first feature role. More Rubenesque than many actors who get cast in this sort of film – and all the more believable for it – she has a dance background that shows in the fluidity she brings to Axelle's movements. There's a sensuality and sensitivity to her performance that gracefully dips more deeply into the surface emotions provided by Hilmoine's script and that suggests a lot more screen roles lie ahead.
Production company Local Films
International sales: Wide, assistant@widemanagement.com
Producer: Nicolas Breviere
Cinematography: Yoann de Montgrand
Editing: Cedric Le Floc'h
Music: Philippe Deschamps
Main cast: Laura Müller, Schemci Lauth