Laure Calamy leads a powerhouse cast in Sebastien Marnier's twisty thriller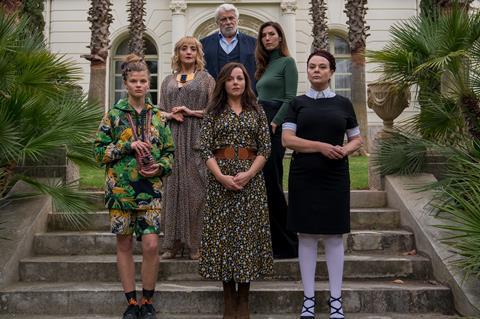 Dir/scr: Sebastien Marnier. France/Canada. 2022. 123 mins.
Family fortunes and squabbling relatives form a sturdy foundation for a twisty, sometimes florid thriller in The Origin Of Evil. The third feature from Sebastien Marnier, after School's Out (2018) and Faultless (2016), feels like an homage to Patricia Highsmith's Ripley, featuring a slippery central character adept at deception and reinvention. There is also an echo of Knives Out as Marnier charts the tensions in a household where the residents resemble a nest of vipers. Those connections and nods to Agatha Christie, Claude Chabrol and others should readily attract mystery fans. Laure Calamy and a powerhouse cast lend added appeal to what could prove a solid, mainstream commercial attraction on its French theatrical release in October.
It quickly becomes apparent that nothing is quite as it seems in this jaunty romp
Recent French cinema has cast Calamy as indomitable women, fighting tough odds on journeys of self-discovery (Her Way, Angry Annie). Marnier uses her sympathetic presence and emotional vulnerability to serve a more ambiguous character in The Origin Of Evil. Stephane (Calamy) works in a fish factory. Her hot-headed lover (Suzanne Clement) is halfway through a five-year prison sentence. Stephane's life is one of struggle and survival. It is hardly surprising when she finally reaches out to her long absent, and fabulously wealthy, father Serge (Jacques Weber). But is she after his money or just seeking the comfort of a family connection that she has rarely known?
Serge lives in the kind of palatial island home that could happily accommodate a Bond villain. Marnier vividly contrasts the difference in their circumstances: Stephane shares a cramped, dimly lit flat in a life of desperation; Serge lives in the lap of luxury, his home full of light and signs of privilege. It also begs to become a crime scene with rifles casually hanging from the walls and sharp kitchen knives to hand.
Stephane's sudden appearance instantly ruffles the feathers of Serge's wife Louise (Dominique Blanc) and other daughter George (Doria Tillier). Even an eavesdropping maid resents her intrusion. Marnier uses split-screen to isolate individuals in the same conversation, presenting them like a rogue's gallery of suspects in a Christie whodunnit.
Surrounded by resentment, Stephane boosts her standing by telling a little white lie about owning a fish canning business, rather than admitting that she works on the factory floor. It makes her all the more sympathetic but is an early sign of her ability to improvise, stretch the truth and make herself pleasing to others. She convinces Serge that she might be his ally in preventing the rest of the family having him declared incompetent to run his affairs.
It quickly becomes apparent that nothing is quite as it seems in this jaunty romp. Marnier's agile screenplay takes us beyond surface appearances to reveal the hidden agendas at play. Propelled by revelations, twists and a seasoning of sly humour, The Origin Of Evil is very watchable, even if some ingredients propel it towards parody. The mention of a secret passage and the rumbles of thunder to signal the coming denouement over egg pudding, not to mention the score by Philippe Brault and Pierre Lapointe, flirt with Victorian melodrama.
The clever machinations of the plot are always underpinned by a strong ensemble cast playing the emotional truth of the situations to the hilt. Weber gradually reveals the crafty, unrepentant monster in Serge. Blanc is a constant delight as the blithe, surprisingly shrewd Louise, a woman for whom excessive shopping is the best revenge. Tillier's steely, tough-as-nails character grows in our estimation as we discover what she has been fighting against. And Calamy beguiles throughout, especially when the camera frames her face and captures moments of trembling anxiety and nervous laughter unseen by those around her. This is someone negotiating life without a safety net.
Production companies: Avenue B Productions, Micro_Scope, Poison Productions
International sales: Charades, sales@charades.eu
Producer: Caroline Bonmarchand
Cinematography: Romain Carcanade
Production design: Damien Rondeau
Editing: Jean-Baptiste Beaudoin, Valentin Feron
Music: Philippe Brault, Pierre Lapointe
Main cast: Laure Calamy, Suzanne Clement, Doria Tillier, Dominique Blanc