A Syrian refugee finds a safe haven in Aki Kaurismaki's typically idiosyncratic follow-up to Le Havre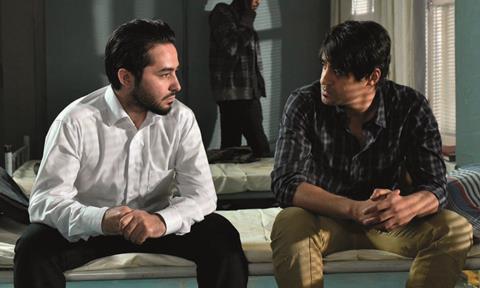 Dir/scr/prod. Aki Kaurismaki. Finland/Germany, 2017. 98 min.
Here is Aki Kaurismaki's personal gift to the Donald Trump age, the kind of present the US president is not likely to appreciate. At the same time one suspects Finland's leading filmmaker would only relish such a rejection. A follow-up to Le Havre, in which the West encountered Third World refugees, The Other Side of Hope takes the topic one step further - it's no longer just about helping homeless survivors in transit on their way to another destination, but accepting them in one's own home and country, a more complicated and much longer commitment.
Kaurismaki fans will not want to miss this one and a festival career is practically certain.
All the familiar Kaurismaki trademarks are here in this story of a Syrian refugee in Helsinki, be it the dry, laconic humor, the spare unadorned images, the old-fashioned tuners sprinkled all through the picture and even a brief guest performance by his favorite star, Kati Outinen. It may be true that his new film has a thinner plot which resorts a bit too often to arbitrary solutions, but the simple, natural decency of his characters remains untouched and so are the deadpan expressions hiding a gentle kindness. Kaurismaki fans will not want to miss this one and a festival career is practically certain.
The script follows two very different men in mid-life looking for a new start. Wikstrom (Sakari Kuosmanen), a fiftyish, stocky Finnish blank-looking shirt and tie salesman, proceeds to leave his wife in a brief, wordless, inimitable Kaurismaki sequence, terse, curt, ironic and sad, all at the same time. He sells all his clothing stock and buys himself a restaurant, which in the course of the film serves everything from meatballs to sushi to Indian chutney.
Khaled (Sherwan Haji) seen hiding in in the film's opening scene, is Syrian. His house back home has been bombed and all his family, except his sister, are dead. He has illegally crossed all the borders from Turkey to Scandinavia, and now, like a law-abiding citizen who wants to start a new life, he goes to the police to ask for political asylum. Predictably though, this is not as simple as it might seem. The Finnish authorities believe Aleppo is not a particularly dangerous place, anyway not by their standards, and therefore intend to send him back there. Helped, once again wordlessly, by a kind soul, Khaled runs away, and becomes one more illegal fugitive on the streets of a European capital, prey to fascist hoodlums and in hiding from the authorities.
One day, Wikstrom finds Khaled hiding behind his restaurant and takes him in, provides him with illegal papers, serviceable enough for everyday use if not for international travel and even helps him to look for the sister he has lost on his journey to the north. He is accepted into a family, if Wikstrom and his staff can be called that, without any hesitation or second thought, simply because it is only natural to behave this way.
Typical to Kaurismaki's world, all those who do not march to a single drum, who do not consider themselves as part of the system, all the simple, decent people who do not have to be told what is right and what is wrong because they can sense it, are drawn together in a warm, humane camaraderie which has nothing to do with either their race, sex or colour. Their sentiments do not need to be expressed in long speeches or heroic acts because they come through literally in everything they do.
As economical in his visual style as he is with his dialogue, Kaurismaki makes the most out of having his actors do the least. He does not feed the audiences any lines or messages, he lets them imagine and discover this film all on their own. Whether a character painstakingly cleans a window which does not exist or earnestly prepares sushi without having the slightest idea what to do, the result is not just comic but touching as well.
Kuarismaki's cast responds in just the right minimalistic way. As for the collection of ancient rock'n rollers brightening up the streets of Helsinki and Wikstrom's diner, there is so much empathy bestowed on them by the camera that one would almost be tempted to ask for a film on each one.
The film is dedicated to the late Peter van Bagh.
Production companies: Sputnik Oy, Finland
International sales: The Match Factory (info@matchfactory.de)
Cinematography: Timo Salminen
Editor: Samu Heikilla
Production design: Ville Gronroos, Heikki Hakkinen, Markku Patila
Sound: Tero Malmberg
Cast: Sherwan Haji, Sakari Kuosmanen, Janne Hyytiainen, Ilkka Koivula, Nuppu Koivu, Simon Hussein Al-Bazoon, Niroz Haji, Kaija Pakarinen