Doris Dorrie takes a dive into culture war comedy with this well-observed poolside drama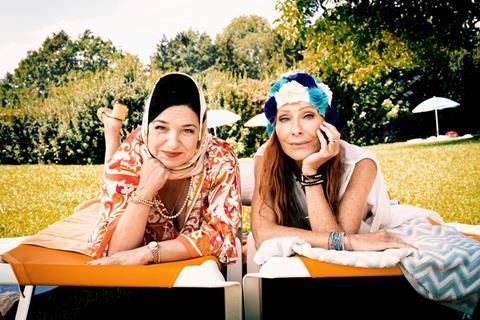 Dir. Doris Dorrie. Germany. 2022. 103 mins.
It's hard to find much humour in the intersection of feminism and the so-called 'culture wars'. It's unlikely, for example, that JK Rowling finds any of it funny, and court rulings on 'burkinis' and religious symbolism across Europe sit uneasily with stand-up routines – just ask Dave Chappelle. There's a strong sense that if you made a comedy about it all you – and your distributor or exhibitor – could be cancelled long before audiences had a chance to raise a wry grin. Enter Germany's Doris Dorrie (Men), a long-time dextrous chronicler of modern mores and hypocrisies, plunging into the deep end with the deceptively candy-coloured The Pool (Freibad).
Possibly the most skilfully-handled element of Dorrie's screenplay is that nobody at this swimming pool is even remotely sympathetic
The harmonious bubble of a women-only swimming pool in Germany is pierced repeatedly and skilfully by co-writers Dorrie, Karin Kaci and Madeleine Fricke in broadly humorous comedy which acts as a vehicle for some very pointed social critique; this pool has high PH Levels. Premiering at the Munich film festival before a September release in Germany through producer Constantin, this feelgood drama – it's always clear that everyone at the pool will find their happy accommodation – may look too ostensibly light for festival consumption, but those who take the plunge on distribution and exhibition should be commercially rewarded. The distancing effect of it being German-language will help sweeten the dive overseas.
Possibly the most skilfully-handled element of Dorrie's screenplay is that nobody working at, or sitting around, this swimming pool is even remotely sympathetic. They're all bad women, but good women too. Every character type, with the possibly exception of a Turkish divorcee, is venal, voicing arguments which are traditionally internalised in the sisterhood. The two central characters, played with gusto by Andrea Sawatzki and Maria Happel, are a delight – but they're also awful.
Sawatzki is Eva, a former chart-topping singer and 'old hippy chick' whose miserable attempts to protect womens' rights mainly involve being racist to the secular Turkish family who insist on loud barbecuing and smuggling in a boy, and whose college-age daughter Jasmin (Nilam Farooq) has taken to wearing head-to-toe 'rubber tubing' to the pool ("Swimming for ISIS"). Happel, meanwhile, has fun with Gabi, an overweight, pampered lady squeezed into her Pucci two-piece who pretends her pug is a baby yet nonetheless pokes cruel fun at the super-woke lesbian with dyed-blue underarm hair.
Even the magical trans character (Nico Stank) isn't above ditching the pork sausages and over-charging for lamb the minute a convoy of rich Syrian 'burqa refugees' from Switzerland arrives to disrupt the low-lying tit-for-tat passive aggression in the afternoon heat. Pool owner Rocky (Lisa Wagner) charges them Euros30 entrance (it's Euros3 for German visitors), they take Eva's lounger, provoking her to new topless lows in behaviour, and a floating poo in the pool finally prompts the put-upon lifeguard Steffi (Melodie Wakivuamina) to quit. And when she's replaced by a man, Dorries' film really does move up from a lazy crawl to fast freestyle.
The surprising combination of a sugar-candy coloured aesthetic with comically acid dialogue propels The Pool through some very dark waters — female friendship, rivalry, ageing, body, race, acceptance, wokeness, judgement and the law. As the bright yellow duck glides across the cerulean blue pool at night, to be joined later by some equally photogenic blow-up toys, there's a strong sense that this isn't all fun, but it's good humoured nonetheless. At last, it seems, Dorrie has delivered some humour in the culture wars that will be hard to give offence — still, let's see how she floats.
Production company: Constantin Film Produktion
International sales: Constantin Film, zentrale@constantin-film.de
Producers: Rudiger Boss, Christoph Muller
Screenplay: Doris Dorrie, Karin Kaci, Madeleine Fricke, from an idea by Doris Dorrie
Cinematography: Hanno Lentz
Editing: Frank J Muller
Music: Anna Kuhlein
Main cast: Andrea Sawatzki, Maria Happel, Nilam Farooq, Lisa Wagner, Melodie Wakivuamina, Julia Jendrossek, Sabrina Amali, Nico Stank, Samuel Schneider, Ilknur Boyraz, Sema Poyraz,