A heroin addict goes cold turkey in a remote mountain-top community in Cedric Kahn's Berlin Competition entry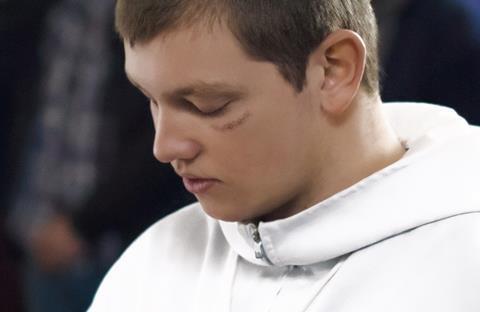 Dir. Cedric Kahn. France. 2018. 107 mins
After a heroin overdose, a 22-year-old young man named Thomas (Anthony Bajon) is deposited at an isolated bare-bones residential community in the mountains of Isere to kick his habit cold turkey and come to terms with what he wants out of life. Several seasons pass in the course of Berlin Competition entry The Prayer (La Priere), which shows us how Thomas struggles to set himself free with the tough love of his companions — recovering from addiction, one and all — and let the alleged power of the title commodity, prayer, infuse him. Something happens on a group hike that seems significant and sends Thomas on a trajectory that would have been unthinkable when he first arrived.
The obviously well-researched proceedings at the facility are completely convincing but only mildly interesting much of the time
Always watchable but not transcendent, Cedric Kahn's character study builds its portrait via landscape, work, prayer and friendship. Since Thomas himself is not particularly interesting — much like the dull-as-dirt American travellers who averted a terrorist bloodbath as depicted in Clint Eastwood's The 15:17 to Paris are painfully mundane until the film's final stretch— it is only the determination of his dedicated fellows that can make him so. The given is mutual support — sometimes in the form of violent wrestling holds to subdue a tormented body undergoing withdrawal — offered by people who know in their bones that staying busy and away from temptation is the only path to sustained recovery.
The proceedings consist of lots of manual labour and time out for prayer and song and public exercises in thanks and humility. ("Thank-you for making me angry so I could work on that flaw in myself"— that sort of thing.) Effective comic relief arrives in the form of a religious play with wobbly scenery performed by the residents.
Ambivalent about his own self-destructive tendencies, Thomas decides early on that the strict regimen is not for him. He demands the return of his meagre belongings and sets off on foot for the nearest town where he is taken in for the night by a farming couple who provide produce to the mountain enclave. Their daughter, Sybille (Louise Grinberg), an archeologist waiting to be assigned to a dig, is visiting her folks. She tells Thomas that others before him have landed on their doorstep and that she strongly recommends he swallow his pride and return to the programme.
Thomas takes her advice and from this first encounter a relationship blossoms. Although their overtly carnal connection in the wake of a tragedy is fetchingly filmed, there seems to be no better reason for their mutual attraction than that he's male and she's female and there aren't a lot of other candidates in the boondocks for dissipating one's youthful hormones. While no one is off-putting, neither is anyone inherently appealing or charismatic. Pierre (Damien Chapelle), the experienced resident assigned to monitor Thomas' every mov, is touching when he finally reveals what landed him there.
The obviously well-researched proceedings at the facility are completely convincing but only mildly interesting much of the time. Genuinely compelling moments include those with Hanna Schygulla as Sister Myriam, the nun who founded the community three decades earlier. In minimal screen time she conveys that if God works in mysterious ways, she knows the shorthand. There's also a certain nutty power in digging a hole in frozen ground only to fill it in again. And a warm weather sequence when the all-male wing picnics with the all-female wing, during which residents give testimony about their backgrounds and demons, has the ring of truth. For some, the isolated community will probably be the only way they can stay clean because the real world, with its demands and temptations, is simply too dangerous for them to live in. Whether Thomas can replace drug use with love — numinous or earthly or both — is the ever-vacillating question at the heart of the film.
Production company: Les Films du Worso
International sales: Le Pacte, c.neel@le-pacte.com
Producers: Sylvie Pialat, Benoit Quainon
Screenplay: Fanny Burden, Samuel Doux, Cedric Kahn
Cinematography: Yves Cape
Editor: Laure Gardette
Production design: Guillaume Deviercy
Main cast: Anthony Bajon, Damien Chapelle, Alex Brendemuhl, Louise Grinberg, Antoine Amblard, Hanna Schygulla