Effective animated drama about two couples struggling under the cruelty of Taliban rule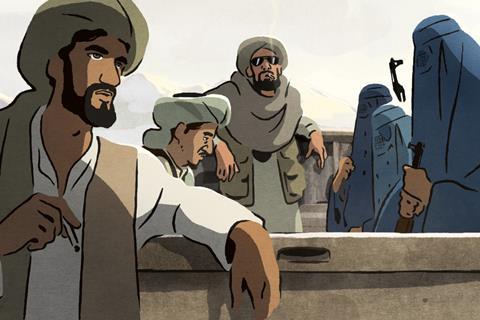 Dirs: Zabou Breitman and Eléa Gobbé-Mévellec. France. 2018. 81mins
Two couples at very different phases of life find their destinies intertwined in The Swallows Of Kabul (Les Hirondelles De Kaboul), a melancholy animated drama about the cruelty of Taliban rule. Giving Yasmina Khadra's 2002 novel a tasteful watercolour treatment, directors Zabou Breitman and Eléa Gobbé-Mévellec risk stripping away the story's moral indignation in favour of something more bittersweet and restrained. And yet, this tale of repression and injustice is potent enough to overcome the inevitable distancing that occurs because of the animation process.
The unassuming approach has its rewards — most pointedly, that it puts the film's ironies in stark relief
Premiering in Un Certain Regard, Swallows also screens in Annecy next month, and fans of adult-themed animation, particularly the recent acclaimed The Breadwinner, will seek the film out. A voice cast that includes Simon Abkarian and Hiam Abbass will further attract buyers, and positive reviews should also be a benefit.
Living in Kabul in the summer of 1998, passionate young lovers Mohsen (voiced by Swann Arlaud) and Zunaira (voiced by Zita Hanrot) try to make the best of the fact that their freedom is severely restricted under the Taliban. Meanwhile, a disillusioned middle-aged couple, Atiq (voiced by Abkarian) and Mussarat (voiced by Abbass), aren't just contending with dangerous fundamentalists — her cancer has progressed to such a point that death seems imminent.
Breitman, a live-action filmmaker, joins forces with Gobbé-Mévellec, a cartoonist, character animator and director, and Swallows has been produced by Les Armateurs, the French company responsible for The Triplets Of Belleville and Ernest & Celestine. The co-directors first shot with their cast, however, using those filmed scenes as the basis for the final animation. The result is a movie that has a gentle, lived-in quality associated with hand-drawn animated projects.
The reserved tone sometimes undercuts an infuriating, heart-breaking study of individuals whose existence is hemmed in by the Taliban's monstrous behaviour. Swallows features everything from stonings to mass executions — to say nothing of small, daily indignities — and certainly there's an argument to be made that a live-action telling would have simply been too much for an audience to bear. But to a degree, the delicate animation anaesthetises the viewer, allowing us to appreciate the artistry on display rather than focusing on the Taliban's barbarism, which is often shown off screen. Admittedly, that storytelling remove is a relief, even if one occasionally longs for a more visceral take on this anguished material.
Still, the unassuming approach has its rewards — most pointedly, that it puts the film's ironies in stark relief. Atiq is a guard at a women's jail that incarcerates blasphemers who will be killed for their crimes, but his life at home is its own kind of prison because of Mussarat's failing health — not to mention a rising division between husband and wife. By comparison, Mohsen and Zunaira seem relatively carefree, but they, too, will soon discover how the Taliban's strangulating grip affects every aspect of their beings.
Alexis Rault's muted score mostly resides in the background, underpinning key moments without overwhelming them, and likewise the voice performances eschew hysterics, letting the story's growing despondency reveal itself unadorned. Swallows doesn't try to wow us with fanciful sequences or cutting-edge animation techniques. If Breitman and Gobbé-Mévellec's pacing is occasionally too slow — at 81 minutes, the film feels a bit slender — the unexpected intersection of these two couple's lives builds to an ending that, while melodramatic, articulates in simple language the horror that's been around them all along.
Production companies: Les Armateurs, Melusine Productions, Close Up Films, ARTE France Cinéma, RTS Radio Télévision Suisse, KNM
International sales: Celluloid Dreams, marie@celluloid-dreams.com
Producers: Reginald de Guillebon, Stephan Roelants, Michel Merkt, Joëlle Bertossa
Screenplay: Sébastien Tavel, Patricia Mortagne, Zabou Breitman, based on the novel by Yasmina Khadra
Editing: Françoise Bernard
Music: Alexis Rault
Main voice cast: Simon Abkarian, Hiam Abbass, Swann Arlaud, Zita Hanrot