Jenny Tseun and Christopher Doyle unite for a story set in Hong Kong's last fishing village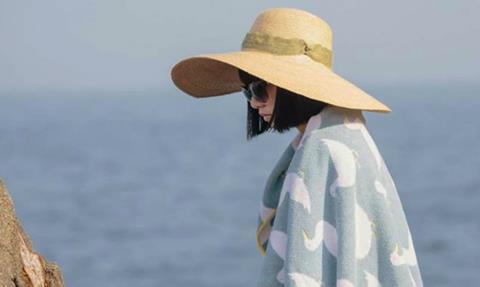 Dirs: Jenny Suen, Christopher Doyle. Hong Kong. 2017. 97 mins
A fanciful drama which ties together three outsiders against the backdrop of a dying fishing community in Hong Kong, The White Girl is a victim of its own dogged quirkiness. Co-directed and co-written by Christopher Doyle and Jenny Suen (who also worked with him on Hong Hong Trilogy as a producer, editor and assistant director), this is a film which is constructed from sundry offbeat elements which never fully hang together as a whole.
This is a frustratingly elusive piece of storytelling
The Doyle name, and the legacy of his work with Wong Kar-wai, should ensure further festival bookings and perhaps minor VOD interest. However, it is too willfully obtuse and self-conscious to travel theatrically far beyond its domestic market.
The White Girl (Angela Yuen) – we never know her name – is allergic to sunlight. She spends her days shrouded in clothes and shaded by a broad brimmed hat and enigmatic sunglasses. To the rest of Pearl Village, the last fishing community in Hong Kong, her distinctive pale skin and mysterious appearance is cause for suspicion. She is branded a ghost. If she so much as looks at the nets, the fishermen are convinced that their fish-catching prospects have been dashed. If she touches the possessions of one of her school mates, they throw it away. Her overprotective father, a fisherman himself, guards her against both the sun's rays, and the identity of, and truth about, her mother.
The only time that the White Girl feels free is at night, when she sheds her protective layers and wanders around the sea shore in pants, a vest and wellie boots. It's here, at night, that she meets Sakamoto (Joe Odagiri), a Japanese artist. Sakamoto has made a home for himself in deserted tower which houses a camera obscura that captures village life and projects it onto a decaying wall. Through faltering English, they communicate, and a spiritual connection builds.
Another outsider in the community is street kid Ho Zai (Jeff Yiu), who peddles mosquito coils and lives with a mute Buddhist monk who builds Rube Goldberg machines in his spare time. Perpetually plodding around the island, Ho Zai knows everyone and hears everything. It is he who learns that the visitors from the mainland are in fact developers who plan to bulldoze the mangrove forest and fill the sea with concrete.
Full of half developed stories and scenes which either fizzle out or end abruptly before they seem to have achieved a purpose, this is a frustratingly elusive piece of storytelling. It feels as though it was the location – a collection of ramshackle fishing huts on stilts – rather than the cobbled-together story which was the driving force behind the filmmaking. Even the look of the film is undistinguished. Doyle's trademark dreamlike imagery is toned down and the film plays out in a weirdly murky half light, almost as though it was shot through the dark sunglasses that White Girl habitually wears.
Eclectic music choices and a subplot about the girl's missing mother (who may be dead or may be a Hong Kong pop star) add little to an already confused story.
Production company/international sales: Pica Pica Media, info@picapicamedia.com
Producers: Ken Hui, Heidi Ng, Alea Rahim, Jenny Suen, Leonard Tee
Screenplay: Jenny Suen, Christopher Doyle
Cinematographer: Christopher Doyle, Tsoi Kubbie
Editor: Jenny Suen, Jinpo Yip
Music:Lung Dart, Joe Odagiri
Starring: Joe Odagiri, Angela Yuen, Michael Ning, Tony Tsz-Tung Wu, Kin-Ping Leung, Jeff Yiu