Fairy tales, folklore and remarkable animation combine in this fantastical Chilean tale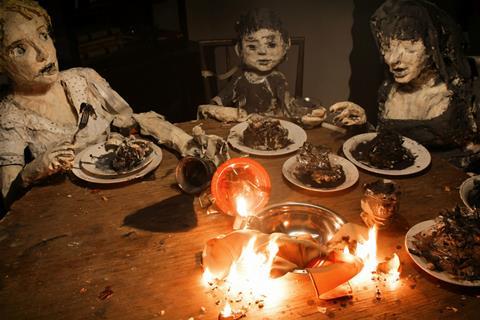 Dirs/scr: Cristóbal León and Joaquín Cociña. Chile. 2018. 75mins
Centuries of children have dreamed of ominous woods, threatening wolves and other fearsome fictional creations, but only Cristóbal León and Joaquín Cociña could have conjured up The Wolf House (La casa lobo). With their feature debut, the artists turned filmmakers draw upon folklore and fairy tales to craft their own visually inventive addition to the fold. And they truly did craft it — fashioning their stop-motion animated effort out of paint, paper, tape and furniture, and staging its scenes across various Chilean, Argentinian, Mexican, Dutch and German galleries while inviting the public to participate.
The feature leads viewers into an alluringly sinister new realm
Of course, given that the end product literally springs from an artistic experiment, tempting audiences en masse will be the tricky part, though further gallery and festival play, following its Calgari Film Prize-winning play at Berlinale and Hong Kong berth, both beckon.
As fascinating as the film's production process proves, it's the results of their creative labours that entrance and enchant. Loving Vincent might have given the world it's first fully painted movie, but The Wolf House gifts animation that strides the line between beautiful and grotesque, that builds and crumples as the camera rolls. Indeed, with its frame constantly roving, everything on-screen continually moving and morphing, and its bulk presented as an unbroken shot, the feature leads viewers into an alluringly sinister new realm just like its namesake has in legends and literature.
While the titular abode remains the main attraction, The Wolf House commences with what looks like decades-old propaganda film for a fundamentalist German colony in southern Chile. Makers of great honey, the video advises, they sought refuge in the wilderness, "closed off from the temptations of the outside world." The preamble's voiceover narration isn't heavy on other details, but its disquieting vibe only increases once dark rumours plaguing the community earn a mention. In the next segment, which introduces a girl named Maria, the feature plunges into such troubles.
More fond of playing animals than attending to her work, Maria (Amalia Kassai) lets three little pigs escape from their pen and is punished as a result. "You will spend a hundred days and a hundred nights without talking to anyone so that you may reflect on what you have done," she's informed. Fleeing through the trees, she seeks refuge in a house not only from her human oppressors, but from a big bad wolf (Rainer Krause). With transformations, mirrors on the wall and magic dresses, the film's journey then shifts and evolves as much as the animation itself.
That said, the narrative details can't hold a candle to the visual detail on display, and one of the film's most striking moments involves the lighting of candles lighting up. Nods to The Three Little Pigs, Red Riding Hood and Snow White are evident yet not overplayed, and León and Cociña also interweave modern parallels throughout.
Yet the story was always going to stand in the shadows of such intricate and distinctive artistry. Here, sometimes reminiscent of an Eraserhead-style Lynchian nightmare turned into sculpture, paintings and stop-motion, beasts become human, a body forms out of a head like something out of science fiction, and inside every constrained girl is an eager bird desperate to fly free.
Production company: Diluvio, Globo Rojo Films
Contact: Diluvio, nilesatallah@gmail.com
Producers: Catalina Vergara, Niles Atallah
Screenplay: Cristóbal León, Joaqín Cociña, Alejandra Moffat
Cinematography: Cristóbal León, Joaquín Cociña
Voice cast: Amalia Kassai, Rainer Krause