Matthew Broderick and Geza Rohrig star in this two-hander about mortal decay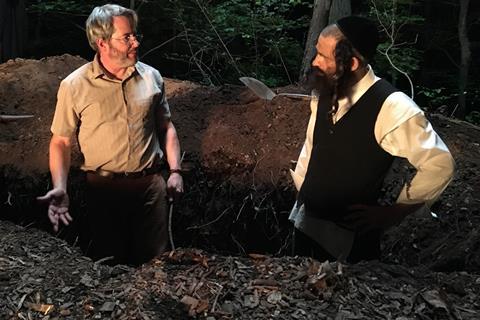 Dir. Shawn Snyder, USA, 2018, 91 minutes
'To Dust' is a term that evokes the mortality of the flesh in the Jewish and Christian traditions. Shawn Snyder's film about a cantor grieving for his wife and pondering her body's decomposition is earnest to the point of piety. It's also bawdy, and at moments, very funny. Films about rotting flesh usually show at midnight screenings, with an afterlife on VOD. While the low-budget To Dust can look forward to that. It is also sure to turn up at the Jewish film festivals that don't reject it outright for blasphemy. Fans of Matthew Broderick, who plays a hapless science teacher in this two-hander, will be rewarded.
The earthy side of To Dust involves so much exhuming and examination of maggots that the physical mess of death becomes a set of comic props like any other
Shmuel (Geza Rohrig from Son of Saul), has just lost his wife to cancer. Mourning her, he's puzzled about where her soul will eventually return if her body decomposes underground in a plain pine box with three holes. As Shmuel wanders around upstate New York, inquiring like a pilgrim without a destination about the decay of the flesh he stumbles into a community college science course taught by Albert (Matthew Broderick). Things get earthy right away when Albert discusses gases trapped in dead bodies that might eventually explode.
Through a meeting of science and the sacred, Shmuel and Albert become an investigative odd couple. To instruct Shmuel on the decay of his wife's body, Albert compares human decomposition to that of a pig, first with a gruesome video, and then with a real pig that they suffocate and bury, and dig up, and bury – again and again. Shmuel the cantor does everything to this pig but eat it. He keeps kosher, after all. (Animal rights activists may find the scenes offensive.)
Rohrig, as the perplexed Shmuel, ranges from deadpan to apocalyptic. Broderick plays Albert as a teacher at the bottom of the academic food chain, incredulous but compliant, drawn into the project because he doesn't have much else to do. Once the first pig experiment takes place, it gets easier for him to fall deeper into Shmuel's obsession, one shovel of dirt at a time. In search of the human element, the pair journeys to a farm in Tennessee where scientists study bodies (donated) that are left in the open air to decompose. (These places actually exist.)
The earthy side of To Dust involves so much exhuming and examination of maggots that the physical mess of death becomes a set of comic props like any other. Among the many lessons to be learned is that to achieve something, you have to get your hands dirty.
There's a heartfelt parallel story in the film, in which Shmuel's two young sons, fearing that their father is possessed, plot to rid him of the Dybbuk (demon) that has seized control of him. Their scheming has a gentle but dull Disney feel. Another well-meaning subplot involves a tender trap that Shmuel's relatives concoct to find a new wife for the aggrieved cantor. But if tenderness is deployed to ease Shmuel's grieving, those are not the scenes which give To Dust its special pungency, or what make you laugh. This film is at its best when it goes for the gut.
Another lesson of To Dust could be that grief knows no boundaries. It reminds you that the unthinkable and the preposterous become logical if you think they'll help you understand the ways of God, or if you're bored teaching sleeping students.
After any warnings that To Dust contains scenes that could be troubling for some audience members, it might also be noted that Geza Rohrig, an observant modern orthodox Jew, actually prepares bodies for burial, and that the director and co-writer Shawn Snyder, who's also Jewish, sees the film as part of his grieving process for his mother.
Production companies: King Bee Productions, Salem Street Entertainment, UnLTD Productions, Storyland Pictures, Wing and a Prayer Pictures
International sales: Gersh Agency jcohen@gersh.com
Producers: Emily Mortimer, Alessandro Nivola, Ron Perlman, Josh Crook, Scott Lochmus
Screenplay: Shawn Snyder, Jason Begue
Production design: Alexandra Kaucher
Editing: Allyson Johnson
Cinematography: Xavi Gimenez
Music: Ariel Marx
Cast: Géza Röhrig, Matthew Broderick, Sammy Voit, Leo Heller, Bern Cohen