Alma Poysti brings the creator of the Moomins to bewitching life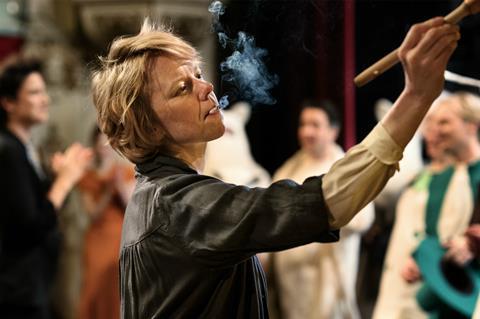 Dir: Zaida Bergroth. Finland/Sweden. 2020. 103 mins
Tove has such a fond regard for Moomins creator Tove Jansson that it casts a bewitching spell. Covering key events in her postwar years, it captures a sense of how emotional upheavals fed and shaped her creative endeavours. Alma Poysti achieves a remarkable likeness to Jansson, and her luminous central performance is a considerable asset. Conventional but charming, this well-heeled tale should attract the audience who also embraced Colette, Tom Of Finland and other recent literary biopics.
Tove has great charm, craft and a warming glow
The Tove of Zaida Bergroth's film is constantly dancing to the sound of her own special song both literally and metaphorically. The final images are of the real Tove Jansson in joyous movement on the sun-kissed island that she made home. They seem an apt reflection of an intrepid spirit and a film that explores the costs and rewards of her search for independence.
The film begins in the war-torn Helsinki of 1944. Walking through the rubble of bombed-out streets, Tove (Poysti) spins comforting fictions from the harsh reality around her. It is a gift that will eventually inspire the creation of the comic strip incarnation of the Moomins with their secret language and hearts of gold.
Tove is a painter, unable to escape the shadows of a father renowned as a sculptor. "Yes, I'm his daughter", she blithely tells one stranger. "A bleak shadow of his genius". The father seems to have made it his mission to belittle her talent. The art establishment refuses to support her. Part of her struggle is to maintain a belief in herself that others are reluctant to share. What makes her such an appealing figure is her optimism and determination. She lives by her claim that "life is a wonderful adventure".
Her key relationships with left-wing politician Atos Wirtanen (Shanti Roney) and seductive heartbreaker Vivica Bandler (Krista Kosonen) form the backbone of a film that immerses the viewer in a world of wealth and privilege where Tove always feels the outsider.
Production design and costume design highlight comforting, autumnal colours. The russet blush of a coat, the deep lime-green curtains, the vast four-poster bed, the fur collars, the glow of candelight on a polished dinner table all speak of tasteful luxury in an age of privation.
Roney brings a tender, bashful manner to the solicitious Atos but Tove's love for Vivica is all-consuming. Seductive high-society theatre director Vivica lives for the thrill of the new — fidelity to one woman seems such a waste when there are so many others to meet. Poysti effectively conveys the crushed feelings of someone who has found the love of her life yet knows it will never be wholly reciprocated.
The creative issue for Tove is that people may like her painting but they adore her comic strips and stories of the Moomins. For her they are a sideshow; a retreat from her true calling. Learning to accept their success is a significant part of accepting herself and finding a place in the world.
Covering a formative decade or so in Jansson's life, Tove has great charm, craft and a warming glow that finds further expression in a jazzy soundtrack that bounces playfully from Glenn Miller to Benny Goodman via Edith Piaf's heartfelt 'C'est Merveilleux'.
Production companies: Helsinki Filmi, Anagram
International sales: LevelK, lauren@levelk.dk
Producers: Andrea Reuter, Aleksi Bardy
Screenplay: Eeva Putro, based on a story by Eeva Putro and Jarno Elonen
Editing: Samu Heikkila
Cinematography: Linda Wassberg
Production design: Catharina Nyqvist Ehrnrooth
Main cast: Alma Poysti, Krista Kosonen, Shanti Roney, Joanna Haarti