Mathieu Amalric breaks out his guitar for the Larrieu brothers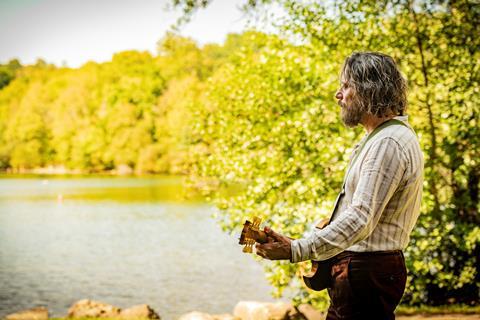 Dirs: Jean-Marie and Arnaud Larrieu. France. 2021. 120 mins.
The musical is a genre that's been with us since the very start of sound cinema, so we should be used to its rules by now – characters can burst into song at any moment, under any circumstances, and that's all there is to it. Why is it, though, that certain musicals feel so counter-intuitively bizarre in relation to their fictional worlds that they can still come across as utterly barmy? That's a mystery to ponder when watching Tralala, a droll, slight, sometimes infuriating, but ultimately rather charming exercise from Pyrenees-based brothers and comedy specialists Jean-Marie and Arnaud Larrieu.
Almost militantly unhip, it's a minor pleasure – and at times, as much an irritation
Following the fortunes of a modern-day troubadour, the film pairs a prestige cast headed by Mathieu Amalric with a set of numbers especially written by assorted leading French songsmiths including Dominique A and Etienne Daho. Sometimes toe-curlingly arch, but undeniably adventurous, Tralala demands to be taken on its own terms – which means that while its panache and constellation of big names will make it a contender in France, it's unlikely to mean much wherever its quirky lyrics will have to be appreciated in subtitle form.
Amalric - who starred in the brothers' underrated 2002 debut A Real Man – plays present-day holy fool Tralala, an impoverished busker first seen living in a barely functional squat. Armed with guitar and amp, he wanders the streets of Paris singing his songs for a pittance, but suddenly encounters a hallucination in radiant blue – a mysterious young woman (Galatéa Belugi) who tells him: "Above all, don't be yourself." A lighter she leaves behind prompts the fascinated Tralala trek to Catholic shrine Lourdes in search of her. On arrival, he has his guitar confiscated by rival busker Climby (Denis Lavant), an ocarina-tooting sometime burglar – but he's later befriended by him, and given a place to crash at disused disco 'Paradise', which doubles as a homeless shelter.
Its owner, hotelière Lili (Josiane Balasko) – first seem backlit radiantly like a matronly Madonna - mistakes Tralala for her long-lost son Pat. Tralala accepts the role, and is generally accepted in it, even though some are suspicious, like Pat's brother Seb (rock singer Bertrand Belin, one of the soundtrack contributors), a café owner father to two dorkishly rapping sons. Others see right through him, like Pat's old flame Jeannie (Mélanie Thierry), who nevertheless enjoys rekindling the passion with this delighted replacement. Meanwhile, the mystery woman, Virginie, turns up in the posh hotel run by her mother Barbara (Maiwenn) and her glowering husband (Jalil Lespert).
Characters sing throughout in a variety of styles, which are roughly arranged in gradation from Tralala's creaky solo guitar ballads at the start, through lusher arrangements, to the full-on numbers heard later on – which achieve their ripest efflorescence at an extended disco sequence. Not all the cast pass conventional muster as singers, least of all Amalric – although that's sort of the point with his character – although Thierry impresses in traditional French breathy-femme fashion, especially in a seductive bedroom number where she goes the full Bardot. The songs themselves are highly variable, the lyrics often as creaky in the original French as in translation, although contributors including noted wit Philippe Katerine come up trumps, rising to the overall absurdity. The film slightly scores an own goal in including a number by Brazilian maestro Milton Nascimento, which puts the rest in the shade, but never mind. Star choreographer Mathilde Monnier oversees the dances, albeit to middling effect.
Amalric, wearing his trademark look of a surprised veal calf, is genially charming in his best comic-innocent mode, and a larger-than-life cast are manifestly having fun - although Belin tempers the proceedings nicely as a dour, disillusioned middle-aged rocker. Invariably, any assessment of a French screen musical has to take Jacques Demy as a reference point, although this film recalls Demy's early classics less than it does his awkward 1985 rock opera Parking.
For all its unevenness, though, Tralala – when measured against French art-house musicals by the likes of Ducastel and Martineau, Christophe Honoré and even Jacques Rivette - holds its own honourably. DoP Jonathan Ricquebourg (The Death of Louis XIV) gives the streets, watersides and interiors of Lourdes a blazing vividness, especially in its Virgin Mary blues, and the film has the courage to be not just retro, in somewhat 80s style, but almost militantly unhip. It's a minor pleasure – and at times, as much an irritation – but anyone invested in the history and the current state of French chanson is likely to find themselves in tune with it.
Production companies: SBS Productions, Arte France Cinéma
International sales: Pyramide International, amauruc@pyramideflms.com
Producer: Kevin Chneiweiss
Screenplay: Jean-Marie and Arnaud Larrieu
Cinematography: Jonathan Ricquebourg
Editor: Annette Dutertre
Production design: Laurent Baude
Music: Philippe Katerine, Bertrand Belin, Dominique A, Jeanne Cherhal, Etienne Daho, Sein
Main cast: Mathieu Amalric, Josiane Balasko, Mélanie Thierry, Maïwenn