Dir. Adam Smith. UK, 2016, 94 mins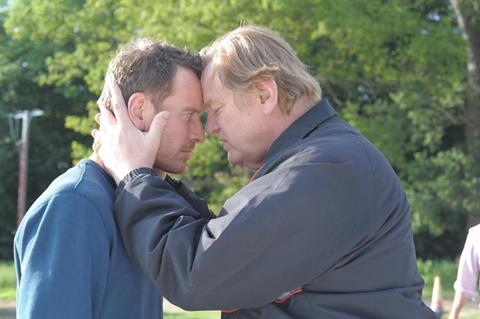 Blood ties are impossible to deny or defy in Trespass Against Us, an impressive first feature from television and music videos director Adam Smith. Dynamic storytelling and powerful performances bring out the pathos in an unusual tale of conflicting loyalties set on the criminal edges of a travelling community.
Watching Michael Fassbender and Brendan Gleeson go head-to-head as a father and son is one of the film's great pleasure
One of the most striking elements of Trespass Against Us is the way that Smith manages to evoke sympathy for characters that initially seem beyond the scope of our compassion. Outsider Chad Cutler (Michael Fassbender) is a man who displays nothing but contempt for the law or anything that stands in the way of him living life on his own terms. He does show respect to his father Colby (Brendan Gleeson) and is a loving and devoted father to his own children, including six year-old son Tyson (Georgie Smith).
Chad wants his son to have an education and live a settled life rather than remaining part of the travelling community. He can already see the boy being influenced by his grandfather's tall tales and dislike of anything conventional. It is that longing for something better that sets him at odds with his father and makes him a figure with a wider emotional resonance.
Alastair Siddons's screenplay is uncompromising in its depiction of a close-knit travelling community in South West England where Colby has the authority of a king. It is initially difficult to tune your ear to the dialogue and vernacular which could be an issue for some audiences and make the film a tough sell. It takes time to warm to the characters and look beyond their criminal actions to see the human beings beneath. All of that may make the film a challenge but it ensures that what happens subsequently has earned its impact.
Colby uses his extended clan to carry out a series of country house robberies in which Chad is an increasingly reluctant but loyal participant. Colby presides over his subjects from the comfort of an armchair positioned close to his caravan home. The design team do a very convincing job of creating a world where caravans are surrounded by random fires, abandoned tyres and countless extinguishers and where chickens, dogs and any other animals are allowed to roam at will through the dirt and mud.
The way Smith immerses us in this world echoes the work of Andrea Arnold or Shane Meadows but he adds his own muscular signature in the staging of car chases and robberies and uses Edu Grau's images of countryside and landscape to add a layer of lyricism to the events. There are also welcome touches of black humour and the surreal in Siddons' screenplay that come as welcome relief to the darker, fatalistic mood that prevails.
Smith's other skill lies in bringing out the best in his performers. Young Georgie Smith is a scene-stealing screen natural as the tearaway Tyson. Lyndsey Marshal brings a fiery spark to the role of Chad's wife Kelly, a woman fiercely devoted to the children and desperate for Chad to stand up to his father. A charismatic Fassbender effortlessly captures the feckless, bad boy charm of Chad and his feelings of inadequacy. Lingering looks of resentment angled towards Colby convey the anguish of a man intelligent enough to know that things need to change but never quite bold enough to do anything about it.
Gleeson, meanwhile, balances the gormless with the ruthless as a figure who seems a dim-witted, lumbering oaf but can snap in an instant if anyone dares to question his authority. Watching these two heavyweights go head to head as a father and son running the gamut from affection to exasperation is one of the film's great pleasures.
Production companies: Potboiler Productions, Albert Granville
International sales: Protagonist Pictures info@protagonistpictures.com
Producers: Andrea Calderwood, Gail Egan, Alastair Siddons
Screenplay: Alastair Siddons
Cinematography: Edu Grau
Editors: Kristina Hetherington, Jake Roberts
Prod des: Nick Palmer
Mus: Tom Rowlands (The Chemical Brothers)
Main cast: Michael Fassbender, Brendan Gleeson, Lyndsey Marshal, Killian Scott, Rory Kinnear