Dir. Roman Bondarchuk. Ukraine, Latvia, Germany. 2015. 82 mins.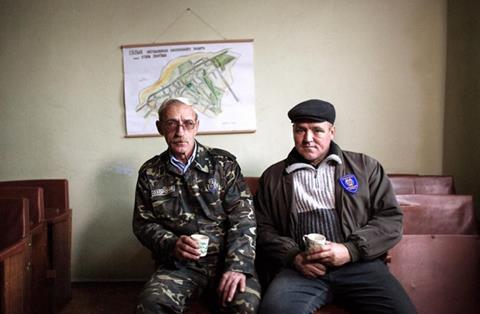 Stara Zburjivka feels like a place from another time. Perhaps that sense comes from the patched-together 1973 yellow Russian Lada which negotiates the dirt tracks of this remote hamlet in Southern Ukraine, carrying two odd-couple deputised sheriffs and waving the national flag. Or the awkwardly old-fashioned nature of the village ceremonies and celebrations. There's nothing dated about the encroaching war in the East, however, and director Roman Bondarchuk's kind-hearted semi-comic documentary soon becomes entangled in political events as the Ukrainian Sheriffs move from tackling neighbourhood nuisances to tracking down draft-dodgers.
There is war in the East and the draft has been issued to fight – will Volodya himself be called up?
Ukrainian Sheriffs won an unusual Special Jury award at Amsterdam's IDFA and is available in feature-length 82- and TV-friendly 52-minute formats. It's a safe bet that this watchable, wry film will find a berth at international festivals over the next year. There's a richness to its visuals and a poignancy to the ramshackle milieu of Stara Zburjivka which makes Bondarchuk's film an easy candidate for inclusion in any international documentary line-up, although crossover for this ambling feature is a much more difficult prospect without some further awards boost. TV prospects are niche.
It becomes clear early on that Victor, the town's bespectacled mayor (or chairman of the village council), is the film's hero of sorts. It was his idea to deputise two Sheriffs to tackle the town's problems, a mix of petty theft (a bicycle, ducks, the sheriffs' own TV) and seemingly endemic alcohol and drug abuse. Kolya, the town bum, has an unfortunate tendency of eating his neighbours' dogs and, as a result, is widely unpopular. Yet he longs for acceptance. The nearest police HQ is too far away to be effective, so Victor enables the duo to act as village enforcers.
The Sheriffs are a retired policeman, tall thin and moustachioed, also called Victor, and Volodya, a beefy former nightclub bouncer who has rapidly become domesticated with the birth of his daughter and is easily the softie of the piece. As they lurch around in their Lada, solving eternal problems in a town where time seems to have stood still, the winds of change are whirling around them. The view from the local watchtower shows that absolutely nothing is happening, but everything is up for grabs. There is war in the East and the draft has been issued to fight – will Volodya himself be called up?
In the meantime, small-town politics may be threatening the village council itself, with pro-Russia and pro-Ukraine factions dividing the town – a very vocal Russian separatist has found his voice. All the while, the Sheriffs go on their dingy rounds, which escalate to include the discovery of a corpse. Neighbours say it wasn't unusual for the deceased to disappear on benders which lasted for several months. It becomes clear that despite the obvious beauty of its surroundings, Stara Zburjivka isn't an easy place to live, and that doesn't include the anaconda in the shed. "I hoped you wouldn't bring that up," says Victor.
Roman Bondarchuk directs and shoots with an easy air and an eye for what is both photogenic and iconic. Sound design from Borys Peter is nicely judged. Subtitles don't quite fill in some of the narrative gaps.
Production companies: South, VFS Films. Taskovski Productions
International sales: Taskovski Films, sales@taskovskifilms.com
Producers: Dar'ya Averchenko, Uldis Cekulis
Cinematography: Roman Bondarchuk
Editors: Kateryna Gornostai, Roman Bondarchuk. Borys Peter
Sound: Borys Peter
Featuring: Viktor Marunyak, Viktor Kryvoborodko, Volodymyr Rudkovskyy