Dir. David Feige. USA. 2016. 106 mins.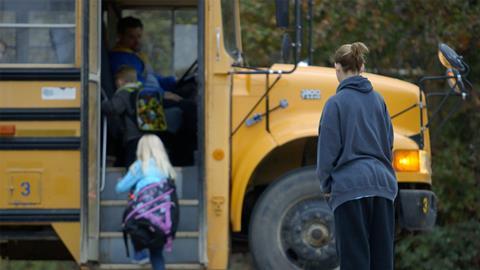 The debut feature documentary from David Feige, former attorney-turned-author and now filmmaker, is a thorough and thought-provoking examination of its theme. But the theme is not quite as straightforward as the viewer initially assumes. What starts out as an exploration of the highly emotive, hot-button topic of sexual offenses – particularly those in which children are the victims – turns out to be an indictment of the problems in the American legislative process and its dogmatic and draconian legal system.
It's a challenging subject, and Feige doesn't shy away from pushing buttons.
Feige has already highlighted the way in which many Americans are routinely denied their right to due process in his 2006 memoir, Indefensible: One Lawyer's Journey Into the Inferno of American Justice. His film mounts a case that convicted sexual offenders – an over-arching umbrella term which covers everyone from paedophiles to adolescents found guilty of 'sexting' – are being denied their basic human rights as a result of the increasingly strict laws designed to protect the larger population.
The film is likely to appeal to the same engaged, liberal audience that responded to the forensically researched films of Charles Ferguson (Inside Job, No End In Sight). Festival attention seems likely, particularly in events with a human rights focus. A wider theatrical journey might be limited but not entirely prevented by the film's entirely US-based perspective.
The opening is highly emotive. A man, choking on the ready tears that spring to his eyes even ten years later, talks about the discovery that his daughter had been sexually abused by the nanny entrusted with her care. He is Ron Book, a self-described 'man with resources'. And he focused those resources – money and considerable political power – on tackling the threat of sexual predators. Together with his daughter Lauren, the victim of the abuse, Ron is a formidable presence.
A lobbyist by trade, he is, as one local politician tentatively reveals, not accustomed to the word 'no'. "It's yes or death." But Ron is on the side of good. It would take a senator with a career death wish to oppose his increasingly restrictive laws and amendments pertaining to people on the sex offenders register. He is making Florida safer for children.
Except, as Feige deftly argues through case studies with convicted sex offenders and interviews with researchers, he's not. By effectively forcing people on the sex offenders register out of their homes, the laws that Book campaigns for make it actively harder for law enforcement officers keep track of them. Based on the fallacious assumption that all sex offenders are likely recidivists, and with the same extreme archetype applied to all, regardless of the nature of the crime, the approach to sex offence in the US makes social re-integration a near impossibility.
In the case of Shawna, a young woman who slept with a fifteen-year-old boy when she herself was a teenager, her listing on the sexual offenders register directly impacts on the life of her two children when a new law dictates that she can no longer visit public parks.
It's a challenging subject, and Feige doesn't shy away from pushing buttons. But his approach is more measured than sensational, some heavy-handed edits not withstanding.
Production company: Racing Horse Productions, Blue Lawn Productions, Meerkat Media Collective
International sales: Racing Horse Productions info@untouchablefilm.com
Producer: Rebecca Richman Cohen
Screenplay: David Feige, Jay Arthur Sterrenberg
Cinematography: Nadia Hallgren, Eric Phillips-Horst
Editor: Jay Arthur Sterrenberg
Featuring: Lauren Book, Ron Book, Shawna Clouatre, Clyde Newton, John Cryer