A Singapore teacher develops an unexpected bond with one of her students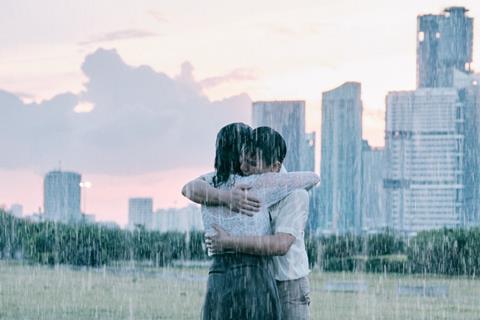 Dir/scr: Anthony Chen. Singapore, Malaysia. 2019. 101 mins
Writer/director Anthony Chen's reputation for the delicate handling of complex relationships will only be enhanced by his second feature Wet Season. The unexpected bond between a Singapore teacher and her student unfolds with an understanding and sensitivity that leaves a warm afterglow. Chen's follow-up to his Camera d'Or-winning feature debut Ilo Ilo (2013) will be welcomed by festivals, and should secure the critical support to achieve a modest arthouse impact.
It is easy to see where Wet Season is heading but Chen invests so much in the needs and flaws of the central duo that you want to see how it plays out
Working with key cast members from Ilo Ilo and exploring similar themes, Wet Season confirms that Chen is very much concerned with the tensions between the ties that bind and the relationships that liberate. There is a unifying sense that we cannot choose our blood relatives but we can create what author Armistead Maupin calls our "Logical Families" from the sources of love and support that mean the most to us.
Chen's gentle, unobtrusive style beckons us towards the characters rather than imposing them upon us. Malaysia-born Ling Lim (Yeo Yann Yann) is a teacher at a Singapore secondary school. She seems a woman ruled by responsibilities. She dutifully teaches Mandarin to a class of unresponsive boys. She is the principal carer for her father-in-law (an excellent Yang Shi Bin) who has suffered a stroke. Boorish husband Andrew (Christopher Lee) shows little attachment to their marriage. His family subtly disparage their lack of children after eight years together. Ling's unwavering commitment to IVF treatment feels like an act of desperation.
Teenager Kok Wei Lin (Koh Jia Ler) is the one student who displays any motivation or commitment to her class. Requiring extra tuition, his doe-eyed devotion to Mrs. Lim grows more intense during their time together. Chen convincingly creates a sense of how connected they already are. They may be separated by age and experience but in many ways teacher and student are kindred spirits. Wei Lin shares a sense of being duty-bound. He wants to please his parents although they are never to be seen when he needs them the most.
The ties between them gradually strengthen. Wei Lin shows a kind heart in his response to her father-in-law. Ling attends the National Schools Wushu Competition when Wei Lin competes. Everything unfolds with discretion. Is she a surrogate mother for him? Does he provide a sense of the child she has never been able to have? Might his schoolboy crush develop into something more meaningful?
The central duo is enveloped by rising turbulence. The monsoon season bathes Singapore in waves of torrential rain. Radio and television reports record the unrest in Malaysia as anti-government protests grow. The sense of upheaval and change is both highly personal and political. It is easy to see where Wet Season is heading but Chen invests so much in the needs and flaws of the central duo that you want to see how it plays out. Yann Yann Yeo's stoical Ling and the naive ardour of Koh Jia Ler's puppy-like Wei Lin are persuasively pitched, involving the audience in what becomes a defining moment for both of them.
Production Company: Giraffe Pictures
International sales: Memento Films sales@memento-films.com
Producers: Anthony Chen, Huang Wenhong, Tan Si En
Production design: Soon Yong Chow
Editing: Hoping Chen, Joanne Cheong
Cinematography: Sam Care
Main cast: Yeo Yann Yann, Koh Jia Ler, Christopher Lee, Yang Shi Bin