A fairy tale of two lovers and a leisurely evocation of life in Georgia's city of Kutaisi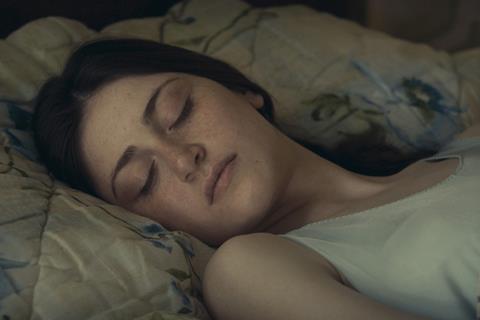 Dir. Alexandre Koberidze. Germany/Georgia. 2021. 150 mins.
The question is not so much, What Do We See When We Look at the Sky? but what exactly we see when we look at Alexandre Koberidze's joyously elusive flight of fancy from Georgia. On one level, this is a fairy tale about lovers afflicted by a mysterious curse; on another, a leisurely, meandering evocation of life in a Georgian city; and on yet another, a self-reflexive disquisition on narrative, reality and the power of the image to transform the everyday. Whichever way you cut it, this second feature from the director of Let The Summer Never Come Again (2017) is a slyly inventive, free-ranging adventure in cinematic possibility. While it may well rankle with viewers allergic even to trace elements of magical realism, Koberidze's combination of romantic lyricism and cerebral irony will chime with anyone who loves to see cinema revel in the pleasures of formal play.
A slyly inventive, free-ranging adventure in cinematic possibility
That said, Koberidze's particular brand of magical realism is highly knowing, sending itself up from the start: what else can you say about a story in which the heroine is given a baleful warning by four concerned 'friends', including a traffic light and the wind? The film's star-crossed lovers are pharmacist Lisa (Oliko Barbakadze ) and footballer Giorgi (Giorgi Ambroladze), who literally bump into each other on the streets of Georgian city Kutaisi, then agree to go on a date (their meet cute is depicted from the knees down). But their romance is scuppered by a hex that leaves both unrecognisably transformed overnight – or perhaps simply played by different actors (Ani Karseladze and, returning from Koberdize's previous film, Giorgi Bochorishvili). Unable to continue in their jobs, not least because they've forgotten their respective skills, the pair independently find work with an affable elderly café owner (Vakhtang Panchulidze), Lisa serving ice cream, Giorgi operating a fairground-style test-your-strength challenge.
Meanwhile, in a series of episodes that Koberidze explores at digressive leisure, film-makers plan a project about local couples, the World Cup is about to begin, and the city's football-loving dogs are making plans about which cafés to watch the games in. An omniscient male narrator's lugubrious voice-over takes us into these and other areas, pausing midway to muse, over images of Kutaisi's turbulent river, about what he sees as our unprecedently violent age.
Not that there is any violence apparent in this quietly contemplative film. Koberidze depicts an ordinary world filled with moments of everyday epiphany – like a group of young people at a café table bursting into traditional Georgian close harmonies, or the out-of-nowhere pastoral idyll occasioned by a trip to collect a cake. While the film's prelude – showing Kutaisi's schoolchildren and the occasional dog – seems to promise a realist study, the visual style of what follows is unshowily but elegantly stylised. Mixing digital and 16mm, DoP Faraz Fesharaki often shoots characters from a distance, framing them in wide swathes of cityscape, or under cover of dense night. Green, yellow and orange filters often ripen the colours, while combinations of unusual framing and Koberdize's own offbeat editing punctuate this generally measured film with sudden rhythmic eruptions: like a café terrace sequence, a staccato succession of close-ups of elbows and arms. Or Kutaisi will just take his time to look at things and people: for example, scanning a line of young people backlit by the sun as they wait for their ice cream order (typically of this leisurely film, they're prepared to wait an hour).
The combination of voice-over and visuals at once sews together the implausible narrative and fragments it into a sequence of disconnected moments; meanwhile, the fact that Lisa and Giorgi barely speak distances the narrative, showing it up as contrivance, and gives it the formal purity of folk tale. But while Koberidze is playing intellectual games with the relationship of story and image, it should be said that his approach is very humorous, both in his offhand take on the central premise and in individual sight gags and visual non-sequiturs.
In a sign-off nodding to the Russian literary great Nikolai Gogol, the narrator ruefully questions the point of a film like this, which seems of no practical benefit to the world. But in the sheer exuberance of its exploratory spirit, Koberidze's film is very much of benefit to cinema – and any who feared that the art form was running out of new ways to find poetry in the real.
Production company: DFFB, New Matter Films, Sakdoc Film
International sales: Cercamon, hello@cercamon.biz
Producer: Mariam Shatberashvili
Screenplay: Alexandre Koberidze
Cinematography: Faraz Fesharaki
Editor: Alexandre Koberidze
Production design: Maka Jebirashvili
Music: Giorgi Koberidze
Main cast: Ani Karseladze, Giorgi Bochorishvili, Oliko Barbakadze, Giorgi Ambroladze, Vakhtang Panchulidze