A prince on his deathbed reminisces about his time as a firefighter in Joao Pedro Rodrigues' unpredictable drama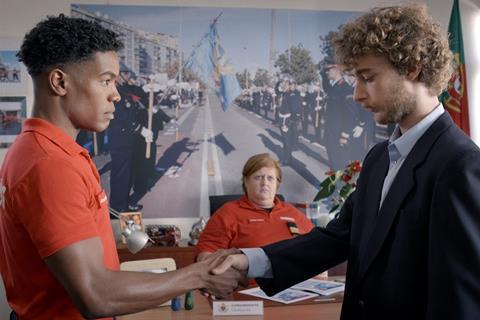 Dir: Joao Pedro Rodrigues. Portugal/France. 2022. 67 mins

Joao Pedro Rodrigues covers a lot of territory in the trim but densely packed Will-O'-The-Wisp (Fogo-Fatuo). Billed as a "musical fantasy", the latest work from The Ornithologist (2016) director is a proudly idiosyncratic collage exploring climate change, Covid-19, global warming and the existential state of a Portugal torn between dismay over its colonialist past and the hope for a more progressive future. Served up with lashings of homoeroticism, Bunuelian satire, a gay love story and an athletic dance number, its uncompromising nature will delight fans of the visionary filmmaker. A solid festival life beckons, especially among those with a queer and LGBTQ+ focus.
There is an unpredictable, magpie mentality at play in Will-O'-The-Wisp
Will-O'-The-Wisp begins in 2069 as the elderly Prince Alfredo (Joel Branco) lies dying in a stark room dominated by Jose Conrado Roza's 18th century painting The Wedding Masquerade. A young child Sancho (Vasco Redondo) plays with a fire engine at his bedside. Alfredo's "Rosebud" moment comes in whispered callings for his "devoted friend" Afonso. In 2011, the young, guileless Alfredo (Costa) is led through a Royal pine forest by his father Eduardo (Miguel Loureiro) who urges him to take inspiration from trees that are "tumescent with sap". Some years later, Alfredo's love of trees and fears for the increasingly frequent forest fires inspire him to become a fireman. "How very Republican of you," remarks his sneering mother Teresa (Margarida Vila-Nova)
The title and credits appear a third of the way through the film and seem to mark its true beginning as we witness Alfredo's time as a volunteer fireman. There is a hint of Claire Denis' Beau Travail as Rodrigues focuses on the training rituals of a troupe of firemen clad in black t-shirts and shorts. They march, pulling along hefty tyres, exercise in unison and pair off to take turns carrying each other from an imagined blaze. The presence of a Royal Prince in their midst is a cause for derision. Alfredo has studied art history. The firemen have chosen to replicate famous paintings for their annual calendar. Naked or clad only in a jockstrap, the men provide him with a few examples of their poses but he is unable to recognise Caravaggio's 'Fireman's Head', Francis Bacon's 'Mr Fireman, Send Me A Dream' or any of their other provocations.
It is during his training that Alfredo meets Black fireman Afonso (André Cabral). Love at first sight blossoms into a full-blown attraction that Rodrigues depicts in explicit sexual imagery and an athletic dance number, choreographed by Madalena Xavier, involving the entire fire station. The opportunity for Alfredo to be true to himself, follow his heart's desire and challenge the weight of expectation around him is short-lived, however.
Will-O'-The-Wisp is a balancing act between the earnest and the irreverent. There is a darkly dry humour evident in royal family meals where Alfredo's parents are shown to be spectacularly out of touch with the real world. Satirical swipes are matched by a stern urgency over the fate of the planet. At one point, Alfredo stands up and delivers the impassioned words of Greta Thunberg direct to camera. A suitably eclectic soundtrack ranges across excerpts from Mozart's 'The Magic Flute' to the Carlos Paiao 1980s children's song 'Uma Arvore, Um Amigo' that becomes a constant refrain with its naive concerns over trees and friendship.
There is an unpredictable, magpie mentality at play in Will-O'-The-Wisp, meaning that you are never entirely sure what might be coming next. It makes for a bracing, singular experience that eventually coheres around the way an individual lifespan and quest for identity reflects the bigger picture of a national identity crisis.
Production companies: House On Fire
International sales: Films Boutique. contact@filmsboutique.com
Producers: Joao Matos, Vincent Wang, Joao Pedro Rodrigues
Screenplay: Joao Pedro Rodrigues, Joao Rui Guerra da Mata, Paulo Lopes Graca
Cinematography: Rui Pocas
Editing: Mariana Gaivao
Production design: Joao Rui Guerra da Mata
Main cast: Mauro Costa, Andre Cabral, Joel Branco, Oceano Cruz