Xing Jian delivers a meticulously-composed story set in Japanese-occupied Manchuria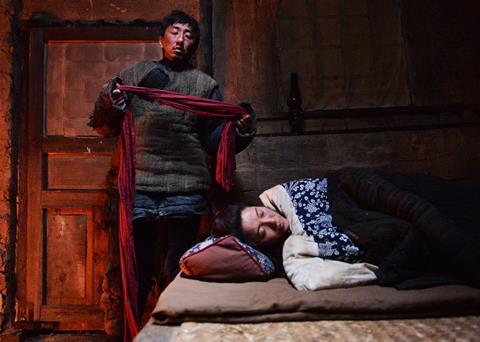 Dir Xing Jian. China. 2019. 110 mins
The year is 1944. Manchuria in Northern China is under the occupation of Japanese forces who see the country, and its people, as resources to be plundered. But even as a Japanese official threatens to take away his three sons for forced labour, peasant Lao Si (Gao Qiang) is more preoccupied with preserving his bloodline. Stunningly shot in austere black and white, this meditative drama explores the slow-burning tragedy of lives lived under the hostile control – both those of the Chinese under Japanese rule, and that of Kun (Yan Bingyan), Lao Si's daughter-in-law, rendered voiceless as her fate and fertility is governed by the men around her.
Xing Jian, whose first feature Seven Days was a prizewinner at the Montreal World Film Festival in 2015, favours meticulously composed long takes in which the quotidian details of daily life play out in real time on widescreen. As such, this is a film which will appeal mostly to festival audiences and aficionados of slow cinema. Those with the patience to absorb the film's themes and symbolism and to settle into its inexorable creeping pace will be rewarded – it's a picture of striking, if brutal, beauty. But even the most sophisticated arthouse-savvy audiences might struggle with the decision to deny Kun a voice, effectively demoting her from an active character to a passive player in the story.
Of course, that is exactly the point that Xing is making about female status. Kun, we learn, was rescued as a child 'from a pile of dead bodies' by Lao Si. Her role, in the eyes of her rescuer, is as little more than a broodmare. At the opening of the film, as part of an ambitious single-shot scene which lasts nearly twenty minutes, we see Kun kneeling next to her husband, Lao Si's oldest son. Her father in law has just steamrollered the couple into a divorce, reasoning that since the oldest son has failed to sire a baby, perhaps one of the younger two might have a better chance.
Not mute, but wordless and powerless, Kun represents the low status perception of women at the time. And she also symbolises the country itself – the Chinese character for her name means 'feminine' and 'land' – which has been subjugated first by feudal rule and later by Japanese invasion.
Of the three sons, the middle refuses his father's suggestion that he should impregnate his sister-in-law, and absconds to a life as a resistance fighter, battling against the Japanese. The youngest and the oldest are taken by the occupying forces to work as labourers, but only the youngest survives, fleeing home to hide in the cellar. It is here that Kun fulfils her father-in-law's wishes, engaging in rushed and fumbled coupling which somehow results in a pregnancy. As a cover story, Lao Si hastily engineers a marriage between Kun and the mentally handicapped son of the village elder statesman.
Almost entirely shot in and around Lao Si's snow-covered farmstead, the film spends perhaps more time than is strictly necessary following Kun as she potters from room to room, tending to the needs of her father-in-law. Kun's small acts of kindness are viewed dispassionately, from a distance, Mid shots which rarely linger on her face deny us the chance to form much of an emotional connection with the character. It's a pity – after all, this is not a film which is over-endowed with sympathetic protagonists.
Production company: Shanghai Alibaba Pictures Co., Ltd, HH On-line Culture & Media International (Beijing) Co., Ltd. Beijing Namdream Network Technology Limited Liability Company
International sales: Rediance meng@rediancefilms.com
Producer: Yang Dandan
Screenplay: Xing Jian
Production design: Xu Li
Editing: Wu Shitong
Cinematography: Guo Daming
Music: Dong Dongdong
Min cast: Yan Bingyan, Gao Qiang, Liu Di, Yang Fan, Zhang Zhiyong, Hibino Akira