A tale of intersecting lives and fickle fates in rural Japan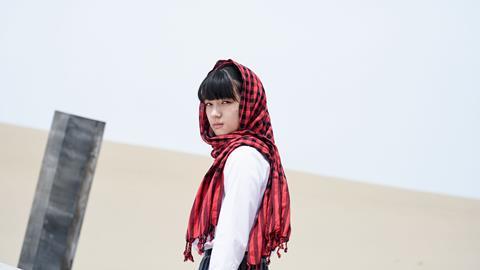 Dir/scr: Juichiro Yamasaki. Japan/France. 2022. 97 minutes
The steely self-possession of big-screen newcomer Kilala Inori is the chief saving grace of Yamabuki, an otherwise middling third feature from Japanese writer-director Juichiro Yamasaki. Premiering in the main competition at Rotterdam a decade after his debut The Sound of Light played at the Dutch festival, this is a slender tale of coincidentally intersecting lives in a semi-rural city. As was the case with Yamasaki's last feature, the 18th-century-set Sanchu Uprising: Voices at Dawn (2015), its best chance for future international exposure would seem to lie in events specifically showcasing current Japanese fare.
It pales in comparison with its horticulturally-monikered antecedents in the "urban intersections" sub-genre
His focus here is shared among two main characters: eponymous high-schooler Yamabuki (Inori) the cautiously rebellious daughter of taciturn, widower cop Hayakawa (Yohta Kawase); and Chang-su (Kang Yoon-soo), a thirtyish Korean engineer, one of numerous migrants working in various capacities at a local quarry. Having accumulated very significant debts back home, Chang-su — boyfriend of level-headed schoolteacher Minami (Misa Wada) — is delighted to hear his employment will be switched from part- to full-time.
Fickle fate derails his hopes, however, when he is injured in a car-crash accidentally (and unwittingly) caused by Yamabuki's father. On a hiking trip in the hills with Yamabuki and a colleague, Hayakawa spots an example of the hardy, yellow-flowering deciduous bush (also known as the "Japanese Rose") after whom Yamabuki was named. Prying the plant loose so he can transport it to his own garden, he displaces some pebbles. This sets off a ripple-effect which eventually causes boulders to crash down on Chang-su's vehicle far below. The metaphorical implications of this crucial development are evident, in terms of how our actions can yield unforeseeable consequences for others. The shrub likewise functions on several symbolic levels: the green-fingered Hayakawa mentions early on that it "grows in the shade, where people don't look."
His intelligent, self-assured daughter is likewise quietly blossoming towards womanhood and independence in this unpromising backwater (Maniwa, Yamasaki's home town, roughly halfway between Hiroshima and Kobe.) Her imaginative and empathetic horizons evidently extend far beyond the city limits, and her social engagement and nascent political consciousness ("I want to be aware of every second, and think of those who struggle,") confound and disturb her conventional-minded, state-servant policeman dad.
These coming-of-age elements — regularly participating in small-scale "silent standing" demonstrations on busy road-junctions, Yamabuki drifts towards a romantic relationship with her ardently besotted schoolmate Yusuke (Hisao Kurozumi) — would have been more than enough to sustain a film of this length and scope. And Inori, a compelling screen presence, copes admirably with all of the role's delicate contours. The latter stages even audaciously and intriguingly venture into the teenager's head-space, as she "communicates" with her late mother in a series of increasingly dream-like, hallucinatory sequences.
But despite his choice of title, Yamasaki — working as his own editor — unfortunately seems more interested in Chang-su's earthbound doings. His sections of the film incorporate relatively melodramatic and genre-inflected elements, which don't play quite so well to the writer-director's observational strengths. Around half-way through the film, Chang-su (by now hopping around on crutches) fortuitously stumbles across a holdall full of stolen cash and decides to keep half of it; encountering Yamabuki afterwards, he reveals yet another meaning of her name, relating to the golden coins issued as bribes in Japan's imperial past. This sparks socio-philosophical musings on the unhealthy prominence accorded to money in contemporary Japanese society ("if that is the focus of the world, it should end.")
There are several underwritten and/or unclear developments relating to the Chang-su storyline(s) — he suddenly and inexplicably stops wearing spectacles in the latter stages, for example — and overall Yamabuki feels more novella-like than truly novelistic. It pales in comparison with its horticulturally-monikered antecedents in the "urban intersections" sub-genre from the turn of the century, Paul Thomas Anderson's Magnolia and Ray Lawrence's Lantana.
On the technical side, the most eyecatching stylistic choice here is the use of 16mm film stock for shooting, imparting a slightly grainy and gritty texture — especially productive for the quarry sequences —which is further emphasised by the muted tones and subtle colour-leaching of Kenta Tawara's cinematography. In this Japanese-French co-production, Gallic composer Olivier Deparis combines eastern and western moods to piquant effect, while his compatriot Sebastien Laudenbach (director of 2016's The Girl Without Hands) contributes the ethereal, chalk-on-blackboard-effect animations which grace both opening and closing titles.
Production companies: Film Union Maniwa, Survivance
International sales: Survivance, contact@survivance.net
Producers: Terutaro Osanai, Shoko Akamatsu, Atsuto Watanabe, Takeshi Masago, Juichiro Yamasaki
Production design: Risshi Nishimura
Editing: Juichiro Yamasaki
Cinematography: Kenta Tawara
Music: Olivier Deparis
Main cast: Kang Yoon-Soo, Kilala Inori, Yohta Kawase, Misa Wada, Masaki Miura, Hisao Kurozumi, Eiri Okura, Yuya Matsuura, Munetaka Aoki