A Kosovar woman struggles with both her failure to conceive and her traumatic wartime past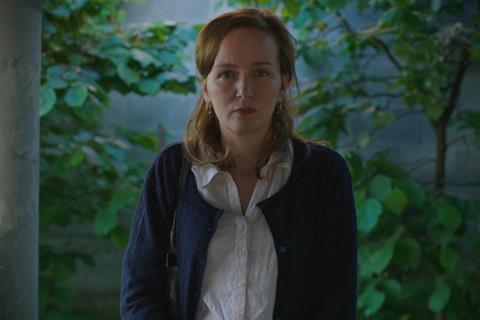 Dir: Antoneta Kastrati. Kosovo-Albania. 2019. 92mins
The spectre of failure glowers over Lume (Adriana Matoshi), the childless wife of Ilir (Astrit Kabashi). Browbeaten by her forceful mother-in-law, Lume obediently attends innumerable appointments with fertility experts, medical professionals and, to cover all bases, witches and faith healers. But Lume always seems slightly apart from the discussions which speculate about her failure to conceive. There's a veil between her and the rest of her village community in rural Kosovo. It's a community in which the scars of conflict are still fresh. And in Lume, those scars run particularly deep.
Kastrati's ear for dialogue really brings the picture to life
The debut feature from Kosovo-born, LA-based writer/director Antoneta Kastrati is an astute, unflinching account of a mind broken by post traumatic stress. But superstitions and rituals abound, and Lume's family would rather believe her possessed by a djinn than in need of psychiatric help. The gradual unpicking of the scabs on Lume's wounded psyche makes for uncomfortable viewing; there's a sense of mounting foreboding as Kastrati threads Lume's increasingly disturbing night terrors and hallucinations into the story. It's an impressive debut which should find a receptive audience on the festival circuit, but which may be too bleak to tempt distributors beyond Eastern Europe.
Kastrati's documentarian's eye – she spent the last decade making factual films dealing with social and environmental issues in Kosovo – captures rich details in the simple lives of Lume and her community. It's a contradictory world that Kastrati captures, one in which faith in God and in the powers of hucksters and healers are complementary rather than mutually exclusive.
But it's her ear for dialogue which really brings the picture to life. Old women vigorously trade curses: "May the devil eat your dad!" "May a snake drink from his stomach". Family gatherings are treated to the story of how a boozy grandpa once met a pair of witches. Set against the bantering backdrop of folklore and black magic, Lume's stillness and absence is all the more striking.
It's a challenging role. Regular close ups give a hint of the churning anguish that she is just about managing to keep wrapped up. Even so, Lume's stony blankness gives little away for much of the film. The moments when she cracks – in particular, a frenzied physical attack on Ilir after he jokes about replacing her with a younger wife – are unnerving in contrast to the brooding passivity elsewhere in the film.
When, against all expectations, Lume actually does conceive, her mother-in-law steps up her domineering behaviour, undermining Lume's already frail mental health and gaslighting her, calling into question facts which Lume knows to be true. Meanwhile, as the Kosovan winter closes in, the film incrementally reveals the details of Lume's war trauma.
The occasional use of a distorting lens evokes Lume's disengagement from reality, but isn't particularly pleasing visually. More effective is a score which is closer to sound than to music but which effectively puts the audience on edge.
Production companies: Crossing Bridges Films, On Film Production, Alief
Contact: ccj@crossingbridgesfilms.com
Producer: Casey Cooper Johnson
Screenplay: Antoneta Kastrati, Casey Cooper Johnson
Cinematography: Sevdije Kastrati
Editor: Antoneta Kastrati, Brett W. Bachmann, Michal Reich
Production design: Burim Arifi, Shawn Bronson
Music: Dritero Nikqi
Main Cast: Adriana Matoshi, Astrit Kabashi, Fatmire Sahiti, Mensur Safqiu, Irena Cahani, Vedat Bajrami, Shengyl Ismajli