A new employee must find his feet at a monster theme park in this French animation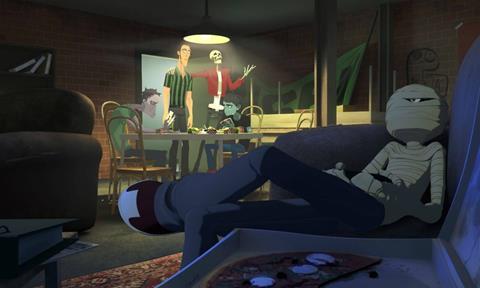 Dir. Arthur de Pins, Alexis Ducord. France, Belgium. 2017. 78 mins.
Only in France could a children's animation about a monster theme park also serve as a neo-Marxist parable about workers' rights. A mealy-mouthed health and safety inspector sets his sights on the local attraction, Zombillénium, and ends up both deceased and employed as a new staff member. His new buddies include a skeletal union official and a skateboarding Emo witch. Strikingly macabre visuals and host of playful pop cultural references (Twilight's sparkly vampire studs are mocked mercilessly) should help build an audience for this lively blend of 2D and 3D computer animation.
The visual wit of the grisly graphic style is enjoyable.
Yet a slightly hectoring screenplay means that the humour doesn't quie connect. Laugh-out-loud moments are about as common as heartbeats in this tale of the industrious undead.
Zombillénium, the debut feature from Arthur de Pins and Alexis Ducord was based on a comic book series by de Pins. And although the books have been translated from their original French into English, the key market for the film will still likely be in francophone audiences. That said, the film might benefit from existing interest in kid-friendly supernatural themes, from films like the day of the dead-themed Book Of Life and Pixar's forthcoming Coco, to Tim Burton's stop motion melancholia to the Monster High doll franchise.
Hector Saxe (voiced by Emmanuel Curtil) is a particularly joyless character. He has packed his daughter off to boarding school, the better to concentrate on his job, which largely entails crushing worker's rights and making people redundant. His face is almost entirely made of sneer. When his daughter Lucie (Esther Corvez-Beaudoin) asks to visit the monster theme park Zombillénium, Hector's immediate response is to stage a surprise visit to check for safety violations. It doesn't go well.
Lucie is orphaned, and Hector finds himself a kind of vampire/lycan/zombie hybrid. This causes confusion. One of the first things that he has to learn about his new place of work is the hierarchy of monsters, with the immaculately groomed vampires at the top, and the malodorous zombies at the bottom.
If the vampires, led by the swooningly handsome but treacherously vain Steven, have their way, all the other monsters will be sent back to hell and the vamps would get their own dedicated fun fair. Newly dead Hector decides to put his business experience to good use by revamping the park, turning around its fortunes and thus securing the jobs of the less glamorous beasts and freaks. Hector's transformation from grey-suited drone into horned, winged demon is easier to believe than the personality switch that turns him from a sour-faced jobsworth into the champion of the creatures. The strongest character is Gretchen (Kelly Marot), a hipster witch intern who also happens to be the daughter of the park's owner, Satan himself.
Music from Mat Bastard, of the band Skip The Use, is not the film's strongest element, however the visual wit of the grisly graphic style is enjoyable. There is a sense however, that the film isn't quite clear on who its audience actually is. The addition of a child character, not present in the comics, is clearly intended to the appeal to the very demographic which might be repelled by the preponderance of severed limbs and spewing entrails.
Production company: Maybe Movies, Belvision, 2 Minutes Animation, Bonnie Music, Dupuis Audiovisuel, France 3 Cinéma, Gao Shan Pictures, Gébéka Films, Pipangaï Production
International sales: UDI Urban Distribution International frederic@urbangroup.biz
Producers: Henri Magalon, Léon Perahia
Screenplay: Arthur de Pins, Alexis Ducord
Editor: Benjamin Massoubre
Music: Mat Bastard. Eric Neveux.
Main cast: Emmanuel Curtil, Alain Choquet, Kelly Marot, Alexis Tomassian, Mathieu Monnaert, Emmanuel Jacomy, Esther Corvez-Beaudoin