IFFR's new artistic director Bero Beyer brings television back to the big screen in Rotterdam.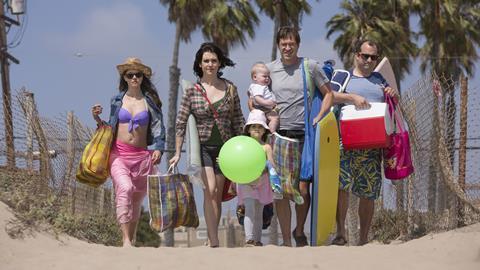 Following on from the 2013 strand Signals: Changing Channels, Beyer and former Critics' Week programmer Léo Soesanto have jointly created Episodic/Epidemic - a new strand that highlights filmmakers working within television formats.
The section sits within Perspectives - an over-arching part of the festival Bero considers as "film-making that detours to the left, to the right and upside down of cinema".
Both Soesanto and Beyer assert it is not another festival trend, which has seen TV strands such as Berlinale's Special Series and Toronto's Primetime, but instead an extension of IFFR's programming.
"This is at the heart of Rotterdam [IFFR] - we want to celebrate all the ways a filmmaker can express themselves. Whether it's music, art, gaming, VR or episodic - we want to find the best way to present different types of storytelling," said Bero.
A total of 11 series are on the slate, including the world premiere of the first two episodes from season two of the Duplass' brothers' Togetherness and the international premiere of the first two episodes of Belgian comedy Bevergem (The Natives).
Binge-watching
In accordance with copy protection and piracy issues, Soesanto said most television rights holders will only offer two episodes of a series. But the curator managed to secure all six episodes of Austria's version of 'Dallas on acid' - Altes Geld (Old Money).
"We screened all eight episodes back to back," said Bero. "We thought people would come for the first few episodes and leave, but we were surprised people actually stayed for the duration. It's incredible." The series is again screened on Wednesday (Feb 1).
Documentary
Two upcoming works from Field of Vision - a commissioning project from Citizenfour's Laura Poitras, Charlotte Cook and AJ Schnack - will be screened in the section.
The first includes two episodes from Al Jazeera journalist Matthew Cassel's documentary, which shows him following two Syrian refugees across Europe for a year.
The second is Iva Radivojevic's examination of the refugee crisis on the European borders titled Notes From a Border.
Longer formats
Stefano Sollima's two-hour gangster flick Suburra - commissioned as a 10-part series deal by Netflix in Italy - is screening in full, as is the 317 minute Japanese feature Happy Hour that to Soesanto "feels like it should be a mini-series".
Experimental
Four episodes from Argentina's series La Casa will be shown - with director Diego Lerman uniquely showcasing the inhabitants of one house, from the beginning of the 20th century through to 2026.
Each episode has a single plot, set in a different time period and is rooted in the politics and social context of its time.
Other highlights
The first two episodes from season one of Canal Plus' version of House of Cards - Baron Noir (Black Baron) - will screen, as will two episodes from Sam Esmail's Golden Globe-winning Mr Robot.
"It's the kind of television you need to see on the big screen," said the curator, who in particular references Esmail who has since completed his first feature Comet.
Dunja Gry Jensen's Danish noir series Norskov is also featured in the line-up.
"There is a whole new field of television to explore," added Soesanto. "With film, you watch it and it's done. But with television, every episode brings a different story and a different rhythm. That is what we [IFFR] want to keep exploring over the coming years, and Rotterdam has the proper scope to do that."