The Greek-Cyrriot director talks about his poetic meditation on the nature of time and identity, which receives its world premiere in competition at International Film Festival Rotterdam (IFFR).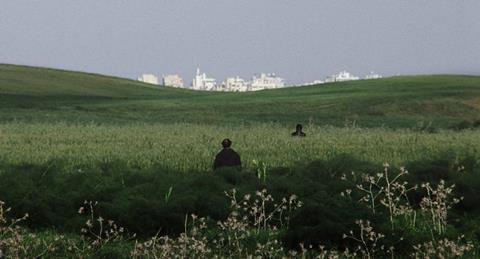 The title of Greek-Cyrriot director Kyros Papavassiliou's Tiger contender, Impressions Of A Drowned Man, comes from a poem written by Greek poet Kostas Karyotakis, who committed suicide in 1928.
"In his suicide note, he (Karyotakis) wrote about the impressions of a drowned man," the director explains. "He said 'I want to drown myself. I know how to swim. I tried last night but I couldn't kill myself. Some time in the future, I will write the impressions of a drowning man.'"
The poem, the writer-director adds, is really just the starting point. This isn't a biopic. It is a poetic meditation on the nature of time and identity.
Impressions Of A Drowned Man was filmed in Cyprus for 30 days and in Greece for a day.
No, making a movie in Cyprus isn't easy. Papavassiliou began shooting his film in 2012 and, because of funding difficulties, wasn't able to complete it till the following year. In hindsight, he thinks the enforced break in production may have helped him. "I was interpreting and re-interpreting the script."
The final film is very different from the one he originally conceived. Papavassiliou was born in Cyprus but grew up in Greece and feels strong links to both Greek and Cypriot culture.
This is his debut feature. His short, In The Name Of The Sparrow, screened in the short competition in Cannes way back in 2007.
Yes, he was glad to have a film in such a prestigious place but also has misgivings about Cannes. "It is a fancy festival but it creates a lot of misunderstandings. It boosts your ego," he states, pointing out that sometimes festivals are given too much importance.
"You're never an artist when you go to a festival. You are a businessman and a party guy!"
It has taken him over six years to get Impressions Of A Drowned Man funded and completed. He is delighted to have the film premiering in Rotterdam. "I think it fits their programme," Papavassiliou says. "It is not a very narrative based drama. It is more poetic."
Impressions Of A Drowned Man was shot on 35mm film - a point of principle for its director, who didn't want to use digital.
"The film look is much deeper and I think it fits the film's themes and atmosphere," he says. "I haven't managed to make a print yet. I haven't the money to make a print. I only have a DCP."
Ask him to sum up his movie in a few words and Papavassiliou resists. "I am not very good at this," he deflects the question. "I think it is an existential poetic film…it is about who we are, each one of us, and in the face of death, what we could do."