From starring in major Hollywood features and high-profile TV shows to helming their own projects and collaborating on scripts with industry heavyweights. Screen's tips for 2014 have graduated to great things.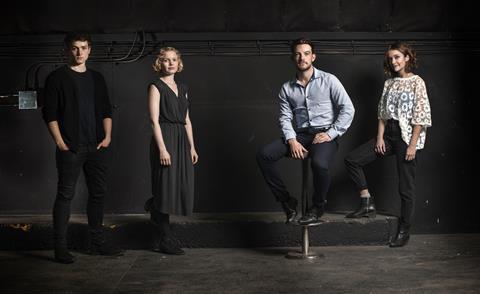 The Actors
Taron Egerton. Taron has most recently filmed the title role in Eddie the Eagle with Hugh Jackman, directed by Dexter Fletcher. He also appeared in Legend with Tom Hardy.
Olivia Cooke stars in Me, Earl & The Dying Girl and recently wrapped the independent feature, Katie Says Goodbye, from the team behind Martha Marcy May Marlene. She is attached to star opposite Alan Rickman in Jane Goldman's adaptation of Peter Ackroyd's best-selling novel Dan Leno, Limehouse Golem. She was also seen in the third series of Bates Motel in the US this summer.
Sam Keeley shot Heart of the Sea dir by Ron Howard, and Burnt with Bradley Cooper directed by John Wells. He also starred in British independent feature Alley Cats and Jadotville with Jamie Dornan and Mark Strong, directed by Ritchie Smythe, He has just wrapped on Anthropoid, directed by Sean Ellis
Callum Turner far shot Green Room which premiered in Cannes, followed by the BBC's War and Peace and the lead role in Tramps, directed by Adam Leon, in NY. He is also set to star in Assassin's Creed.
Jack Lowden shot War And Peace for BBC 1 where he played Nikolai Rostov opposite Paul Dano, Lily James and James Norton. He has shot the role of Tommy in the feature Tommy's Honour opposite Peter Mullan, directed by Jason Connery.
Mia Goth appears in Everest, which opens the Venice Film Festival, and was cast as the female lead in New Regency's Cure For Wellness, directed by Gore Verbinski.
Calvin Demba starred in the first new Patrick Marber play in 10 years, The Red Lion, at the National Theatre opposite Danny Mayes and Peter Wright. The Evening Standard called him "a revelation, poised and charismatic".
Maisie Williams has carried on filming Game of Thrones as well as filming Channel 4's Cyberbully and a guest role in Dr Who; she also worked on The Devil And The Deep Blue Sea which is set for release in 2016. She won Entertainment Weekly's award for best Supporting actress in the US and the European Shooting Star award for her role in Carol Morley's feature The Falling.
Eleanor Tomlinson rose to national attention for her role as Demelza in Poldark and is currently shooting the second series; she also filmed the lead in independent feature Alleycats.
Kate Phillips Is filming The Crown for Netflix, with Stephen Daldry directing and recently also appeared in War and Peace for BBC1.
Kevin Guthrie appeared in The Legend of Barney Thompson, Robert Carlyle's directorial debut, and has shot Whisky Galore with Eddie Izzard. Terence Davies' Sunset Song, in which he stars opposite Agyness Deyn, premiered at this year's TIFF.
Sophie Cookson After Kingsman, Sophie shot a part in Huntsman and will soon be seen in Lee Tamahori's Emperor – playing the lead opposite Adrien Brody. She's currently attached as the lead in Des Hamilton's directorial debut I Feel Fine (replacing Stacy Martin) and Crucifixion, a supernatural thriller directed by Xavier Gens.
Directors, writers, producers
Chris Foggin, Director has completed post-production on his debut feature Kids in Love starring Will Poulter and is attached to a number of other features in development including: romantic comedy Great Big Expectations and drama The Summer House by Laurie Nunn and Two, a comedy drama written by Rafe Spall.
Lynsey Miller, Writer-Director is shooting the sci-fi drama Eve for Leopard Drama/BBC.
Aneil Karia, Writer-Director is collaborating on his debut feature with writer Rupert Jones, with Creative England financing this stage of development and Rooks Nest set to produce. Ben Whishaw is attached.
Michael Berliner, Producer has just completed the Creative England-backed feature which is going out to sales/distribution and festivals.
Daniel Fajemisin-Duncan and Marlon Smith, Writers are writing the pilot for TV series Monsters for Channel 4 and Vertigo (based on Gareth Edwards film). They are also writing two hours of New Blood - Anthony Horowitz's new series for BBC 1 and adapting The Gospel According to Cane, Courttia Newland's novel for Cowboy Films and the BBC.
Laura Tarrant-Brown, Production Designer, now working under the name Laura Ellis Cricks and has completed Urban Hymn with Michael Catton Jones as well as London Town with Derrick Borte and Killer Films.
Rose Wicksteed, Casting Director has worked on The Conjuring 2 for Warner Bros/New Line, director James Wan. She has cast the second season of American TV show Legends for Fox and TNT, as well as US/European indie film Mine, starring Armie Hammer, UK Indie Alleycats with Screen Stars of Tomorrow Eleanor Tomlinson and Sam Keeley as well as John Hannah and John Lynch.
Simon Stephenson, Writer has written Family Practice, a comedy pilot for Dan Fogleman and ABC Studios; Heyday Films have picked up Simon's spec Midnight Climax; he is adapting a biopic for Nick Hill's Cayenne Films and writing a feature for BBC Films. Shoebox and Sunnymarch have come on board his project Nine Lives of Louis Wain
Sarah Brocklehurst, Producer: Sarah is gearing up towards producing her second feature in 2016: dark teen comedy 'WEIRD' with BAFTA-winning director Tim Kirkby, and writers Henrietta and Jessica Ashworth (former Stars of Tomorrow), which is supported by the BFI.
Matt and Simon Halsall, writer-directors: Matt and Simon are in edit on a series of short films entitled Dead Ghosts Don't Cry. Matt spent ten months in Korea shooting a feature documentary called Durihana following the plight of North Korean defectors. Simon is in Vietnam researching and writing a horror film set in the Vietnam war. He has also finished a feature draft on a Hiroo Onoda project that is set up with Agile Films (Hiroo Onoda is the Japanese solder who refused to surrender, hiding out for 30 years in the Philippine jungle).
Krysty Wilson-Cairns, writer, followed up her success with Aether by adapting the best selling book The Good Nurse for Darren Aronofsky's Protozoa Pictures and Lionsgate. She is currently writing on the third series of Penny Dreadful with creator John Logan. She will write an episode of Black Mirror for Charlie Brooker and Netflix. She is also developing her own original series, Prophets, and writing a new feature spec.