Dir: Sam Mendes. UK-US. 2012. 143mins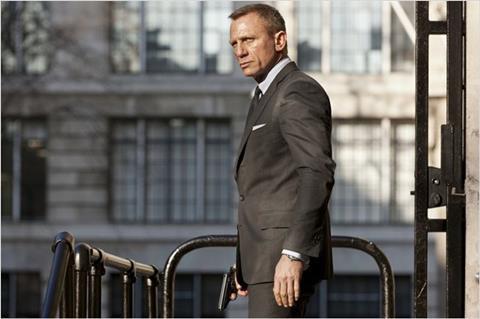 Fifty years on from the release of Dr No, the twenty-third official James Bond film refreshes a formula which seemed flagging in Quantum Of Solace, the last entry, by keeping on Daniel Craig, who has grown into the role of the secret agent but brought his own distinctive take on the character, but bringing in top talent, including director Sam Mendes (unwinding after weightier things, but taking the assignment seriously), script-polisher John Logan (working over a screenplay by series regulars Neal Purvis and Robert Wade) and (perhaps in a masterstroke) cinematographer Roger Deakins, who finally provides a Bond film with a visual sophistication that matches the credits sequence.
It seems likely that this will be much more warmly embraced by series fans and general audiences.
New characters – Ben Whishaw as Q, Naomie Harris as a field agent, Ralph Fiennes as a politico – join the team, and Judi Dench, who has been in post since Pierce Brosnan joined up in Goldeneye, has her best outing yet as M, as the focus of a plot in which a flamboyant baddie, Silva (Javier Bardem) comes after her to avenge a wrong done during the handover of Hong Kong to the Chinese.
Berenice Marlohe fills an evening dress and takes a shower with Bond, but – as has been the case since the larkish latter Roger Moore outings – the agent is relatively chaste here. He has also given up smoking, though his dependence on drink and danger is probed in a manner that Ian Fleming might have grumbled about.
For fifty years, Bond has been among the most buttoned-down of heroes, quipping after violent deaths and shrugging off any number of lovers, but here – drawing on elements of the novels – his background is hashed over, and he joins the ranks of heroes driven by the loss of his parents in traumatic circumstances at an early age.
It may be that this baggage will be unhelpful for future installments, but at least it's carried onscreen here with bearded charisma by Albert Finney, in a role that someone must have wanted to offer to Sean Connery, as a Bond family retainer with a handy shotgun and a laconic flair for the throwaway line that shows where the spy got that habit from.
Locations include Istanbul (visited by several other films this year), Shanghai (where a simple fight in a steel-and-glass office block is turned by Deakins into a standout sequence), a gambling hell in Macau (which affords a chance to play with giant reptiles) and an abandoned island that Silva has made his lair.
However, in a bold move, much of this adventure takes place on Bond's home turf, which means the film makes more use of London (especially the underground) than previous series entries and heads out into the gloomy wilds of Scotland for a face-off with the enemy that harks back to Straw Dogs or The 39 Steps and finds Bond relying on skills rather than gadgets (though his Aston-Martin has a welcome cameo) to survive.
The usual Bond formula finds the agent wrecking some villain's scheme, but here Silva – Bardem hugely enjoys the chance to create an all-purpose monster character – is dismantling MI6 out of pique and the hero is in a corner. It's distinguished from the Bournes by class and classiness – replete with Tennyson quotes and musings on lost Empire – and this manages to be elegiac and celebratory at the same time.
It seems likely that this will be much more warmly embraced by series fans and general audiences – though with a franchise this big the distinction is moot – than Quantum Of Solace. It's said that Connery and Moore didn't hit their peak as Bond until their third entries, though Lazenby and Dalton didn't get that far and Brosnan was mired in The World Is Not Enough; Craig also seems to benefit from a third stab that puts all the elements, old and new, in perfect place. At this rate, it seems likely the series will continue indefinitely.
Production companies: Eon Prods., B23 presentation, MGM, Columbia Pictures
Distribution: Sony Pictures
Producers: Michael G. Wilson, Barbara Broccoli
Executive producer: Callum McDougall
Co-producers: Andrew Noakes, David Pope
Screenplay: Neal Purvis, Robert Wade, John Logan
Cinematography: Roger Deakins
Editor: Stuart Baird
Production designer: Dennis Gassner
Music: Thomas Newman
Main cast: Daniel Craig, Judi Dench, Javier Bardem, Ralph Fiennes, Naomie Harris, Berenice Marlohe, Ben Whishaw, Albert Finney, Rory Kinnear, Ola Rapace