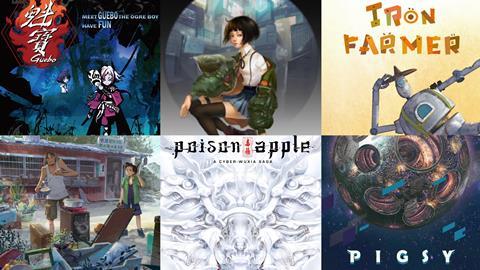 The animation sector in Taiwan is growing fast. City Of Lost Things, the first 3D feature animation by Blue Gate Crossing director Yee Chih-Yen has been selected to screen in the prestigious Contrechamp competition at the Annecy International Animation Film Festival last month.
To boost the sector, the Taiwan Creative Content Agency (TAICCA) has introduced two funding schemes to support further local production and facilitate further international co-production. They are called the creative content development programme (CCDP) and the international co-funding programme (TICP).
At Annecy and its Mifa market, TAICCA presented six feature and series projects at Partners Pitches. Following an open call to the animation industry, TAICCA invited an international jury to make the selection. They were comprised of Ashely Miller, US scriptwriter whose credits include Thor and X-Men: First Class; Doede Holtkamp, producer at the Brazilian studio Arvore; and German animation director Raimund Krumme.
The projects are below:
Guebo
Dir: Su Soa
This Taiwan-Japan co-production between Xanthus Animation Studio and Duckbill Entertainment is a 26 x 10-minute episode original TV series. The title character is a boy who looks as if he is aged 10 but is in fact 1,200 years old. He has a great power inherited from his monster father who strives to create a world for nature and humans to co-exist together. The project involves Japanese creatives from scriptwriters, acting directors to character designers. Through Xanthus, Soa's previous works include The Origins, Yameme and Traces, which he co-directed with Swiss animation artist Robi Engler.
Contact: Manson Yao mason_yao@hotmail.com
Hidden in the Peach Blossom Garden
Dirs: Feng Wen and Kevin Geiger
The 3D animated feature film is a futuristic fantasy set in the dystopian world of 2076, revolving around a teenage girl who enters a subconscious AI simulation of the title card game she used to play with her beloved father, as she comes to terms with his death. Feng, also the project's writer and producer, is the founder of tellretell and the former director of development for Disney's China local content division. She produced several popular broadcast series, including Disney's first Chinese TV coproduction Ban Jin Ba Liang. Long-time Disney veteran Kevin Geiger serves as co-director and executive producer.
Contact: Feng Wen wen@tellretell.com
Iron Farmer
Dir Chen Wei-Jhih
The 13 x 5-minute episode 3D animated series is an original fairy tale that aims to develop children's empathy. The dialogue-free story follows the title character, Iron Farmer, a monkey, a variety of robots and children who live in the forest. To enhance the hand-painted quality of the visuals, the production has adopted the non-photorealistic rendering (NPR) approach and used a real-time rendering engine MNPRX to create a watercolour style. which is rare on the market. Produced by Blacksheep Animation Studio, the first six episodes have completed production, while the next seven episodes are at script stage. Chen's previous directing credits include Blessing.
Contact: Chen Wei-Jhih two790922@gmail.com
Kairyu Kai Kai
Dir Chao Ta-wei
Adapted from Chang Guo-Li's bestselling young adult novel, the completed 2D animated feature is a coming-of-age adventure about a group of high school students who hunt for a WWII Japanese submarine, the Kairyu, during their summer vacation. Produced by Pig Box Studio, the project received the Mirror Fiction screenplay award at the Golden Horse Film Project Promotion in 2018. Chao makes independent anime films and art illustrations. His short films Pig Box and Black Bear Moon were nominated for outstanding short films at Golden Harvest Awards. He was assistant director and animation director for Sung Hsin-Yin's multiple award-winning On Happiness Road (Annecy 2018).
Contact: Kuo Tong-Yi pigboxstudio@gmail.com
Pigsy
Dir: Chiu Li-Wei
The fantasy adventure film is set in the distant future as a comedy version of Chinese classic Journey To The West. The title character Pigsy is lazy and fun-seeking, always looking for shortcuts to success. In 2017, the project received the top prize from Singapore's ATF Animation Pitch for its creativity and strong export potential. Chiu's Tainan-based studio2 Animation Lab is producing with Bruno Felix's Amsterdam-based Submarine. Chiu has directed many TV works, including Weather Boy! and The Little Sun, as well as Barkley The Cat , which was based on his animated feature of the same name, His latest TV series is called Pigsy Express and is based on the same IP.
Contact: Grace Chuang grace@studio2.com.tw
Poison Apple
Dir: Lien Chun-Chien
This 8 x 24-minute episode TV series, which mixes wuxia with cyberpunk, is an updated version of the Snow White story. Snow White has become a doomsday-weapon-operating artificial superintelligence (ASI) who uncovers her own consciousness after being kidnapped by a rebel assassin. Lien has over 27 years of experience in motion media. He worked as art director at AT&T and Imaginary Forces in the US before returning to Taiwan to set up Dottodot in 2004. His latest short film The Weather Is Lovely has travelled to over 20 film festivals, including Clermont-Ferrand. His 2D animated series Who's Our Sub Today? is in Annecy's MIFA Pitches this year.
Contact: Lien Chun-Chien chunchien@mac.com