Paramount's Star Trek reboot launches into orbit this weekend in the second day-and-date release of the early summer and is expected to sweep all before it as PPI unleashes the action sci-fi on more than 5,200 prints across 54 territories.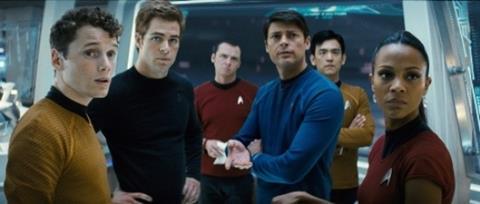 Resistance will surely be futile, although Fox International's X-Men Origins: Wolverine will put up a fight and is expected to soar past the $100m mark heading into its second weekend in 102 markets.
Paramount, Spyglass Entertainment and Bad Robot's fresh take on one of pop culture's most enduring properties arrives on a wave of gleeful reviews and debuts first in France, French-speaking Switzerland, Switzerland and Belgium on May 6.
The second strike on May 7 sees the film touch down in Germany, Russia, Australia, South Korea, Singapore, German-speaking Switzerland and Argentina, among others, followed a day later by the UK, Italy, Spain, Austria, Brazil and Scandinavia, and finally Taiwan on May 9.
China, Japan, Mexico, Hong Kong, Indonesia and India will host Star Trek in the coming weeks.
X-Men Origins: Wolverine has reached $86.3m and opens in Syria on May 7. It will have no trouble cruising past $100m but the question is by how much. Wolverine must now compete with another origins story that not only appeals to the same demographic but has the added bonus of piquing the curiosity of legions of Trekkies, a historically proven force that will be curious to see what J J Abrams has conjured up.
Fox's sci-fi action release Babylon AD starring Vin Diesel launches in Japan on May 9 and the Sri Lankan acquisition Machan debuts in Germany on May 7. Latest figures put family release Marley & Me on $98.9m, the comedy Bride Wars on $56.1m, action fantasy Dragonball Evolution on $47.6m and action title 12 Rounds on $3.5m.
Universal/UPI's action hit Fast & Furious stands at $184.5m and roars into Slovakia and Chile this weekend, while the crime caper Duplicity has taken $29.6m.
The animated feature Coraline has grossed $10.3m and opens in the UK on May 8 as well as in eight other territories, while drama The Boat That Rocked weighs anchor in Belgium and several key territories and stands at $16.7m. The drama Flash Of Genius opens in Spain.
Walt Disney Studios Motion Pictures International's tween release Hannah Montana The Movie has grossed $11.2m from the early stages and launches in Spain and Denmark. The live-action Disney production Trail Of The Panda that shot in China will open in China.
Earth stands at $35.7m through Disney markets, $33.4m of which comes from Germany. The nature documentary has amassed more than $85m through all international territories.
Warner Bros Pictures International's Clint Eastwood drama Gran Torino has amassed $107.8m and after three weeks in Japan stands at $6.7m.
New Line International's romantic comedy Ghosts Of Girlfriends Past stands at $2.6m from the early stages and arrives in Australia and New Zealand on May 7. High school comedy 17 Again on $37m opens in Argentina on May 7 and has grossed $37m.