Sundance Film Festival marks a fresh start to the film calendar. Just as awards season is winding down, new artistic agendas are kicking off all over Park City.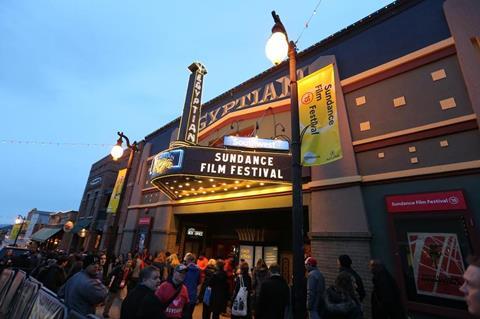 Sundance is a festival unsullied by headline-sucking studio 'out-of-competition' launches, making it purely about the programming line-up, split neatly between docs and dramatic, world and US, premieres and competitive. In that sense, there was one big winner: Nate Parker's The Birth Of A Nation, which won the Grand Jury Prize in the US Dramatic section and also walked away with the Audience Award and a record-breaking $17.5m deal from Fox Searchlight.
Netflix had actually offered more for the confrontational, provocative, agenda-changing film which will be pushed for next year's awards to put a halt to Oscars-being-so-white. In fact, Netflix and Amazon were active throughout Sundance, chasing down quality, prestige English-language projects as opposed to bulk-buying. (This isn't cable programming; this is taste-making. If a film was good, they were in pursuit, no matter if it had arthouse shot through its DNA, like Todd Solondz's dourly misanthropic Wiener-Dog, taken by Amazon in a surprising seven-figure deal.)
Another potential 2016/17 awards contender, Kenneth Lonergan's Manchester By The Sea, was snapped up by Amazon for $10m (Amazon has guaranteed it will find a domestic theatrical partner and launch an awards campaign; Universal came on board for a slew of international territories including Germany, China, Japan and France, with StudioCanal set for the UK). Unspooling in the non-competitive Premiere section, Manchester By The Sea is a typically sprawling but wholly involving drama from Margaret's Lonergan, with a commanding performance from Casey Affleck (subbing for Matt Damon, who went on to produce). Devastating and lengthy, it will take nurturing in the marketplace to make the impact it deserves. (Remember, last year's two big Sundance sales, Me, Earl And The Dying Girl, and Dope, both underperformed at the global box office, not to mention Diary Of A Teenage Girl. Sometimes what happens in Park City stays in Park City.)
Sonita, like The Birth Of A Nation, took both awards in its category: World Cinema Grand Jury for Documentary, and the audience award. This talking-point film about a female Afghani rapper whose mother tries to sell her for $9,000 until the director intervenes premiered at Amsterdam's IDFA. The World Cinema Dramatic Grand Jury Prize went to Beta Film's Sand Storm, which now moves to Berlin. This Israel-set story of a Bedouin girl's plight – again, revolving around her marriage – won plaudits from the critics, although the audience award went to disability drama Between Sea And Land.
In the premiere section, deals were struck at Park City on two more easily categorised titles: solid female-led Wall Street drama Equity, which went to SPC, and Summit picked up James Schamus' debut Indignation, a Philip Roth adaptation starring Logan Lerman which won't be an immediate crowd-pleaser (SPC also picked up the Frank Zappa doc).
Whit Stillman's Jane Austen's adaptation Love & Friendship, meanwhile, was a zinging delight and a clear crowd-pleaser (Amazon and Roadside Attractions are on board). Amazon also went for Joshua Marston's Complete Unknown prior to Sundance, with Rachel Weisz leading a Catch Me If You Can-style life until she confronts an old love, even though it wasn't so strongly liked. Morris From America, snapped up by A24, was a more typically 'Sundance' title – it's a sweet story about a rap-loving black teenager and his dad who try to fit into all-white Heidelberg, Germany. Tallulah, with Ellen Page, Alison Janney and Netflix already on board for streaming, was a critical hit in the US dramatic competitive strand.
Internationally, some Premiere titles with clear commercial potential emerged, most notably TWC's (domestic) Dublin-set toe-tapping John Carney musical Sing Street, which premiered to a thunderous ovation, and Taika Waititi's "warmly funny and deeply delightful" (Screen review) Hunt For The Wilderpeople about a rap-loving teen and a gruff loner (Sam Neill) which delighted the critics and was snapped up by The Orchard for US release. Over in Park City at Midnight, small Iraqi horror Under The Shadow was taken on by Vertical Entertainment and XYZ films, with Netflix on board for worldwide after a targeted theatrical release. Using the chador as a horror device was a neat genre twist
Deals don't say it all, however. Films to look out for – titles which were liked but have not yet inked deals surely include Antonio Campos Jnr's engrossing Christine about Christine Chubbuck, the US newscaster who shot herself live on air in Sarasota, Florida. Featuring a truly impressive performance from Rebecca Hall, this isn't an obviously commercial title, but critics love it, as will festivals. Little Men, Ira Sachs' follow-up to Love Is Strange, is small but beautifully formed, and will show its wares further at the Berlin. The international strand opener Belgica was well liked, and director Felix Von Groeningen won the directing award for his tale of hedonism run amok.
On the documentary side, some titles registered strongly with critics: Wiener, a hard-to-take-in documentary about the former New York mayoral candidate, took the US award. But Tickled, in particular, from New Zealand and the same producer as Hunt For The Wilderpeople, drew admirers in the world category, as did animal-rights doc Unlocking The Cage, set to go out on HBO with the BBC on as co-producer. Magnolia took Werner Herzog's Lo And Behold, Reveries Of The Connected World, which divided critics – some going with the flow, others dismissing it as a grab-bag of random footage. Netflix took worldwide screening rights to the moving, if not outright heartbreaking, teenage bullying film Audrie & Daisy.
Fright, fight or flight?
Of course, for all the successes at Sundance, there were clearly some titles which came, were seen, and left through the back door. Some were simply divisive: for all those who rhapsodised about Colorado shooting drama Dark Night, there were many left cold, with much the same being said for Andrew Neel's violent frathouse drama Goat. John Krasinki's second film as a director, The Hollars, was dismissed as lightweight, but did pick up a buyer in the active SPC. Viggo Mortensen in another Sundance-y Little Miss Sunshine-like Captain Fantastic made do with decent reviews, but nobody seemed excited. Southside With You, a Before Sunrise gab-fest which recreated the Obamas' first date, generated good word of mouth but little in the name of sales.
And there's always one film which polarises critics at any given festival which specialises in world premieres, buzz, hype and anticipation – the Sundance version of a Brown Bunny, or The Sea Of Trees. That honour this year went to Swiss Army Man, a painfully juvenile film debut by 'the Daniels' (Kwan and Scheinert) starring Paul Dano and Daniel Radcliffe. Although the sight of Dano riding Radcliffe's farting corpse like a jetski is certainly unusual, the film itself holds very little allure. Although A24 picked this title up, there was no sign of Amazon or Netflix and their chequebooks in that corner, proving that as the film sales market endures seismic upheavals, one thing is a constant with those two rivals. They don't just want films: they want the best ones.