Japanese actor-director slams production companies' close relationships with cinemas and how this is reflected in the country's awards.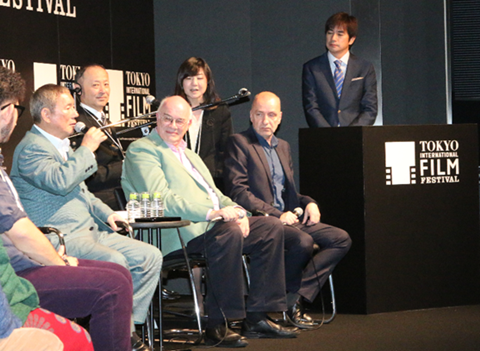 Japanese director, actor and comedian Takeshi Kitano criticized the local commercial film industry in a talk with young upcoming filmmakers on the subject of movies and the future of production in Japan.
Speaking at Roppongi Hills during the Tokyo International Film Festival, where he received this year's inaugural Samurai Award, the director and star of Zatoichi said: "The bad thing about the Japanese industry is that the production companies have relationships with cinemas.
"If you look at the Academy Awards in Japan, it's mostly Toho, Toei, Shochiku and maybe Nikkatsu. My film has never been nominated for an Academy Award, even the best feature.
I wonder why doesn't the Academy nominate other films? Who are the members who vote? I believe Mr. Kurosawa has mentioned this, too.
"Out of all the Academy Award nominations, if we look at the best films, I don't think any have been nominated that are not from these companies. And the newspapers don't mention this either, because they get ads, and it would be bad."
Kitano also criticized the prevalent trend of local studios adapting manga and novels for films.
"Why? Because you can attract audiences," he said. "The movie companies don't have the courage to pay some unknown screenwriter, so they just have a lack of original screenwriters, and we have a lack of those resources.
"So long as you are in the commercial film industry, if you deem it a business, we have no other choice. So I hope that there will be a good movie that will buck that trend."
Talking about how he started out as a comedian, supplementing his income by working in cafes and washing Yakuza's backs in saunas, Kitano said: "In order to make a living, it's tough if you are not listening to the studios. In order not to get entangled with these studios, you have to be able to make a living.
"With your friends and partners in the age of the digital cameras, maybe you will be able to create at a low budget, and you will be able to show and prove that you have directorial prowess."
Not a Miyazaki fan
Asked about animation in a country where it dominates and at a festival which is currently holding a focus on local animation, the iconoclast declared: "I don't like animation.
"I really don't like Hayao Miyazaki. But, of course, it really depends on the person. Animations make a lot of money, and of course they are beautifully made.
"It's about selecting, choosing what you want to get into. If there is an idea of concept you have, go with it. But make a choice and recognize the choice. Focus, focus, and then explode [your ideas] in the end.
"Just concentrate on one end and then when you need to release your power, you just need to look around yourself to recognize there are many other wider opinions when you come to produce your film."
Lack of dynamism
He was later joined on stage by Tokyo festival jury members Christian Jeune of the Cannes Film Festival and Tony Rayns of the Vancouver fest.
The latter, asked about how Korean films are so popular these days and whether he thought Japanese films could become equal to them, Rayns threw a verbal bomb into the audience although seasoned veterans could be spotted nodding in agreement.
"The fact is, Korea is at the moment a very dynamic country in the midst of political and economic change, and the films that are rooted in this change are very dynamic," he said.
"When I look around Japan, I don't see social and economic change. I see stasis. I see right-wing idiots denying comfort women and war crimes. I've been seeing the same thing in Japan for 30, 40 years.
"Until you get some movement, some challenge of the eternal factors in Japanese society, I don't think you will see the kind of dynamism in Japanese cinema that you see in Korean cinema."
Asked about a director's responsibility Kitano said: "If the audience needs to interpret it in the same way, then it's a Nazi film."
"I don't actually have a theme in my mind when I make films," he added. "I come up with the last scene, like a photographic shot of the last scene, and then see how much story I can put on top of that.
"In regard to the theme, it's up to the critics to come up with what they think the theme is. I'm frequently asked, 'What did you want to communicate with the film?' Well, I wouldn't make the film if I was able to put it in words! I say, 'Just watch the film.'
"It's about how much you are able to leverage and put that into the film. That's how I shoot."
How to break through
Rayns said of Japanese cinema: "The most exciting, stimulating films are always from the independent sector. I think the future is in the hands of young people who will teach themselves."
Jeune agreed: "The future is in the hands of young directors, for any world cinema. What has changed is the world has changed. The directors have changed - what they want to say, how they want to say it.
"So I hope they find the means to tell their stories. You have to find your own way to tell your own stories through a medium which is cinema - and never forget it is cinema."
Rayns added: "The opportunities for independents will become more limited in years to come, but I am confident that other channels will become available such as downloading and streaming."
He recommended to the new directors on stage to pursue those new channels.
Asked for advice on how to break through, he said: "Make good films. If you make something that is special, people will notice. There's not much competition. You will be surprised."
Jeune, going back to the question of Korean and Japanese cinema said: "There is a moment in cinema when you have to forget about where you come from. Don't think you have to represent your country. Just represent yourself.
"It's the voice of the individual at the end of the day."