Exposure at the Orange British Academy Film Awards can bring real benefits at the UK box office for films released at the right time. Andreas Wiseman explores the effectiveness of the awards as a launchpad and looks at how the Baftas (Feb 13, 2011) are shaping up in a strong year for British film.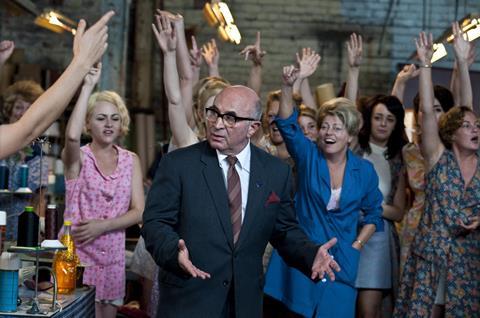 A decade after shifting to a pre-Oscars slot, the Orange British Academy Film Awards (Baftas) are now well established as a key staging post in the awards season and an important launchpad for films into the UK market.
"A Bafta win or nomination is of huge value," says Danny Perkins, CEO of the UK's Optimum Releasing. "In the independent sector our films aren't often driven by big marketing spends, so to profile them we rely on the editorial support that accompanies Bafta nominations or wins, as well as the acclaim of the awards themselves."
Jamie Schwartz, marketing director of Momentum Pictures, agrees: "If a film is already on release it's a massive boost, support and sustain for a film."
In 2005, for example, Entertainment Film Distributors' Brokeback Mountain took a resounding $15m (£9.5m) at the UK box office, thanks in part to a strong pre-Bafta campaign and a best film win during its run.
"If a film is already on release, a Bafta nomination is a massive boost, support and sustain for a film"

Jamie Schwarz, Momentum Pictures
In 2009, Slumdog Millionaire was another example of the Bafta bounce. While it is rare for a film to improve its week-on-week box-office performance so far into its run, Slumdog Millionaire — then in its sixth week of release — improved its previous week's total by $475,000 (£300,000) after its Bafta best film win.
But it is not only theatrical revenues that can be boosted by Bafta success. Last year, after taking just $1.3m at the UK box office in August, The Hurt Locker showed the value Bafta can add to ancillary. Released by Lionsgate Home Entertainment on December 26, 2009, Kathryn Bigelow's war drama entered the UK DVD chart at number seven and fell away in ensuing weeks. However the film's DVD sales surged thanks to an impressive 'reheat' campaign and numerous Bafta nominations.
"Because of the sheer number of nominations, we ran an additional TV campaign during Bafta nomination week," says Marie Claire-Benson, head of home entertainment at Lionsgate. "We updated the DVD sleeve and stickered the stock with the Bafta message. It really adds another dimension to the sales when you've got the awards buzz. The sleeve was changed again once the awards had been won."
The Hurt Locker rose from 16th to third place on the UK DVD chart in the week after its subsequent best film win at the Baftas. By that stage, the marketing had been done. "Winning the awards is a publicity campaign in itself," Benson continues. "On the back of this success, the retailers made sure they had plenty of stock."
The Hurt Locker peaked at number one in the DVD chart in its 11th week; it is the best-converting title of the year so far with more than a million units sold against a box office of $1.3m.
"In a crowded marketplace, having a gold standard like a Bafta mask attached to your production can only help," says Deena Wallace, head of film at Bafta.

'Refresh and refine'
Following a year in which the Oscars retooled its ceremony and expanded its best-picture category, it is clear international awards ceremonies must evolve. And Bafta is not resting on its laurels. "We look to update and refresh and refine but we don't want to reinvent the wheel every year," says Finola Dwyer, chair of Bafta's film committee.
The organisation is developing new ways to engage the public in its awards, and is looking to build on last year's successful launch of a backstage forum where fans could watch the event on a giant screen and then interact in real time with a panel which included producer Stephen Woolley. At the next awards, set to take place once more at London's Royal Opera House on February 13, 2011, organisers also intend to conduct more talent interviews during the ceremony.
Also new this year, Bafta has built a customised online portal for its 6,300 members to watch all submitted foreign-language contenders in a bid to increase access to lesser-known titles. Another innovation for 2010 is the opportunity for customers of Orange Wednesdays (a promotional scheme which allows customers of the mobile-phone network and Bafta sponsor to receive two-for-one cinema tickets) to vote to reduce the newly named Orange Wednesdays Rising Star Award nominees longlist before the public votes on a winner. "We're constantly looking for ways to engage the public and our members," says Bafta CEO Amanda Berry.
The Baftas have seen rising TV audiences since 2007 and will this year reach 100 territories thanks to a new distribution deal with Fireworks International.
Like other awards bodies, Bafta is monitoring the Oscars since AMPAS announced that moving the date of the Oscars was a possibility beyond its 2012 ceremony. "We've moved before and if we need to move again we're in a strong position thanks to our online voting platform, which allows an element of flexibility," says Berry.
Bafta is well established as a bellwether for the Oscars. Five of the last 10 directors to win a Bafta for best director have gone on to win at the Oscars. The same is true for eight lead actors and actresses since 2001.
"We look to update and refresh and refine but we don't want to reinvent the wheel every year"

Finola Dwyer, Bafta
Nevertheless, Bafta voters certainly have their own preferences. The Hurt Locker won best picture and director prizes at both events last year but in the main acting categories Colin Firth and Carey Mulligan did not repeat their Bafta glory on Oscar night.
Bafta may judge British work alongside the best in the world, but the voters do often show favour to UK talent. In the best film, director, actor and actress categories over the last decade, UK productions and talent have performed twice as well at the Baftas as at the Oscars. However, there have been omissions. For example, in 2009 Sally Hawkins' lauded performance in Mike Leigh's Happy-Go-Lucky did not receive a nomination (Hawkins won a Golden Globe for her performance).

Britain's got talent
But 2010 is a strong year for UK films and talent. Titles in the running for Bafta recognition include Danny Boyle's 127 Hours, Mike Leigh's Another Year, Mark Romanek's Never Let Me Go (whose stars, Keira Knightley, Carey Mulligan and Andrew Garfield, could all receive recognition), Nigel Cole's Made In Dagenham, Chris Morris' Four Lions, Richard Ayoade's Submarine and Tom Hooper's The King's Speech, with which Colin Firth could become the first actor to win back-to-back best actor awards.
Other contenders campaigning by early October included Darren Aronofsky's Black Swan, David Fincher's The Social Network, Tony Goldwyn's Conviction, Anton Corbijn's The American, Julian Schnabel's Miral and Lisa Cholodenko's The Kids Are All Right.
Timing a release around the Baftas can be key to success. Before The Hurt Locker, released in August 2009, the previous eight best film winners had all been released in the five-month September-January window. Winter is a crowded season at UK cinemas and this year is no exception with both The King's Speech and Never Let Me Go to be released in January.