Fox's comedy-drama posts an excellent 7% rise to dethrone The Woman In Black at the top of the chart.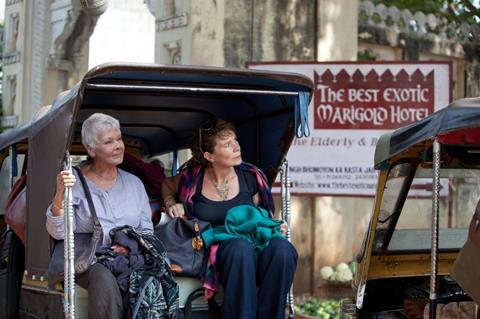 A superb second weekend saw The Best Exotic Marigold Hotel to take this week's UK box office crown after recording a 7% rise for an estimated $3.8m (£2.4m) from its 525 locations.
Fox's comedy-drama now stands at a commanding $11.1m (£7.0m) after just ten days in play and has dominated the UK over the past week with $7.3m (£4.6m) taken in its first week. This result is on par with the recent success of War Horse and is ahead of director John Madden's Shakespeare In Love which managed $4.9m (£3.1m) in its first week with that film's final tally of $33.0m (£20.8m) an increasingly achievable target.
The film has benefitted from appealing to an under-served audience - much like The King's Speech, which also benefitted from awards buzz - and with strong word of mouth, it's likely that we will see a lot more of this "pensioners' powerhouse" - Fox's description - before its run ends.
Despite being prevented a fourth straight week at the top of the chart, Momentum's horror The Woman In Black held firm in second after a slim 22% decline. Hammer's adaptation of Susan Hill's ghost story continued its record-breaking run as it grossed a further $3.0m (£1.9m) to stand at an impressive $27.8m (£17.6m).
With both Project X and Wanderlust failing to break into this week's top five, Fox's This Means War was this week's highest new entry in third. Boosted by one-off Valentine's Day previews, McG's action comedy about two spies who fall for the same woman posted a $2.9m (£1.9m) debut from its 427 sites. The result is director McG's lowest UK opening but it's worth noting that his other films have all been based on an established brand - Charlie's Angels and the Terminator franchise.
Falling a place to fourth this week was Universal's action-thriller Safe House which added $2.2m (£1.4m) for a solid ten-day running total of $7.6m (£4.8m).
Disney's The Muppets also dropped one place to round off this week's top five.
This week sees saturation releases for StudioCanal's drama Bel Ami, Disney's sci-fi epic John Carter and Universal's thriller The Raven. Warner Bros.' Cleanskin and Revolver's Payback Season both receive wide releases.