Dir: Phyllida Lloyd. UK-France. 2011. 104mins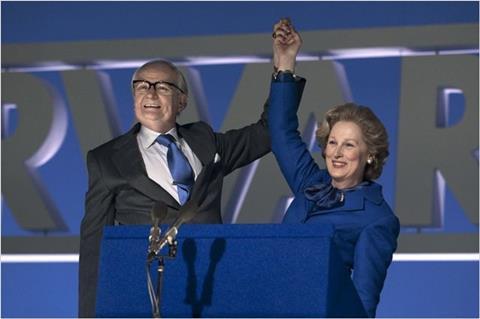 Meryl Streep delivers a nomination-friendly – and physically pretty much spot-on – performance as former British Prime Minister Margaret Thatcher in the oddly superficial The Iron Lady, a film that reinforces the legend and tolerates little dissent (rather like the woman herself) as it potters through a political and personal life that straddled remarkable times. But while the script is littered with fine moments of dialogue, the film is low on drama or dynamic direction and relies on the ever-impressive Streep to save it from being just another biopic.
Meryl Streep's wonderful performance is the film's driving force.
The Iron Lady opens at the end of the year in the US and Australia/New Zealand and on January 6 in the UK. It is in its home country where it is most likely to divide opinion – in the US old-time Republicans may still have a soft spot for Maggie (or Baroness Thatcher as she is now), but in the UK she is still a figure who excites strong debate and divides opinion, and despite the presence of Streep the film will be a tough sell into some urban city areas which are resolutely anti-conservative and stridently anti-Thatcher.
It may well be that The Iron Lady is a film packed with strong performances and structured in an almost theatre-style manner (it could easily exist as a stage-bound production), but there is no separating the politics – especially in the UK – from the production.
The film opens delightfully as doddery old Maggie has slipped her heavily armed minders and popped round to the local shop to buy a pint of milk. She returns to her Chester Square flat to make tea and boiled eggs for loyal husband Dennis (Jim Broadbent, as effortlessly charming as always).
But when her loyal aide June (Susan Brown) comes into the kitchen it is revealed that Margaret is sitting alone at the breakfast table. Dennis has in reality died some time ago, though to her he is still very much alive. She is due to finally clear out his clothes from their wardrobe, and the prospect of having to do this triggers a series of memories for her.
While attending a dinner party with her daughter Carol (Olivia Colman in a sweet and amusing performance) she recalls the moment she first met Denis 60 years earlier, and reflects on the origins of her political ambitions as the young Margaret (Alexandra Roach, one of this year's Screen International Stars of Tomorrow) listened to her greengrocer father (Iain Glenn) talk at political meetings.
The doddery old Margaret also recalls her love for Dennis and happy times with her young children Carol and Mark, but also acknowledges the conviction and ambition that saw her win her seat in Parliament, start an on-going battle with the fuddy-duddy establishment and finally decide to run for leader of the Conservative party.
Her resolute conviction sees her battle against Unions and tackle civil unrest and also have to deal with the death of her friend – and according to the film, mentor – Airey Neave (Nicolas Farrell in a charming performance) in a bomb attack. It is all handled in a quite perfunctory manner in the film, with even possibly the most dramatic (in terms of tangible impact to Thatcher) moment, when her Brighton hotel room is torn apart in an IRA bomb blast, filmed in rather matter-of-fact style and a sense of dramatic opportunities lost.
Thatcher has her Churchill moment as she turns her attentions to Argentina when it invaded the British held Falkland Islands, ordering a Naval taskforce to take on the country and refusing to back down even in the face of considerable casualties. Her determination leads to victory, but in the coming months she starts to lose the support of her cabinet and eventually has to make a final exit from 10 Downing Street.
Meryl Streep's wonderful performance is the film's driving force and she manages to capture Thatcher's determined stare; her demure-but-dangerous disposition and her posture perfectly, especially in the scenes of Maggie as an elderly and slighted demented pensioner. Her towering performance goes some way in papering over Phyllida Lloyd's workmanlike direction that delivers a film that is affectionate rather than investigative and romantic rather than realistic.
Lloyd and Streep, of course, worked together on the successful Mamma Mia!, and even The Iron Lady has a few musical references as Maggie dwells on her favourite musical The King And I, and also gets to have a little dance with Dennis. The film also has a The King's Speech moment as Maggie is given lessons on vocal training and presentation as she prepares to make her bid for the Conservative leadership.
Streep's performance is mightily aided by astonishingly good hair and make-up from J. Roy Helland, who should also be a shoe-in when it comes to awards nomination time.
The Iron Lady is diverting rather than absorbing, offering up essentially the story of an old woman who dwells on her past – never with regret or shame, but only with affection. The fact that this woman was such an important figure in 20th century British politics and society seems to be almost an afterthought.
Production companies: DJ Films, Pathe, Film4, UKFC, Canal+, Goldcrest Film Production
International sales: Pathe International, www.patheinternational.com
Producer: Damian Jones
Executive producers: Francois Ivernel, Cameron McCracken, Tessa Ross, Adam Kulick
Co-producers: Anita Overland, Colleen Woodcock
Screenplay: Abi Morgan
Cinematography: Elliot Davis
Editor: Justine Wright
Production designer: Simon Elliott
Music: Thomas Newman
Main cast: Meryl Streep, Jim Broadbent, Olivia Colman, Roger Allam, Susan Brown, Nicholas Farrell, Iain Glenn, Richard E Grant, Anthony Head, Nick Dunning, Harry Lloyd, Alexandra Roach