The partners confirmed on Sunday evening they had picked up North American distribution rights from MGM to Toronto Midnight Madness selection The Belko Experiment.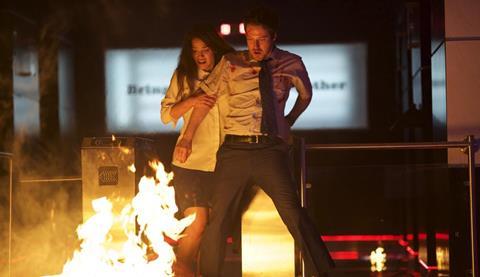 BH Tilt plans to release the genre film on more than 1,000 screens on March 17, 2017.
Greg McLean of Wolf Creek notoriety directed from a script by Guardians Of The Galaxy writer-director James Gunn, who produced alongside Peter Safran.
The story centres on American office workers trapped inside a deadly game of survival in a high-rise in Bogota, Colombia.
John Gallagher Jr, Tony Goldwyn, Adria Arjona, John C. McGinley, Josh Brener, Michael Rooker, Sean Gunn and Melonie Diaz star in the film from MGM and The Safran Company.
BH Tilt is Blumhouse's distribution company that focuses on targeted films backed by digital-heavy campaigns. Orion is MGM's distribution arm focused on multi-platform launches.