The Toronto International Film Festival's industry office announced on Tuesday the first raft of participants confirmed to attend the seven-day conference.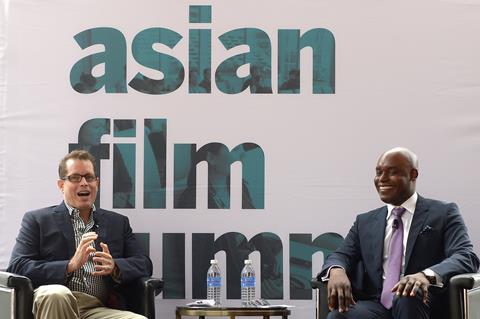 The event is set to run from September 11-17 will feature 200 speakers and will see Amy director Kapadia, comedian and filmmaker Bill Hader and writer Naomi Klein present at the Doc Conference.
Voltage Pictures founder Nicolas Chartier and OddLot owner Gigi Pritzker will taker part in on-stage conversations, while Mountains May Depart director Zhangke will deliver a Master Class at the Asian Film Summit.
Conference participants include National Association Of Theatre Owners chief John Fithian, Protagonist CEO Mike Goodridge and Claudia Landsberger for BaseWorx For Film.
A new series in the programme is Upfront, which the industry office promises will offer "no-holds barred" conversations on the most topical issues in the industry."
"We're excited about the participation of these vanguards of the film industry in this year's programming," said TIFF Industry Office director Kathleen Drumm.
"By providing the opportunity for a global audience to gain the valuable insights of 200 leaders in the industry, we look to inspire innovation and bridge the connection between the art and business of content."
The timetable of events is as follows:
September 11 – Creative Process;
September 12 – Financing and Co-Production;
September 13 – Marketing;
September 14 – Distribution and Sales;
September 15 – Asian Film Summit;
September 16 – Doc Conference; and
September 17 – Future of Content.