The 15th annual Tribeca Film Festival juried awards ceremony on Thursday evening rewarded a wide roster of selections as organisers honoured separate US and international narrative competition categories for the first time.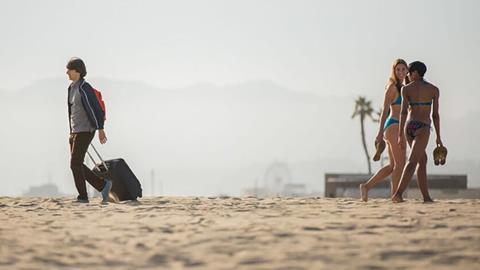 In the US Narrative Feature Competition, the Founders Award for Best Narrative Feature went to Dean (pictured) by Demteri Martin, who receives $20,000, sponsored by AT&T, and the art award Waking Up In The Painted World by Stephen Hannock.
Best actress in a US Narrative Feature Film went to Mackenzie Davis in Always Shine, while Dominic Rains of The Fixer earned the best actor award.
The best cinematography prize went to Michael Ragen for Kicks along with $50,000 in post-production services donated by Company 3. Screenplay honours and $2,500 sponsored by Freixenet Cava were awarded to Ingrid Jungermann for Women Who Kill.
In the International Narrative Feature Competition categories, Udi Aloni's Junction 48 earned the best international narrative feature prize along with $20,000 sponsored by Netflix, and the art award Temple Of The Moon by Sara VanDerBeek.
Best actress honours went to Radhika Apte in Clean Shaven, a part of Madly. Alan Sabbagh earned best actor prize for The Tenth Man.
Best cinematography honours went to Kjell Vassdal for El Clasico. Vassdal receives $50,000 in post-production services donated by Company 3.
The best screenplay was adjudged to be Perfect Strangers by Filippo Bologna, Paolo Costella, Paolo Genovese, Paola Mammini, and Rolando Ravello. The winners receive $2,500 sponsored by Freixenet Cava.
In the World Documentary Competition, Craig Atkinson won best feature for Do Not Resist (USA) and $20,000 sponsored by Netflix, as well as the art award Untitled by Virginia Overton.
Best documentary cinematography honours went to Jarred Alterman for Contemporary Color (USA). Alterman also collects $2,500 sponsored by Bira 91. The same company handed out $2,500 to best documentary editing winner Bill Ross for Contemporary Color.
The 2016 Best New Narrative Director award went to Priscilla Anany for Children Of The Mountain (USA), along with $10,000 sponsored by HBO and the art award The Transit Of Venus (Melanie) by Keith Edmier.
The Albert Maysles New Documentary Director Award was presented to David Feige for Untouchable (USA). Feige also receives $10,000 sponsored by Netflix, and the art award Lenox Hill by Josh Tonsfeldt.
The Nora Ephron Prize went to Rachel Tunnard, director, writer, and editor of UK comedy-drama Adult Life Skills. The award comes with a cash prize of $25,000.
Organisers will announce the winners of the Audience Awards, powered by Infor, on April 23.
Tribeca runs until April 24, when festival top brass will show the award-winning films. For the full list of winners details click here.