New World Order: Producer Adam Knopf discusses filming War Of The Worlds S2, one of the first scripted dramas to embark on a shoot under the new production guidelines.
A dystopian sci-fi thriller in which shell-shocked groups of survivors attempt to navigate life in a strange new landscape, it's rather apt that War Of The Worlds is the first scripted high-end TV drama to embark on production under pandemic conditions.
Filming on series 2 of the FOX/Canal+/Urban Myth/AGC Television adaptation of HG Wells' classic novel began on July 13 around the Welsh cities of Cardiff and Newport, with units also travelling to France, Bristol and London. The entire seven-week shoot took place under the comprehensive new guidelines for creating a safe filming environment in this age of COVID-19.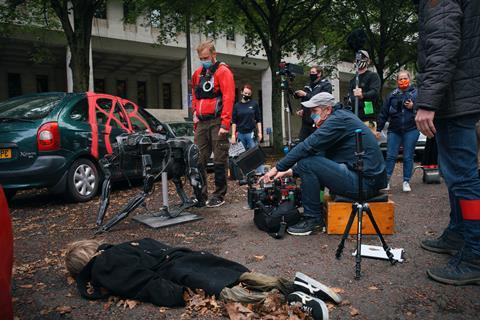 "It was a learning curve for all of us," says Adam Knopf, one of the producers of the show via London-based Urban Myth, who were also in post-production with Netflix's The One during lockdown.
Knopf says, however, that he has been impressed with how quickly cast and crew have adapted to the new normal. "Crews are very adaptable anyway, as they are used to working in different locations. And we very quickly realised that, actually, it was really business as usual but with additional bits of health and safety, and being more mindful and extra careful."
With prep beginning on War Of The Worlds in March, in the very week that the UK was put into strict lockdown, and the shoot's start date set in stone because of the availability of lead actress Daisy Edgar-Jones, the production team spent 12 weeks working out exactly what they needed to do to hit their start date. "We put together all the government guidelines and British Film Commission advice, we hired professionals and we put our own protocols together," he explains. "We also drew on what we know about film and TV production; what's possible and what's not."
The biggest challenge, says Knopf, was finding locations that were able to accommodate the shoot during the summer months. "That was our biggest hurdle," he notes. "Access is currently limited and, at the time, you couldn't use residential homes, for example. But we've got fantastic location managers who are based in Newport and Cardiff who could get us into places like universities and offices, where we knew that no-one was going to be around."
With locations secured and protocols in place — including regular temperature checks, placing crew into "bubbles" (also known as "fixed teams" or "cohorts"), coloured wristbands indicating levels of access to cast and set, face coverings, hand sanitiser, regular disinfecting and social distancing — the entire production underwent a detailed dress rehearsal before any cast arrived on set. With stand-ins being used for the actors, each of the two units ran through a full day, from arrival and make-up and costume to blocking, lighting, shooting, and catering.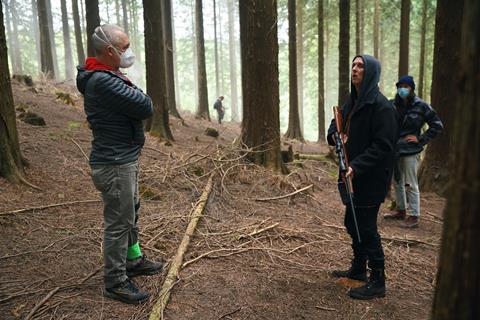 "It gave us a measure of what worked, and what needed improving," says Knopf. "And we had big Q&A sessions so people could voice any concerns and give us their feedback."
This all meant that, as the shoot began, the crew were familiar with and confident in the protocols, with guidelines being simple and easy to convey to a cast which, along with Edgar-Jones, also includes Lea Drucker, Gabriel Byrne, and Natasha Little. And, crucially, such a high level of dedicated preparation also meant that there was no impact on existing production schedules. "Our view was always, 'what do we need to put in place to make sure that our schedule remains the same'," says Knopf. "And we've done that. We're achieving the same days that we did before COVID."
Having been through the experience of filming War Of The Worlds, Knopf is confident that the new guidelines would be successful across productions of any size. "The Pursuit Of Love [the new Amazon/BBC mini-series written and directed by Emily Mortimer] started shooting a few weeks after us in Bath," he notes. "And they've found, like us, that if you put the systems in place, and you make sure that everyone adheres to the guidelines, then there are no major concerns.
"As long as we want to continue making drama while Covid is prevalent, these guidelines will remain in place," surmises Knopf. "It's going to become the norm, and people just need to factor them in their schedule. Just like the rest of the world, we have to get on with it. If we want to keep doing what we do, this is the way to do it."