New projects from Robert Redford, Catherine Hardwicke, Paul Haggis and Sofia Coppola.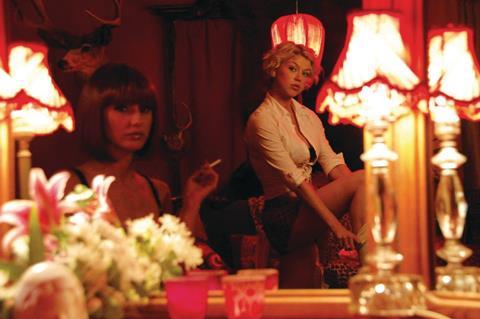 Production has begun in Savannah, Georgia, on Robert Redford's historical drama The Conspirator for Focus Features International (FFI). Robin Wright Penn stars in the true story, which takes place in the immediate aftermath of Abraham Lincoln's assassination. James McAvoy, Tom Wilkinson, Kevin Kline, Evan Rachel Wood and Justin Long also star in the film, from Joe Ricketts' newly launched The American Film Company.
"Myriad Pictures will screen the Sebastian Gutierrez comedy Women In Trouble ahead of Screen Media's US release in November"
Anton Corbijn has started shooting in Italy on FFI's romantic spy thriller The American starring George Clooney, while Sofia Coppola's Somewhere stars Stephen Dorff as a world-weary celebrity in Los Angeles who reconnects with his daughter, played by Elle Fanning, also for FFI.

Summit International arrives with the DC Comics adaptation Red starring Bruce Willis, Morgan Freeman and new cast member Helen Mirren. Robert Schwentke (Flight­plan) directs and Lorenzo Di Bonaventura and Mark Vahradian are producing the action thriller, about a retired CIA agent who must fight for his life. Shooting is scheduled to start on January 11, 2010, and Summit Entertainment will release in North America on November 19, 2010.

Meanwhile, Catherine Hardwicke will direct the drama If I Stay in the first half of 2010 and Summit holds domestic rights.

Mandate International has Paul Haggis' thriller The Next Three Days, based on the French film Anything For Her and starring Russell Crowe as a man who tries to break his wife, played by Elizabeth Banks, out of jail. Nicole Holofcener will direct an untitled James McAvoy/Seth Rogen comedy about a sick man who must overcome a series of challenges on the road to recovery.

And Gavin O'Connor, best known for Pride And Glory, is preparing to direct the ­contemporary Rocky story, Warrior, which stars Joel Edgerton, Tom Hardy, Jennifer Morrison and Nick Nolte. ­Lionsgate holds US rights to all three projects.

IM Global chief Stuart Ford will be at the Loews with Area 51, Oren Peli's $5m follow-up to his ultra low-budget US box-office sensation Paranormal Activity. Ford and his team will also be enticing buyers with the Halle Berry shark thriller, Dark Tide.

Hyde Park International expects to make a killing with Robert Rodriguez and Ethan Maniquis' revenge action film Machete starring Danny Trejo, Robert De Niro, Michelle Rodriguez and Jessica Alba. Mimi Steinbauer is also selling Derek Cianfrance's drama Blue Valentine, featuring Ryan Gosling and Michelle Williams as a couple in the midst of a break-up. The film is in post and ­scheduled for delivery in the second quarter of 2010.

Voltage Pictures has Faces In The Crowd with Milla Jovovich as the hunted witness of an assault who is disadvantaged by an inability to remember faces. Production has been set for March 1, 2010.

Lakeshore International will be talking up The Lincoln Lawyer, with Tommy Lee Jones set to direct Matthew McConaughey as a seedy Los Angeles defence attorney who lands the case of a lifetime.

Paramount Vantage International chief Alex Walton is looking to conclude key sales on the remake of George A Romero's thriller The Crazies, this time starring Timothy Olyphant and Radha Mitchell, which Overture Films will release in North America on February 26.

Media 8 has boarded worldwide rights to the erotic drama Satisfaction starring Sharon Stone, Carice van Houten and Chris Evans, while Affinity International, the recently formed company that combines Odd Lot International and Bold Films International, kicks off with the romantic comedy From Prada To Nada. Lionsgate holds North American rights.

Glen Basner's FilmNation will give a big push to the romantic comedy Ceremony with Uma Thurman and Michael Angarano which is filming in New York.
Parlay Films, Lisa Wilson's third- party sales company under the GK Films umbrella, has the New Orleans-set mystery Little ­Murder in post-production starring Josh Lucas, Lake Bell and Terrence Howard. Also, Parlay's heist comedy Henry's Crime, starring Keanu Reeves, Vera Farmiga and James Caan, is due to commence filming on November 9.

Myriad Pictures will screen the Sebastian Gutierrez comedy Women In Trouble ahead of Screen Media's US release in November. Lightning Entertainment has the romantic comedy Coach, a feature debut from Stephen Frears' son, Will. Hugh Dancy stars.

Ryan Kampe and Sylvain Tron's Visit Films has Picture Me, a documentary about the world of modelling.