Dir/scr: Michael Moore. US. 2009. 120 mins.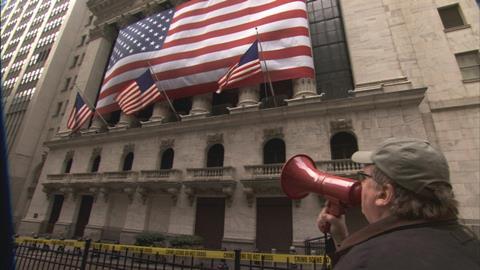 Michael Moore's latest is another rallying cry for the working man, reworking the same themes of all his films from Roger & Me onwards, namely the hypocrisies and injustices of the corporate and political superstructure in the US. The formula is the same as before – dips into history, a series of illustrative cases, the big stunt – only this time showman Moore wears his bleeding heart idealism on his sleeve more happily than before as he clearly hopes for a new golden era under Obama.
Moore is best synopsizing the greed and transgressions of Wall Street throughout the Bush years
As intelligent and compulsively entertaining as his previous films, Capitalism could be a tidy hit for Overture Films in the domestic market if only for the fact that Moore speaks to the financial crisis that has brought the nation to its confused knees. Sicko grossed $24.5m in 2007 and it has a shot at surpassing that, especially bringing in younger crowds keen to make sense of it all. In international territories, it should easily surpass Sicko which grossed a total of $11.5m, since the subject of the US financial crisis has more direct relevance than the US healthcare system.
The conservative right will of course dismiss Moore's elucidations as simplistic – and for the most part they would be right - yet there is a Capra-esque appeal to his pleas to redress the balance between very rich and very poor in his homeland.
Moore valiantly battles the propaganda that has fused capitalism with both democracy and religion, while defending the notion of socialism which has become a curse word in the US heartland.
First he shows the toll on everyman of the financial inequality: he pictures families as they are evicted from their homes, interviews a widow and a widower who discovered that their late partners' employers had cashed in huge life insurance policies on them, talks to airline pilots who are so poorly paid they have to take second and third jobs.
He takes a trip to his own working class childhood in Flint, Michigan, showing home movie footage of the good old days before General Motors started laying off thousands.
Then in the film's second hour, he targets Wall Street and the White House for their blatant backroom deals over financial deregulation which led to the disastrous situation today. He talks to former financial regulator William Black, actor Wallace Shawn and various congressmen and women about the 2008 bailout.
Moore is best, of course, synopsizing the greed and transgressions of Wall Street throughout the Bush years; however his rampant optimism about the Obama administration appears somewhat dewy-eyed, especially in light of the current health care reform bill that is tearing the country in two.
Some of his arguments here are brilliantly persuasive. He ropes in priests and pastors to pronounce capitalism as an "evil", highlights the insidious relationship between the Clinton and Bush administrations with Goldman Sachs and shows an ailing Franklin D Roosevelt propose a second bill of rights which was never passed but could have changed the makeup of the country's social fabric.
Less intelligent is the mandatory stunt – in which he attempts to make citizens' arrests of the bank CEOs on Wall Street and surround their buildings with crime scene tape.
To sign up for Screen's weekly Reviews Newsletter with all the week's new releases, international openings and full festival reviews delivered free to your mailbox every Friday, please click HERE

Production companies
Overture Films
Paramount Vantage
The Weinstein Company

North American distribution
Overture Films

International sales
Paramount Vantage International

Producers
Michael Moore
Anne Moore

Editors
Conor O'Neil
John Walter

Music
Jeff Gibbs