Dir. Luca Guadagnino. Italy, 2009. 119 mins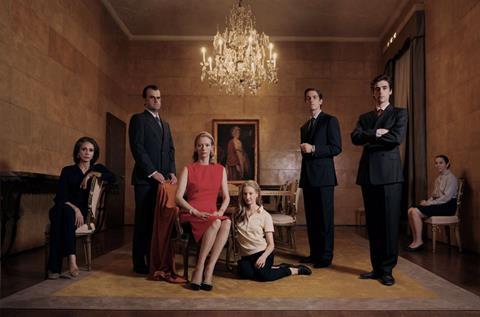 The surprise of Luca Guadagnino's I Am Love (Io Sono L'Amore) will wear out in time and press coverage/word-of-mouth, but this considerable achievement will always impress. An intriguing delight and so beautifully performed - particularly by lead Tilda Swinton - I Am Love is a film of great formal elegance with much simmering underneath its patrician surface. Its particularly European milieu may restrict this to select arthouse in the US, but there's no reason to doubt that I Am Love will enjoy wide exposure.
The finale is magnificent, satisfyingly-operatic, melodrama, with Paiato and Swinton working together particularly well
Set in Milan's upper classes, in the Art Deco villa of a family of great wealth (the Agnellis come to mind), this is a film about repression and breaking free. From its 50s-style opening titles set over a snow-covered Milan and to John Adams scores, I Am Love can't help but recall the Douglas Sirk themes of an earlier film age, not to mention Visconti, so it's a surprise to realise that it is all set more or less in the present day. Guadagnino, who developed this with his The Protagonists star Tilda Swinton, evidently relishes playing with audience expectations and it's enjoyable to be in this experience with them.
The Recchi family, we're told earlier on, are winners to a man – although the women look a good deal less confident. At a formal lunch party which plays out like a modern-day Italian take on Gosford Park, ailing scion Edoardo Sr (Gabriele Ferzetti) celebrates his birthday by passing the business on to his son, Tancredi (Pippo Delbono), and, unexpectedly, his grandson Edoardo (Flavio Parenti), the beloved heart of the family.
Although coolly beautiful and seemingly in control of her surroundings, Tancredi's wife, Emma (Swinton) is evidently not entirely at ease: they have another son, Gianluca (Mattia Zaccaro) and a daughter Elizabeth (Alba Rohrwacher) who is an artist, and, it is later revealed, a lesbian.
And, fatefully, during that same evening, Eduardo Jr introduces his mother to his friend Antonio (Edoardo Gabbriellini), a chef, with whom he plans to set up a business.
Later, Emma, a Russian émigré and facing into an empty nest, takes a trip to Sanremo and encounters Antonio there, as Edoardo Jr struggles against his role in the business during a trip to London.
There is much at play and so much not to give away in I Am Love, propelled by some terrific writing and performances – Swinton works her magic, but Marisa Berenson as Edoardo Snr's wife Allegra, Maria Paiato as housekeeper Ida and Alba Rohrwacher as the newly-liberated daughter, whose actions are evidently a turning point for her mother, also impress.
Guadagnino, working with DoP Yorick Le Saux, matches the performances with elegantly-shot interiors and formally composed scenes – but not so much as to over-burden the piece – mixed in with a Hitchcock homage in Sanremo and rush of nature in the countryside outside. Individual sequences, such as that in Antonio's restaurant with three women, are perfectly-formed joys all of their own. One discordant note is Swinton's snap transformation from Hermes-clad elegance to shorn-haired headscarfed soup-maker – it's amazing what just a taste of scruffy sex can do for a woman – but such goodwill has been earned by this point, it's easy to go with her flow. The finale is magnificent, satisfyingly-operatic, melodrama, with Paiato and Swinton working together particularly well.
To sign up for Screen's weekly Reviews Newsletter with all the week's new releases, international openings and full festival reviews delivered free to your mailbox every Friday, please click HERE
Production companies
First Sun
Mikado Film
International sales
Mikado Film
+39 331 6806060
Producers
Luca Guadagnino
Tilda Swinton
Alessandro Usai
Francesco Melzi d'Eril
Marco Morabito
Massimiliano Violante
Screenplay
Barbara Alberti
Ivan Cotroneo
Walter Fasano
Luca Guadagnino, based on his original story.
Cinematography
Yorick Le Saux
Production designer
Francesco di Mottola
Editor
Walter Fasano
Music
John Adams
Main cast
Tilda Swinton
Flavio Parenti
Edoardo Gabbriellini
Alba Rohrwacher
Pippo Delbono
Maria Paiato
Daine Fleri
Waris Ahluwalia
Marisa Berenson