The full line-up of world premieres Out of Competition at Venice, with details on each title including sales contacts.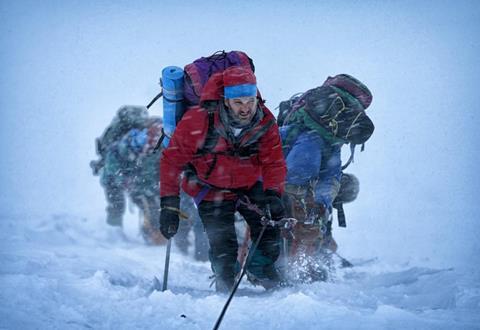 Afternoon (Taiwan)
Dir Tsai Ming-liang
Taiwanese film-maker and contemporary artist Tsai won Venice's Golden Lion for his 1994 drama Vive L'Amour and has played in competition a further three times, most recently in 2013 with Stray Dogs, which took the Grand Jury prize. His latest film, Afternoon (Na Ri Xiawu), documents a conversation between the auteur and his muse, actor Lee Kang-sheng.
Contact: Homegreen Films, hgfilmsinfo@gmail.com
Black Mass (US)
Dir Scott Cooper
Johnny Depp looks almost unrecognisable in Cooper's true-crime drama, playing notorious Boston criminal Whitey Bulger, who turned FBI informant in order to rid himself of rivals. Cooper has a magic touch with his stars, notably Oscar winner Jeff Bridges in Crazy Heart, so Depp has a good chance of shining alongside Benedict Cumberbatch and Joel Edgerton. John Lesher is one of the producers, with Jez Butterworth (Edge Of Tomorrow, Get On Up) sharing the screenplay credit with first-timer Mark Mallouk.
Contact: Warner Bros, warnerbros.com
La Calle De La Amargura (Mex-Sp)
Dir Arturo Ripstein
Veteran Mexican director Ripstein's latest feature is based on the murder of two wrestlers who were found dead at a hotel in Mexico City. Written by Ripstein's wife Paz Alicia Garciadiego, it stars Mexican actress Patricia Reyes Spindola. Ripstein's 1996 Deep Crimson competed for the Venice Golden Lion, while The Virgin Of Lust played in 2002, picking up a special mention.
Contact: Productora 35, mwnavas@gmail.com
De Palma (US)
Dirs Noah Baumbach, Jake Paltrow
Details of Baumbach and Paltrow's De Palma have been kept under wraps until now, but this documentary feature will be the first time film-maker Brian De Palma has talked in-depth about his life and career. It is also the first non-fiction feature for While We're Young and Frances Ha director Baumbach.
Contact: nbaumbach.asst@gmail.com
Don't Be Bad (It)
Dir Claudio Caligari
Caligari's 1990s-set crime drama Don't Be Bad (Non Essere Cattivo) takes place in the outskirts of Rome and in Ostia, and follows three young friends as they are sucked into a dangerous and hedonistic world. Luca Marinelli and Alessandro Borghi star. This is the first feature in 17 years from Italian writer-director Caligari, who died in May.
Contact: Rai Com, catia.rossi@rai.it
The Event (Neth-Bel)
Dir Sergei Loznitsa
In The Event (Sobytie), prolific Ukrainian documentarian Loznitsa examines the dramatic events of August 1991 in Moscow and Leningrad, when a failed coup d'etat led to the dramatic collapse of the USSR. Loznitsa's previous documentary Maidan, about the civil unrest in his home country, made a big festival impression last year, while his two forays into narrative features, In The Fog (2012) and My Joy (2010), both premiered in Competition at Cannes.
Contact: Atoms & Void, atomypustota.info@gmail.com
Everest (UK-US)
Dir Baltasar Kormakur
In opening the festival out of competition, Kormakur's epic, true-life adventure follows in the auspicious footsteps of Gravity and Birdman, which went on to win Academy Awards. Recreating the Everest disaster of 1996, the Icelandic film-maker took his game cast (led by Jake Gyllenhaal and Jason Clarke) to shoot in the foothills of the mountain and the Italian Alps. With top-class scriptwriters Simon Beaufoy and William Nicholson and a director equally adept at character and action, this should launch Venice with a bang.
Contact: Universal Pictures International, festivals.mailbox@nbcunicom
Go With Me (US-Can-Swe)
Dir Daniel Alfredson
Julia Stiles plays a woman who returns to her home town only to be harassed by an ex-cop turned crimelord (Ray Liotta) and his accomplice, an ex-logger (Anthony Hopkins). Enderby Entertainment and The Gotham Group produce, with Dean Devlin's Electric Entertainment co-financing and handling international sales.
Contact: Electric Entertainment
soniam@electricentertainment.com
Human (Fr)
Dir Yann Arthus-Bertrand
This three-hour ethno-eco documentary from photo-reporter Arthus-Bertrand - famous for the aerial photography that formed the backbone of his bestselling 1999 book Earth From Above and his 2009 documentary Home - interweaves stunning aerial shots of our planet and interviews with some of the people who inhabit it, from asylum seekers in Calais to workers in Bangladesh. Free for download soon after its Venice debut, and financed entirely by two European environmental and humanitarian foundations, Human is billed as 'the world's first non-profit feature'.
Contact: human-themovie.org
In Jackson Heights (US)
Dir Frederick Wiseman
Venice regular Wiseman's 40th documentary In Jackson Heights centres on the racially and ethnically diverse neighbourhood of the same name in Queens, New York City. The third film in the veteran documentary-maker's trilogy about communities, following Aspen and Belfast, Maine, it is also his eighth film shot in New York. Wiseman returns to the festival having been presented with a Golden Lion for lifetime achievement in 2014, while his documentary At Berkeley played in Venice in 2013.
Contact: Doc & Film International, d.elstner@docandfilm.com
Janis (US)
Dir Amy Berg
Sharing a first-name title strategy with Asif Kapadia's recent Amy, this documentary is directed by another Amy - Berg, of Oscar-nominated Catholic sex-abuse study Deliver Us From Evil (2006). The film shines a light on Janis Joplin, an earlier torch singer who died tragically young. Supported by the Joplin estate and co-produced by fellow documentary director Alex Gibney, the film mixes original concert footage and interviews with the singer's friends, family and admirers.
Contact: Content Media, harry.white@contentmediacorp.com
The Men Of This City, I Do Not Know Them (It)
Dir Franco Maresco
Maresco's documentary The Men Of This City, I Do Not Know Them (Gli Uomini Di Questa Citta Io Non Li Conosco) delves into the life of celebrated Italian stage and screen actor-writer-director Franco Scaldati, who died in 2013. Maresco's Belluscone Una Storia Siciliana won both the Venice Horizons Special Jury Prize and the Arca CinemaGiovani award for best Italian film in 2014.
Contact: Ila Palma, ilapalmaproduzioni@gmail.com
Mr Six (China)
Dir Hu Guan
This lushly shot martial-arts action feature looks to be a crowd-pleasing closing film for Venice. Mr Six (Lao Pao Er) stars film-maker Feng Xiaogang as an ageing Beijing mafioso who is dragged back into the fray to defend his son from a rich-kid gang of street punks. Sold by IM Global via its international genre imprint Anthem, the film was recently picked up by China Lion Film Distribution for North America, Australia and New Zealand, with a December release slated.
Contact: Huayi Brothers International, celiahaojie@gmail.com
River Memories (It)
Dirs Gianluca De Serio, Massimiliano De Serio
Documentary River Memories (I Ricordi Del Fiume) by the artist/film-maker De Serio brothers trains a lens on a shanty town on the banks of the Stura river in Turin, in its last months of existence before being dismantled by Italian authorities. The duo's narrative feature Seven Acts Of Mercy competed for Locarno's Golden Leopard in 2011.
Contact: La Sarraz Pictures, lasarrazdistribuzione@gmail.com
The Smallest Army In The World (Vatican City-It-Swi)
Dir Gianfranco Pannone
After his Ma Che Storia... played at Venice in 2010, documentary-maker Pannone returns with The Smallest Army In The World (L'Escercito Piu Piccolo Del Mondo). Working with Vatican Television Center, Pannone spent a year with the Vatican City's Swiss Guards, exploring their 500-year history and modern relevance.
Contact: Solares Fondazione delle Arti, agambetta@solaresdellearti.it
Spotlight (US)
Dir Thomas McCarthy
A year after reigniting his career on the Lido with Birdman, Michael Keaton plays the head of the investigative team on The Boston Globe, whose coverage of sex-abuse cases involving Catholic priests won a Pulitzer Prize. The cast includes Mark Ruffalo, Rachel McAdams and Jon Slattery. Sony Pictures and eOne have most worldwide rights sewn up, with Open Road releasing the film in the US.
Contact: eOne Features, features@entonegroup.com
Winter On Fire: Ukraine's Fight For Freedom (Ukr)
Dir Evgeny Afineevsky
Afineevsky's documentary chronicles the civil unrest that unfolded in Ukraine in 2013-14. Netflix produced the film in association with John Battsek's Passion Pictures, among others.
Contact: Netflix, pr@netflix.com