The full line-up of world premieres in the Venice Days programme at the Venice Film Festival, with details on each title including sales contacts.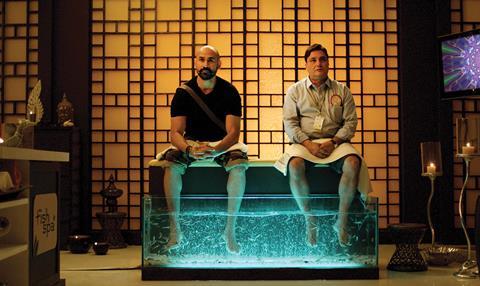 Arianna (It)
Dir Carlo Lavagna
Lavagna's feature debut investigates the intersex condition through the eyes of a 19-year-old hermaphrodite who sees himself as a woman. Ring Film is lead producer, with Rai Cinema and Asmara Films among the co-producers.
Contact: Rai Com, catia.rossi@rai.it
As I Open My Eyes (Fr-Tun-Bel-UAE)
Dir Leyla Bouzid
Bouzid's debut As I Open My Eyes (A Peiene j'Ouvre Les Yeux), set in 2010 pre-revolution Tunisia, follows an 18-year-old woman who joins a subversive rock band and discovers freedom and sexuality.
Contact: Doc & Film International, sales@docandfilm.com
The Daughter (Aus)
Dir Simon Stone
Theatre actor turned writer-director Stone will close Venice Days with his feature debut. In this version of the film-maker's own staging of Henrik Ibsen's The Wild Duck, Paul Schneider plays a man whose hometown return uncovers secrets and lies. Geoffrey Rush, Ewen Leslie, Anna Torv and Miranda Otto round out the cast; Jan Chapman (The Babadook) produced with Nicole O'Donohue.
Contact: Mongrel International, charlotte@mongrelmedia.com
Early Winter (Aus-Can)
Dir Michael Rowe
Rowe's third feature is an Australia-Canada co-production about a care-home worker whose marriage is rocked by infidelity. Paul Doucet and Suzanne Clément star. Australia-born, Mexico-based Rowe's debut feature Leap Year won the 2010 Camera d'Or in Cannes. Early Winter is his English-language debut.
Contact: Pyramide International, sales@pyramidefilms.com
First Light (It-Chile)
Dir Vincenzo Marra
An ambitious Italian lawyer is cast adrift in South America after his partner absconds with their son. First Light (La Prima Luce) is writer-director Marra's fourth film in Venice. Paco Cinematografica produced with co-production partners Rai Cinema and Jirafa Films.
Contact: Paco Cinematografica, info@pacocinematografica.it
Island City (India)
Dir Ruchika Oberoi
Backed by the National Film Development Corporation of India, Oberoi's debut feature interlinks three stories in modern-day Mumbai, involving a middle-aged office drone, a soap-opera addicted family and a lonely woman.
Contact: National Film Development Corporation, nfdc@nfdcindia.com
Klezmer (Pol)
Dir Piotr Chrzan
During the Nazi occupation, a group of young Poles find a wounded Jew in the forest, leading to conflict about what to do. This is Chrzan's directing debut and second screen credit; he co-wrote the 2010 Polish comedy Nie Ten Czlowiek.
Contact: Human Power, biuro@human-power.pl
Lolo (Fr)
Dir Julie Delpy
The French star is back behind the camera for her sixth feature as director. The satirical comedy, which Delpy co-wrote with Eugénie Grandval, centres on fortysomething workaholic Violette (Delpy) who finds romance on holiday. Once back home, she must deal with her tyrannical son Lolo, who has no intention of relinquishing control over his mother.
Contact: Wild Bunch, obarbier@wildbunch.eu
Long Live The Bride (It-Fr-Bel)
Dir Ascanio Celestini
Director Celestini and Alba Rohrwacher head the cast of ensemble drama Long Live The Bride (Viva La Sposa), in which a group of lost souls cross paths in modern-day Italy. Rohrwacher won Venice's Volpi best actress prize last year for Hungry Hearts and also appears in Marco Bellochio's Blood Of My Blood. Celestini's feature La Pecora Nera played in Venice competition five years ago.
Contact: Fandango sales@fandango.it
The Memory Of Water (Chile)
Dir Matias Bize
Bize returns to Venice Days five years after his Goya-winning Life Of Fish. Co-written with regular partner Julio Rojas, this story of strained relationships features Spanish star Elena Anaya as one half of a couple attempting to reconcile after the death of their four-year-old son.
Contact: Global Screen, info@globalscreen.de
Retribution (Sp)
Dir Dani de la Torre
Retribution (El Desconocido) stars Luis Tosar as a corrupt banker who receives a call while driving his children to school: a stranger says there is a bomb in the car and it will explode unless he comes up with a large amount of money. From the producers of Cell 211, the feature debut of Spain's de la Torre is being released in Spain on September 25 by Warner Bros.
Contact: Film Factory Entertainment, info@filmfactory.es
Underground Fragrance (Fr-China)
Dir Song Pengfei
Love develops between two migrant workers trying to scrape a living in Beijing. Song co-wrote Tsai Ming-liang's Venice jury prize winner Stray Dogs; the Taiwanese director is a producer on this film, which received a Torino FilmLab Production Award.
Contact: Urban Distribution International, contact@urbandistrib.com