The full line-up of world premieres in Venice's Horizons programme, with details on each title including sales contacts.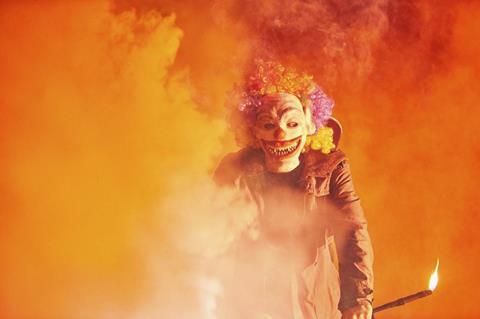 Big Big World (Tur)
Dir Reha Erdem
Turkish film-maker Erdem writes, directs and produces all of his films, including his best known works Times And Winds (2006) and Kosmos (2010). He has won multiple prizes at home in Turkey and his films are well known with the arthouse festival crowd. His latest feature, Big Big World, stars Ecem Uzun and Berke Karaer.
Contact: Maya Film, gmzpkr@gmail.com
Boys In The Trees (Aus)
Dir Nicholas Verso
Writer-director Verso's feature debut takes place on Halloween in 1997 as a member of a teen skate gang (Toby Wallace) reunites with an estranged, bullied schoolmate (Gulliver McGrath), their walk home interrupted by surreal visions. This coming-of-age horror film follows Verso's 2014 short The Last Time I Saw Richard, which won an AACTA award for best short fiction film. Production company Mushroom Pictures previously produced Chopper and distributed Wolf Creek in its Australian homeland.
Contact: Mushroom Pictures, bethany.jones@mushroompictures.com.au
Dark Night (US)
Dir Tim Sutton
Launched at the start of the year at Sundance, Sutton's gritty drama about the Aurora multiplex killings in Colorado has earned plaudits for its haunting tone. The story takes place the day before the 2012 massacre and puts Americana under the spotlight in all its mundane, fractured might.
Contact: Cercamon, sebastien@cercamon.biz
Dawson City: Frozen Time (US-Fr)
Dir Bill Morrison
In 1978, a collection of around 500 films dating from the 1910s and 1920s was discovered buried under a swimming pool deep in Canada's icy Yukon Territory. Documentary maker Morrison (Decasia) tells the tale of Klondike Gold Rush town Dawson City by chronicling the story of the collection, drawing a parallel between the town's 1896 settlement and the dawn of cinema. Score comes courtesy of Sigur Ros's Jonsi Birgisson, in collaboration with Alex Somers (Captain Fantastic).
Contact: Picture Palace, picturepalacesale@yahoo.com
Die Einsiedler (Ger-Aust)
Dir Ronny Trocker
Set in the Alps, this rural drama explores the fate of a family of mountain farmers and the oppressive relationship between a mother and son. It marks the debut feature of Italy's Trocker, whose short Estate played at Berlin earlier this year. Die Einsiedler took part in last year's Venice European Gap-Financing Market.
Contact: Zischlermann Filmproduktion, kontakt@zischlermann.com
The Fury Of A Patient Man (Sp)
Dir Raul Arevalo
Goya-winning Spanish actor Arevalo makes his feature directorial debut with this crime thriller about a man who, released after serving eight years in jail for robbing a jewellery store, finds himself on an unexpected journey with a stranger. Antonio de la Torre, Luis Callejo, Alicia Rubio and Ruth Diaz star.
Contact: Film Factory Entertainment, info@filmfactory.es
Gukoroku — Traces Of Sin (Jap)
Dir Kei Ishikawa
Ishikawa's feature debut follows a reporter who investigates an unsolved homicide case in which a man was brutally murdered along with his wife and child. Featuring local stars Satoshi Tsumabuki and Hikari Mitsushima, the film is a joint production between Takeshi Kitano's production company Office Kitano together with Bandai Visual, TV Tokyo, Warner Bros Pictures Japan and Tohokushinsha Film Corporation.
Contact: Alpha Violet, info@alphaviolet.com
Heal The Living (Fr-Bel)
Dir Katell Quillévéré
Writer-director Quillévéré makes her Venice debut after becoming a Cannes regular with Love Like Poison (2010) and Suzanne (2013). Her third feature Heal The Living is co-written by César winner Gilles Taurand and adapted from the 2014 novel by Maylis de Kerangal. The emotional story follows an accident that leaves grieving parents facing a request for their son's organs, with a cast that includes Anne Dorval, Emmanuelle Seigner and Tahar Rahim. Mars has set a French release date of November 2.
Contact: Films Distribution, joris@filmsdistribution.com
Home (Bel)
Dir Fien Troch
Inspired by a true story, Home chronicles the tensions between a group of teens and their families, the divide increasing when 17-year-old Kevin (Sebastian Van Dun) arrives in the community. Troch developed the script at Torino Film Lab, winning the ARTE International Award, and Home will be the first of her films to premiere in Venice.
Contact: Doc & Film International, sales@docandfilm.com
I Was A Dreamer (It)
Dir Michele Vannucci
The debut film by Centro Sperimentale graduate Vannucci is inspired by the life of his lead actor, first-timer Mirko Frezza, and is the story of a man released from prison, who tries to turn his life around for the sake of his family and his village. I Was A Dreamer is produced by Kino Productions, with Rome's Laser Films and Hoopoe. Sales are being handled by Lucky Red and Indigo Film's True Colours.
Contact: True Colours, catia@truecolours.it
Kekszakallu (Arg)
Dir Gaston Solnicki
The first feature from Argentina's Solnicki (after the docs Süden and Papirosen) is "obliquely inspired" by Bartok's opera Bluebeard's Castle. Transposing the action to Buenos Aires and Punta del Este, it offers "a portrait of several young women at the threshold of adulthood, feeling their way through various crises born of the insular comforts of class privilege". The only Latin American feature in Horizons, it passed through FIDlab and received a script and project development grant from International Film Festival Rotterdam's Hubert Bals Fund.
Contact: Filmy Wiktora, gastonsolnicki@gmail.com
King Of The Belgians (Bel-Neth-Bul)
Dir Peter Brosens, Jessica Woodworth
This comedy drama centres on the titular Belgian king, played by Peter Van den Begin (Allez, Eddy!), who is forced to trek home from a state visit to Istanbul when Wallonia declares its independence. Belgian directing duo Brosens and Woodworth started out as documentarians and moved into narrative film with Khadak, which won the Luigi De Laurentiis award at Venice in 2006. The duo returned to the Lido in 2012 with drama The Fifth Season, which played in Competition and won the Young Cinema and Green Drop awards.
Contact: Be For Films, pamela@beforfilms.com
Ku Qian (HK-Fr)
Dir Wang Bing
The latest documentary from the director of Three Sisters follows 15-year-old Xiao Min as she leaves her family in Yunnan to travel across China and start a new life in an eastern factory city. Once there she discovers the long hours, poor working conditions and high stress levels destroy any dreams of success and happiness among the migrant community. Ku Qian is produced by Gladys Glover, House On Fire, Yisha Production and Chinese Shadows.
Contact: Pyramide, sales@pyramidefilms.com
Liberami (It-Fr)
Dir Federica Di Giacomo
The winner of a prestigious Solinas script prize in 2014, Di Giacomo's third documentary examines the rise of exorcism in the contemporary Catholic church and the increased call for priests specialising in the rite, focusing on a veteran Sicilian exorcist and the popular Tuesday 'liberation' masses he celebrates. Liberami was co-written with Andrea Zvetkov Sanguigni and produced by Mir Cinematografica with the backing of Rai Cinema and French company Opera Films.
Contact: True Colours, catia@truecolours.it
Malaria (Iran)
Dir Parviz Shahbazi
The sixth feature from the increasingly renowned Iranian film-maker — whose debut script became The White Balloon, directed by Jafar Panahi — explores life in contemporary Tehran and the ever-present tension between tradition and modernity. A young woman pretends she has been kidnapped and asks her terrified father to send a ransom; in reality she has eloped with her boyfriend. "I believe that Iranian society has never had a greater need of joy," says Shahbazi. Malaria is produced by Masoud Radaei for France's DreamLab Films.
Contact: DreamLab Films, nasrine@dreamlabfilms.com
Sao Jorge (Port-Fr)
Dir Marco Martins
Director Martins' first feature film since 2009's How To Draw A Perfect Circle, this Portuguese drama marks the country's only title selected to play on the Lido this year. The director is returning to Venice for the first time since 2006 short Um Ano Mais Longo; his previous work also includes Cannes-winning short Alice. Nuno Lopes stars in Sao Jorge as an unemployed boxer who begins working as a debt collector.
Contact: Celluloid Dreams, info@celluloid-dreams.com
Shambles (Can)
Dir Karl Lemieux
Lemieux's feature directorial debut Shambles (Maudite Poutine) hails from Pascal Bascaron, Sylvain Corbeil and Nancy Grant's Montreal-based Metafilms. Frequent Xavier Dolan collaborators Grant and Corbeil produced Cannes 2014 selection Mommy and Toronto 2014 entry Félix & Meira, which was Canada's submission for the most recent foreign-language Academy Award. Maudite Poutine stars Martin Dubreuil (Félix & Meira) in the tale of a man who reconnects with his brother after he is caught stealing marijuana from a gang.
Contact: Stray Dogs, nathan@stray-dogs.com
Through The Wall (Isr)
Dir Rama Burshtein
US-Israeli writer-director Burshtein returns to the Orthodox Jewish community for the follow up to her acclaimed feature debut, Fill The Void, which premiered at Venice in 2012 and won the best actress prize for Hadas Yaron. Through The Wall also deals with the theme of marriage from the perspective of a young woman; in this case, the story follows a girl who is determined to be married on the planned date of her wedding, even after she is dumped by her fiancé.
Contact: The Match Factory, info@matchfactory.de
White Sun (Nepal-US-Qat-Neth)
Dir Deepak Rauniyar
Set in rural Nepal, this family drama focuses on a girl (Sumi Malla) reuniting with the man she believes may be her father (Dayahang Rai), who has returned to their village to bury his own father. White Sun is the second feature from Rauniyar, an alumnus of the TIFF Talent Lab, whose film Highway screened at the Berlinale in 2012. White Sun was produced by Danny Glover's Louverture Films, which co-produced Apichatpong Weerasethakul's Cemetery Of Splendour.
Contact: The Match Factory, info@matchfactory.de