Venice festival director Alberto Barbera talks breakout candidates, the likelihood of additions and competition with other festivals.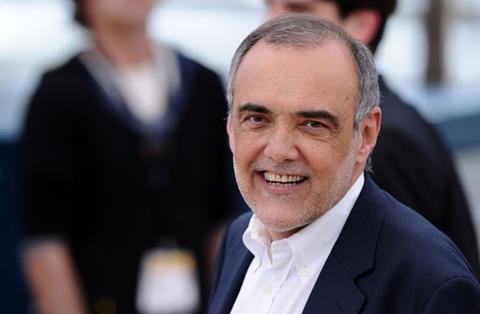 Having unveiled his eighth Venice Film Festival (Aug 31 – Sept 10) line-up yesterday, festival director Alberto Barbera is a satisfied man.
He has every right to be. Venice's 73rd edition promises an array of starry awards fare and international auteurs.
Despite expressing frustration over recent festival hysteria for world premieres, Barbera has still managed to snag 51 world premieres out of 55 films in Official Selection, an impressive return given the quality of the line-up.
The only non-world premieres among the 55 films announced in the festival's press kit are animation The Secret Life of Pets, Biennale College protégé Tim Sutton's Dark Night, Antoine Fuqua's The Magnificient 7 and Malaria by Parviz Shahbazi.
Screen sat down with Barbera to discuss this year's line-up.
In the last three years Venice has kickstarted major Oscar runs for three US movies [Gravity, Birdman and Spotlight]. Which film should we be betting on to follow suit this year?
For me, the movie that has the biggest chance to become an Oscar contender is La La Land. It is classic American cinema at its best: a musical with two great stars showcasing amazing moves like we aren't used to seeing anymore.
Is it the conversion at the Oscars that accounts for so many of the US majors now coming to the festival?
Yes, you are looking at the effect of three major Oscar movies in a row. This year we've got two films from Sony, two from Universal, we've got Lionsgate and also Disney with Derek Cianfrance's The Light Between Oceans.
In the last five years I've been travelling to Los Angeles a lot, but if we hadn't had those three lucky Oscar strikes we would be still asking for movies instead of having them offered to us.
I'm sorry Warner Bros is missing this year because they have been our most dependable partner in recent years. I tried to get Sully, but it was simply not convenient for them as Clint Eastwood wouldn't be coming and Tom Hanks would've been too busy promoting Inferno. That is my biggest and only regret this year.
What is this year's big discovery - the auteur we don't know but whose movie we must not miss?
El Cristo Ciego, the Chilean movie from Christopher Murray. It's a surprising debut, influenced by Pasolini but with a marvelous expressive strength of its own. Murray's talent for image composition is striking and the film's narrative quality is one like we've never seen. He is an auteur and everyone will see it.
The Magnificent 7 will screen first at Toronto then a few days later in Venice. How are relations with TIFF?
Better than two years ago! That was the lowest point we reached, when they wanted a war with everyone for world premieres. Their major target was Telluride but we obviously got caught in the middle. I think now they've come to understand that it was a counterproductive strategy.
Last year I saw that they introduced a competition aimed at auteur directors, but I don't think it was widely noticed. 'Slots' are usually TIFF's weapon of choice. If you can guarantee them a world premiere, they will give you a good slot.
Don't you do the same?
No. Our advantage is that we come first so a lot of movies try to come first to us and then make it to Canada.
Are world premieres more or less important today for a festival?
World premieres can turn out to be a band aid remedy for a bigger problem. This year the number of world premieres in Venice wasn't even in the press kit. I didn't want it to be there. To specify it is a sign of weakness not one of strength and, as I see more and more, we are not the only ones doing it. No movie plans a release date according to festivals anymore. In fact, the opposite is often true: we get to choose movies according to their release date.
During the press conference you said you see quantity over quality when it comes to Italian films but perhaps Cannes has a different experience?
It's exactly that. Italian movies crave Cannes, they rush to be finished in time for Cannes and then usually they get beaten up, but still they don't learn. The following year it's the same thing.
Some international films prefer not to go to Cannes in fear that they might be crushed between bigger titles, but this is not the case for Italian movies. I've had terrible fights with people who've told me 'I'm going to Cannes either way, whatever section they put me in'. It's usually not the directors, though, it is producers and sales companies.
Do you think competitions are still important at festivals?
It wouldn't be possibile to remove the competition from Venice or any other major festival, but were I to create a new festival from scratch it would be non-competitive.
What is the point in saying that a Godard movie is better than a Lav Diaz one? But then again a big festival has to promote cinema, and everybody still thinks that a prize will help them to sell their movie, even if we know that is not always true anymore.
How would you assess the gender imbalance in cinema today? [The line-up includes two women in competition while 10/73 directors with features in main strands at the festival are women]
More women feel empowered today. More are willing to fight to direct their films and to change the status quo but this doesn't happen overnight. It takes time.
Should we expect additions to the selection?
One maybe. We'll see in the next two weeks.
Is it in competition?
No, no. Out of competition. A special event..